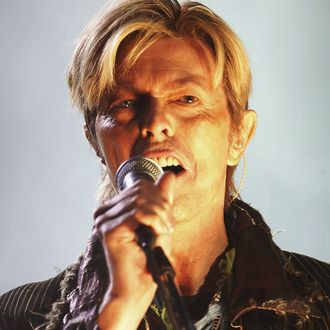 Photo: Jo Hale/Getty Images
When David Bowie died on January 10, at the age of 69, his final studio album had only been out for two days. Blackstar, a sublime self-sung elegy, would go on to become Bowie's first No. 1 album, amazingly. But it seems that even in death, Bowie will remain a prolific artist. According to Newsweek, Bowie had amassed a rich trove of material, including unreleased music dating back decades, that may emerge in 2017:
According to the person close to Bowie, there is "a long list of unscheduled musical releases that Bowie planned before he died." These releases, Newsweek's source says, have been divided into eras and will not necessarily be released in chronological order. It is not yet known whether they will contain previously unheard work, though past rereleases of Bowie's work have. The first of these compilations will be on sale before the end of 2017.
Longtime producer Tony Visconti had previously mentioned the possibility of a planned follow-up to Blackstar that never happened. Sadly, there will be no Bowie autobiography (the young journalist Cameron Crowe, before he was a once-great, now-bad filmmaker, had mentioned in a 1976 Rolling Stone article that Bowie was working on a book that may never actually happen). But new Bowie music is much better news than that remake of Labyrinth that no one (except those who stand to make money) wants.