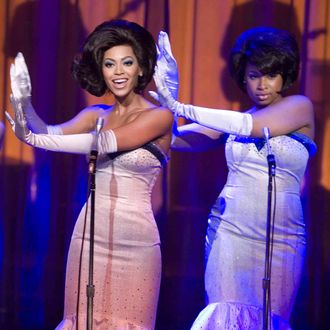 Each month, several films and TV shows leave HBO Now's catalogue. We provide a list of titles leaving the platform, along with a selection of titles that may interest you. For more comprehensive coverage of the best titles available on HBO and elsewhere, check out Vulture's Streaming Hub, which is updated throughout the month.
A real boy now: A.I. Artificial Intelligence (2001)
First developed by Stanley Kubrick, then completed by Steven Spielberg after Kubrick's death in 1999, A.I. melds the former's icy precision with the latter's optimism and warmth. The result is jarring and eerie, but worthwhile, even in its paradoxes. Spielberg's recent work has turned to smooth historical epics, but here he's contradictory and fascinating.
Leaving February 29.
Like tears in the rain: Blade Runner (1982)
A Blade Runner sequel is coming for us all very soon, but as good as it may be, it's impossible to top the original's feats. Ridley Scott's groundbreaking film, which follows Harrison Ford as he chases a band of rogue Replicants in dystopian L.A., is part sci-fi, part noir — and above all, an earnest investigation into what it means to be human. Everything from Ex Machina to Battlestar Galactica owes it a debt.
Leaving February 29.
We skate to one song and one song only: Blades of Glory (2007)
Like the routine attempted by a former champ past his prime, Will Ferrell and Jon Heder's Blades of Glory isn't always technically daring, but gets points for a strong execution. Will Arnett and Amy Poehler steal the show as a rival skating team and, along with Jenna Fischer, make you long for a simpler time when Parks and Recreation and The Office were still on TV.
Leaving February 29.
You're gonna love me: Dreamgirls (2006)
Mourning the dearth of big studio musicals? Mourning the fact that Eddie Murphy has shied away from dramatic roles? Wondering whether Beyoncé will ever try that acting thing again (and also if she should)? Dreamgirls is the film for you.
Leaving February 29.
Bye, Leo: Titanic (1997)
Whether Leo finally wins his Oscar for The Revenant on February 28, Titanic will leave HBO the day after. To prep for the event (and for the inevitable Kate and Leo after-party reunion photo), watch Titanic before the Oscars. The internet may have torn the film to meme-size bits — from references to "I'm flying, Jack" and "paint me like one of your French girls," to debates about whether there was room on that piece of wood (honestly, who cares?) — but it's worth revisiting Titanic as a whole. It's big, sad, unabashedly romantic, and nobody ate raw bison liver on set.
Leaving February 29.
Leaving February 29
A.I. Artificial Intelligence (2001)
Blade (1998)
Blade Runner (1982)
Blades of Glory (2007)
Divergent (2014)
Dreamgirls (2006)
The Drop (2014)
Eragon (2006)
Get on Up (2014)
Ghost Town (2008)
Horrible Bosses 2 (2014)
Manhattan (1979)
The Maze Runner (2014)
Mrs. Doubtfire (1993)
The Next Best Thing (2000)
Pootie Tang (2001)
Titanic (1997)
The Waterboy (1998)
V for Vendetta (2005)
For more details on the best film and television available online, consult Vulture's Streaming Hub.