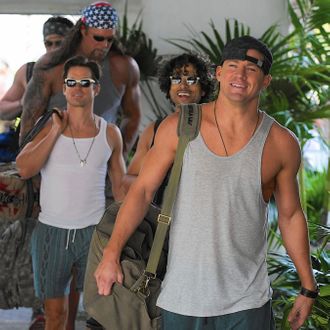 At the beginning of (and during) each month, HBO adds new movies and TV shows to HBO Go and HBO Now. We figure you want to know what they are. For more comprehensive coverage of the best titles available on HBO and elsewhere, check out Vulture's What to Stream Now hub, which is updated throughout the month.
Sexual healing: Magic Mike (2012) and Magic Mike XXL (2015)
Magic Mike is a solid, occasionally very fun look at lives of male strippers in Florida, with an accountant's eye for the mechanics of the industry. Magic Mike XXL is a road-trip comedy plus a "one last job" heist movie about a "pilgrimage to Myrtle Beach" for a stripping convention, which makes it sort of like The Canterbury Tales, if every tale was about a different way to please a woman. It's the best acting showcase Joe Manganiello, Andie MacDowell, and possibly even Jada Pinkett Smith have ever had. Please watch this movie. Magic Mike available February 1; XXL arrives February 20.
The one HBO wants you to watch: Vinyl (Season 1 Premiere)
The 1970s are TV's new 1960s, and Vinyl, which follows the drama at a New York city record label, is just one of three '70s dramas coming to the small screen soon —Netflix's Baz Luhrmann disco series The Get Down premieres in August, while David Simon and James Franco's porn pilot, The Deuce, was just picked up by HBO. What makes Vinyl stand out? Martin Scorsese directing, Mick Jagger executive-producing, Boardwalk Empire's Bobby Cannavale starring, and Ray Romano having a lot of sex. Available February 14.
Marnie's getting married: Girls (Season 5 Premiere)
And I'm sure Hannah will find a way to make it all about herself. Available February 21.
Beautiful nightmare: Coraline (2009)
Based on Neil Gaiman's story about a girl who finds a passageway to a sinister alternate reality, Coraline is a beautiful, eerie stop-motion film. Directed by Henry Selick (The Nightmare Before Christmas), Coraline is full of meticulously ordered, often unsetting imagery, a bedtime story with just enough darkness to keep you up. Available February 1.
Best Picture snub: Furious 7 (2015)
So Furious 7 didn't, as Vin Diesel predicted, get nominated for Best Picture. Heck, "See You Again" wasn't even nominated for Best Original Song. But who cares? The Academy Awards probably don't even exist in the Furious universe. All that matters in the Furious universe are fast cars, awesome action scenes, and the fact that the Rock can break out of an arm cast just by flexing. Original and extended cuts available February 13.
TELEVISION:
Race (HBO First Look) (February 4)
VICE (Season 4 Premiere) (February 5)
Animals. (Season 1 Premiere) (February 5)
Vinyl (Season 1 Premiere) (February 14)
Last Week Tonight With John Oliver (Spring Premiere) (February 14)
Gonzaga: The March to Madness (February 16)
Girls (Season 5 Premiere) (February 21)
Togetherness (Season 2 Premiere) (February 21)
MOVIES:
February 1
Ali (2001)
Bad Santa (2003)
Camp Nowhere (1994)
Club Paradise (1986)
Coraline (2009)
Evan Almighty (2007)
Get Shorty (1995)
Halloween H20: 20 Years Later (1998)
I Origins (2014)
Jonas Brothers: The Concert Experience (2009)
Kung Fu Panda (2008)
Magic Mike (2012)
One Flew Over the Cuckoo's Nest (1975)
Road House (1989)
Sweeney Todd: The Demon Barber of Fleet Street (2007)
The Piano (1993)
The Wicker Man (2006)
Transformers (2007)
What Happens in Vegas (2008)
Available later in February
El adios (2015) (February 5)
Hilda (2014) (February 5)
A Walk Among the Tombstones (2014) (February 6)
Annabelle (2014) (February 7)
Sirope Vivo (2015) (February 12)
Furious 7 (2015) (original and extended cuts) (February 13)
La Pantalla Desnuda (2014) (February 19)
Magic Mike XXL (2015) (February 20)
San Andreas (2015) (February 27)
American Black Film Festival Short Films:
Black Card (February 1)
First Date, Last Date (February 1)
Joy (February 1)
Stanhope (February 1)
For more details on the best film and television available online, consult Vulture's What to Stream Now hub.