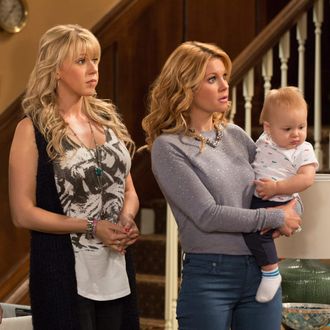 At the beginning of (and throughout) every month, Netflix adds new movies and TV shows to its library. Here is a quick list of several that you might be interested in. Some of these may also have previously been on Netflix, only to have been removed and then added back. For more comprehensive coverage of the best titles available on Netflix and elsewhere, check out Vulture's What to Stream Now hub, which is updated throughout the month.
My advice is to sleep with as many people as possible: Cruel Intentions (1999)
In a prep-school play on Les Liaisons Dangereuses, stepsiblings Sarah Michelle Gellar and Ryan Phillippe concoct a plan to seduce the innocent Reese Witherspoon. Starring nearly all the young Hollywood stars of the late '90s, Cruel Intentions is a case of beautiful people acting terribly, but it exceeds your standard WB potboiler by skipping past innuendo and getting to the good stuff: the swearing and the sex. Available February 1.
The straight: Dope (2015)
Rick Famuyiwa's South Side L.A.–set coming-of-age story was a standout film at Sundance last year. Playing with every meaning of the term, Dope follows the dopey Malcolm (Shameik Moore), who gets caught up in a plan to sell dope. Think John Hughes in the age of Bitcoin, with a lot more references to '90s hip-hop. "God damn," our Bilge Ebiri wrote in his review. "I loved this film." Available February 10.
I saw him with my own eyes: Atonement (2007)
Joe Wright attempts to stuff all the complexity of Ian McEwan's novel into a two-hour film and succeeds, mostly. Atonement struggles to balance the light comedy of its first act with the war drama of its second and the postwar melancholy of its third, but stick it out through the gear-shifts, and you'll find some moments of eerie, elevated beauty — in a tracking shot of Dunkirk, any scene with the young Saoirse Ronan, and whenever Keira Knightly puts on that green dress. Available February 16.
More crouching, more hiding: Crouching Tiger, Hidden Dragon: Sword of Destiny (2016)
Netflix's sequel to Crouching Tiger, Hidden Dragon brings Michelle Yeoh back to 18th-century China as she fights for the sword at the heart of the first film. Directed by renowned fight choreographer Yuen Woo-ping (not Ang Lee, who directed the first film), Sword of Destiny looks to include just as many great action setpieces as the original, even if it doesn't commit to the same philosophical depth. Available February 26.
You don't need a criminal lawyer, you need a criminal: Better Call Saul (Season 1)
The Breaking Bad prequel follows Jimmy McGill (Bob Odenkirk) on his rapid descent from respectable attorney to Saul Goodman, sleazy criminal lawyer. Less a Breaking Bad cover band than a Breaking Bad conceptual album, Better Call Saul takes former show's themes in new directions — it's smaller and funnier, less Greek tragedy, more American folktale. February 1.
In perfect harmony: Mad Men (Season 7: Part 2)
In Mad Men's last seven episodes, characters leave, come back, and make a few last fumbling attempts to reinvent themselves. The cast, as always, is uniformly strong, but in Don Draper's last run across the country, Jon Hamm delivers some of the best performances of his career. It's damn near perfect.
Available February 5.
For your post–Valentine's Day comfort: Love (Season 1)
Judd Apatow (Freaks and Geeks, Undeclared, a bunch of movies you may have heard of, but who cares about movies?) comes back to TV with Love, a Los Angeles–set relationship comedy with Gillian Jacobs (Community) and Paul Rust. Please do not confuse this with the other Love coming to Netflix on February 4, a much different film from Gaspar Noé that has its own merits. Available February 19.
The milkman, the paperboy: Fuller House (Season 1)
This is happening. What more can I say? Available February 26.
TELEVISION
February 1
Better Call Saul (Season 1)
The Lizzie Borden Chronicles (Season 1)
Masha's Tales (Season 1)
Pokémon: XY (Season 1)
February 5
Care Bears & Cousins (Season 2)
Mad Men (Season 7: Part 2)
Turbo: F.A.S.T. (Season 3)
February 17
The Returned (Season 2)
February 19
Cooked (Season 1)
Love (Season 1)
February 26
Fuller House (Season 1)
MOVIES
February 1
A Picture of You (2014)
Armageddon (1998)
Charlie's Angels (2000)
Collateral Damage (2002)
Cruel Intentions (1999)
A Faster Horse (2015)
Full Metal Jacket (1987)
Game Face (2015)
Jennifer 8 (1992)
Johnny English (2003)
The Little Engine That Could (2011)
Losing Isaiah (1995)
My Side of the Mountain (1969)
Para Elisa (2012)
Pokémon the Movie: Diancie and the Cocoon of Destruction (2014)
Scooby-Doo (2002)
Scooby-Doo 2: Monsters Unleashed (2004)
Sin City (2005)
Star Trek V: The Final Frontier (1989)
Stardust (2007)
Talladega Nights: The Ballad of Ricky Bobby (2006)
Teen Witch (1989)
Tin Man: "Search for the Emerald" (2007)
The Year Dolly Parton Was My Mom (2011)
February 2
Land Before Time: XIV: Journey of the Brave (2016)
February 3
I Love You Phillip Morris (2009)

February 4
Love (2015)
February 5
Hannibal Buress: Comedy Camisado
February 6
Lila & Eve (2015)
February 10
Dope (2015)
The Girl in the Book (2015)
February 13
The Face of Love (2013)
February 15
Open Season (2006)
XXY (2007)
February 16
Asthma (2015)
Atonement (2007)
February 22
3rd World Cops 2 (2015)
February 23
Bare (2015)
February 24
Marvel Super Hero Adventures: Frost Fight! (2015)
February 26
Crouching Tiger, Hidden Dragon: Sword of Destiny (2016)
Theo Von (2016)
February 27
Finding Vivian Maier (2013)
February 29
Ashes and Embers (1982)