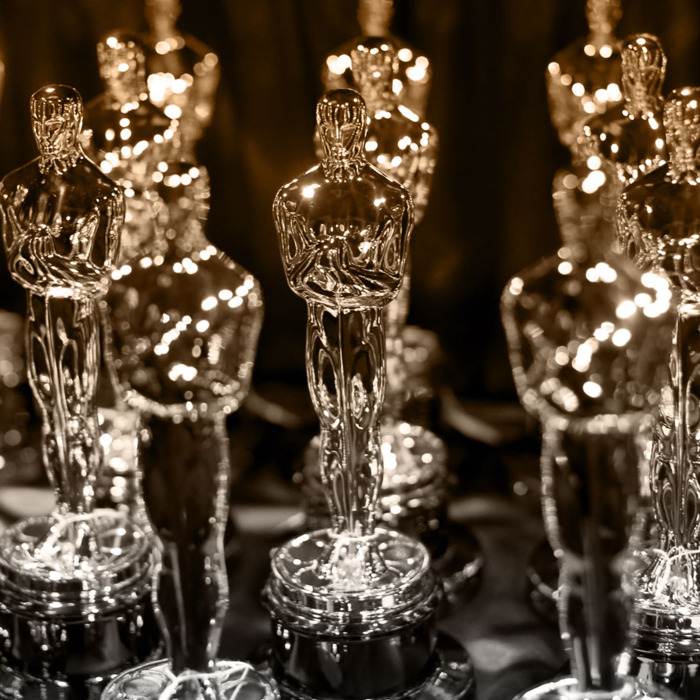 A lot can happen between now and next month's Oscars, but all too often, the front-runners on the day of the Oscar nominations continue to coast through the rest of the season, taking home all those preordained trophies. With all that in mind, then, I figured I'd us this morning to draw up a quick and dirty list of whom I'm picking to win in every category (save the short films, which I have not yet seen). How many of these highly tipped nominees will go the distance, and who's susceptible to a late surge?
Best Picture
The Big Short
Bridge of Spies
Brooklyn
Mad Max: Fury Road
The Martian
The Revenant
Room
Spotlight
Spotlight has led this field since September, and both it and The Big Short are the only two films to pick up all the bellwether nominations that a film usually needs to win Best Picture (including nods for Best Director and Best Editing, at least one acting nomination, and a SAG nomination for Outstanding Performance by a Cast). While The Revenant has come on strong as of late, I don't foresee two back-to-back Best Picture wins for director Alejandro González Iñárritu, and though The Big Short is smart and Zeitgeist-y, it's not as easily digestible as Spotlight, which I still think will win.

Best Director
Alejandro González Iñárritu, The Revenant
Tom McCarthy, Spotlight
Adam McKay, The Big Short
George Miller, Mad Max: Fury Road
Lenny Abrahamson, Room
That said, because Spotlight is so subtle in such a noisy year, I think its director, Tom McCarthy, is vulnerable in this category. Who could take the trophy from him? Let's say George Miller, who benefits from having Ridley Scott out of this race. Directors are knocked out by Miller's technical achievement with Mad Max: Fury Road, and when there is a Picture/Director split, the latter has recently gone to the director with the highest degree of difficulty.

Best Actor
Bryan Cranston, Trumbo
Leonardo DiCaprio, The Revenant
Michael Fassbender, Steve Jobs
Eddie Redmayne, The Danish Girl
Matt Damon, The Martian
Leonardo DiCaprio, in a walk. Eddie Redmayne just won, Matt Damon was snubbed by SAG, Michael Fassbender's film made a weak showing, and the Academy wasn't as gung-ho about Trumbo as other guilds. If there's an assured win in the acting categories, it comes here.

Best Actress
Cate Blanchett, Carol
Brie Larson, Room
Jennifer Lawrence, Joy
Charlotte Rampling, 45 Years
Saoirse Ronan, Brooklyn
I'm going to call this for Brie Larson for two reasons: (1) If she and Leo win, then we can use the portmanteau Brio, which delights me; (2) She's taken home the most hardware so far. That said, watch out for Charlotte Rampling as a dark horse up against all these ingenues.

Best Supporting Actor
Christian Bale, The Big Short
Tom Hardy, The Revenant
Mark Rylance, Bridge of Spies
Sylvester Stallone, Creed
Mark Ruffalo, Spotlight
After the Screen Actors Guild failed to nominate Sylvester Stallone, I wondered if the Oscar nomination might be more difficult to earn than the win itself. But now that he's come this far, and the whole membership can weigh in for the final vote instead of just the actors' branch, I think Stallone's moving comeback role will be the one to beat.

Best Supporting Actress
Rooney Mara, Carol
Rachel McAdams, Spotlight
Alicia Vikander, The Danish Girl
Kate Winslet, Steve Jobs
Jennifer Jason Leigh, The Hateful Eight 
I'm not sure that Rachel McAdams has a role with enough oomph to win for Spotlight, while Jennifer Jason Leigh might actually have too much oomph (or at least a whole lot of ow) in The Hateful Eight. That leaves Golden Globe winner Kate Winslet — an appealing but hardly barnstorming choice — and two more ingenues, Rooney Mara and Alicia Vikander. Given what a breakthrough year she's had, including a just-as-worthy turn in Ex Machina, I'm giving the edge to Alicia Vikander.

Best Adapted Screenplay
Drew Goddard, The Martian
Nick Hornby, Brooklyn
Adam McKay and Charles Randolph, The Big Short
Phyllis Nagy, Carol
Emma Donoghue, Room
There is no shortage of great contenders in this category, but my hunch is that fans of The Big Short will use this opportunity to make sure it gets at least one Oscar.

Best Original Screenplay
Tom McCarthy and Josh Singer, Spotlight
Matt Charman, Joel & Ethan Coen, Bridge of Spies
Pete Docter, Meg LeFauve, Josh Cooley, Ronnie del Carmen, Inside Out
Alex Garland, Ex Machina
Jonathan Herman, S. Leigh Savidge, Alan Wenkus, Andrea Berloff, Straight Outta Compton
Only once has a movie with four credited writers triumphed in this category, but that winner came just last year with Birdman. That said, I don't think Inside Out and Straight Outta Compton will make the cut: You can recognize the former with an Animated Film trophy, while the latter is most susceptible to snipes about its selective exclusions (and its writers' ethnicities). Bridge of Spies occupies the mild middle, so this one comes down to front-runner Spotlight and provocative alternate Ex Machina.

Best Foreign Language Film
Son of Saul (Hungary)
Mustang (France)
A War (Denmark)
Embrace the Serpent (Colombia)
Theeb (Jordan)
Son of Saul is the most acclaimed, and films about the Holocaust have done famously well at the Oscars, but watch out for the well-liked Mustang.
Best Documentary Feature
Amy
Cartel Land
The Look of Silence
What Happened, Miss Simone?
Winter on Fire: Ukraine's Fight for Freedom
Musical portrait Amy has the heat, the high profile, and the not-inconsiderable ability to wring tears from Academy members.

Best Animated Feature
Inside Out
Anomalisa
Shaun of the Sheep
When Marnie Was There 
Boy and the World
Anomalisa is a little too esoteric for this category, so this is another easy race to call: It'll go to the deserving Inside Out.
Best Film Editing
Hank Corwin, The Big Short
Margaret Sixel, Mad Max: Fury Road
Stephen Mirrione, The Revenant
Tom McArdle, Spotlight
Maryann Brandon, Mary Jo Markey, Star Wars: The Force Awakens
Hank Corwin's initially jarring juxtapositions for The Big Short are memorable, at the very least, but Margaret Sixel set a high-water mark in action editing with Mad Max: Fury Road.

Best Original Song
"Earned It" from Fifty Shades of Grey
Music and lyrics by Abel Tesfaye, Ahmad Balshe, Jason Daheala Quenneville, and Stephan Moccio
"Manta Ray" from Racing Extinction
Music by J. Ralph and lyrics by Antony Hegarty
"Simple Song #3" from Youth
Music and lyrics by David Lang
"Til It Happens to You" from The Hunting Ground
Music and lyrics by Diane Warren and Lady Gaga
"Writing's on the Wall" from Spectre
Music and lyrics by Jimmy Napes and Sam Smith
On the back of her Globes win, expect Lady Gaga to pick up an Oscar (alongside Diane Warren) for "Til It Happens to You," written and recorded for the sexual-assault documentary The Hunting Ground. With Furious 7's "See You Again" out of the race, there are no obstacles in Gaga's way.
Best Original Score
Ennio Morricone, The Hateful Eight
Carter Burwell, Carol
Jóhann Jóhannsson, Sicario
John Williams, Star Wars: The Force Awakens
Thomas Newman, Bridge of Spies 
Voters will be tempted to vote for the legendary Ennio Morricone here, so maybe this is an unwise prediction, but I'm gonna go with my heart and pick the long-overdue Carter Burwell, who has scored many a Best Picture nominee (including The Kids Are All Right, The Blind Side, and A Serious Man) and even some winners (like Fargo and No Country for Old Men) but has somehow never even been nominated before. His gorgeous score for Carol ought to fix that.

Best Cinematography
Emmanuel Lubezki, The Revenant
Edward Lachman, Carol
Robert Richardson, The Hateful Eight
Roger Deakins, Sicario
John Seale, Mad Max: Fury Road 
This is a unique year where none of the nominees were shot on conventional 35mm, which was for so long Hollywood's bedrock format. I suspect the two biggest wowsers in the category are Mad Max and The Revenant, and the latter is so goddamn striking that I think Emmanuel Lubezki could win his third Oscar in a row for it.

Best Costume Design
Sandy Powell, Carol
Sandy Powell, Cinderella
Paco Delgado, The Danish Girl
Jenny Beavan, Mad Max: Fury Road
Jacqueline West, The Revenant 
Up against herself for two Cate Blanchett movies, three-time winner Sandy Powell could split votes, paving the way for Jenny Beavan's already-iconic Mad Max: Fury Road costumes to take the prize.

Best Makeup and Hairstyling
Mad Max: Fury Road
The Revenant
The 100-Year-Old Man Who Climbed Out the Window and Disappeared 
All that gunk, grime, and blood was formidable in The Revenant, but Mad Max: Fury Road can boast those affectations and so much more.

Best Production Design
Bridge of Spies, Production Design: Adam Stockhausen; Set Decoration: Rena DeAngelo and Bernhard Henrich
The Danish Girl, Production Design: Eve Stewart; Set Decoration: Michael Standish
Mad Max: Fury Road, Production Design: Colin Gibson; Set Decoration: Lisa Thompson
The Martian, Production Design: Arthur Max; Set Decoration: Celia Bobak
The Revenant, Production Design: Jack Fisk; Set Decoration: Hamish Purdy
This award so often goes to a film with lush period style, and it's surprising how few of the nominees this year fit that bill. That's why I'd put more money on the dutiful and meticulously re-created Bridge of Spies, rather than the fanciful hellscapes of Mad Max.
Sound Editing
Mark Mangini and David White, Mad Max: Fury Road
Oliver Tarney, The Martian
Martin Hernandez and Lon Bender, The Revenant
Alan Robert Murray, Sicario
Matthew Wood and David Acord, Star Wars: The Force Awakens
The unmitigated strength that Mad Max: Fury Road showed in its tech nominations — it's only the fourth film ever to be nominated in all seven tech categories — make it the front-runner in both sound contests.

Sound Mixing
Benjamin A. Burtt, Andy Nelson, Gary Rydstrom, Star Wars: The Force Awakens
Ben Osmo, Chris Jenkins, Gregg Rudloff, Mad Max: Fury Road
Mac Ruth, Paul Massey, Mark Taylor, The Martian
Chris Duesterdiek, Frank A. Montaño, Jon Taylor, Randy Thom, The Revenant
Drew Kunin, Andy Nelson, Gary Rydstrom, Bridge of Spies
See above. Expect another win for Mad Max: Fury Road here.

Visual Effects
Andrew Whitehurst, Paul Norris, Mark Ardington and Sara Bennett, Ex Machina
Andrew Jackson, Tom Wood, Dan Oliver and Andy Williams, Mad Max: Fury Road
Richard Stammers, Anders Langlands, Chris Lawrence and Steven Warner, The Martian
Rich McBride, Matthew Shumway, Jason Smith and Cameron Waldbauer, The Revenant
Roger Guyett, Patrick Tubach, Neal Scanlan and Chris Corbould, Star Wars: The Force Awakens
Star Wars certainly has the most visual effects, but this franchise hasn't scored an Oscar for effects since the original trilogy. All those stunningly integrated practical effects will once again put Mad Max: Fury Road over the top, I think.