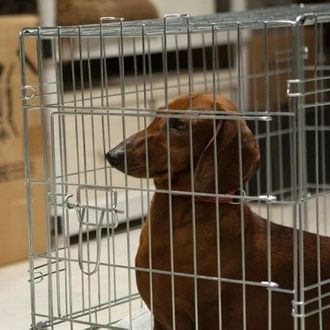 Twenty-plus years after making Welcome to the Dollhouse, his seminal ode to teenage alienation and awkwardness, writer-director Todd Solondz returned to Sundance to premiere the latest entry in his canon of creepy-funny-demented stories, Wiener-Dog, in front of a packed, slightly horrified house at the Eccles Theater in Park City on Friday night.
A very loose and unofficial sequel to Dollhouse (that movie's tortured lead character, Dawn Wiener, is now grown up and played not by Heather Matarazzo but Sundance staple Greta Gerwig), Wiener-Dog follows the adventures of an oh-so-cute female dachshund named Doody (she's also named Cancer, later in the movie) throughout a series of vignettes that are sort-of-but-not-really connected at all.
Without spoiling too much, here's what we saw:
- A mom (Julie Delpy) explains the concept of cremation to her cancer-survivor son after he believes his wiener dog has been put to sleep. "They put you in an oven."
- A seemingly endless tracking shot of dog feces on the street that appears to be the after-effects of a nuclear burrito.
- A morose mariachi band member and hitchhiker declares that life in America is "so lonely" and you can "never lose enough weight."
- A drug-addicted a-hole (Kieran Culkin) tells his younger brother, who has Down syndrome, that their father died from drinking.
- A depressed New York screenwriter–film professor (Danny Devito) blows up his school with the aid of a bomb strapped to his wiener dog.
- A dying old woman (Ellen Burstyn) is visited by ten creepy little-girl ghosts of her former self, one of which is the version of herself had she been a better tipper.
- Said old woman discovers her wiener dog, Cancer, her only loving companion in life … has … well, that's probably enough for now.
Following the screening, Vulture asked Solondz how he had changed as a filmmaker over the last 20 years.
He said: "That's for the audience to decide."
One thing we know: He hasn't gotten boring.