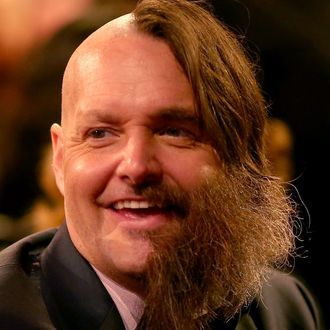 Will Forte.
Photo: Christopher Polk/2016 Getty Images
The freakiest-looking star by far at the 21st Annual Critics' Choice Awards was nominee Will Forte, whose half-hairless, half-overgrown head was the talk of Sunday's celebration. Forte, who bagged a nom for Best Actor in a Comedy Series and Best Comedy Series for his brainchild The Last Man on Earth, gave Vulture a very inside look at what he's recently done not just to his head, but to his entire body. It's the why that he's unfortunately not giving up.
"I can't tell you what it's for. I can't tell you how long I'm going to have to do it, either," the slightly tipsy actor said, as the post-awards show after-party commenced at Santa Monica's Barker Hangar. But Forte did reveal how committed he is to the concept of a half-hairy body — which is completely committed, right down to the pubes.
"I can tell you that it is full body," he revealed, showing off each hairless part as he spoke. "My arms are shaved on the right side, my legs are shaved on the right side, and my pubic hair is shaved on the right side. It's broadcast television, so no, you won't see that!" But Vulture can confirm that he went all in, without a doubt. "I can show you right now," Forte said with a chuckle, pulling the right side of his pants down to reveal shaved skin on his stomach and pubic area. "See? You can verify it. Verified. It's verified, right?"
Oh yeah, it's verified all right.