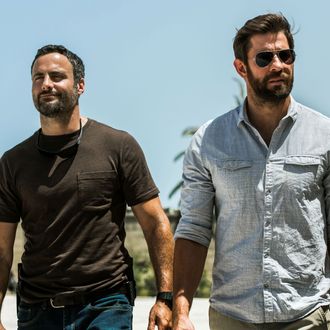 13 Hours.
Photo: Paramount Pictures
Washington State police have arrested a 29-year-old man who shot a 40-year-old woman in the shoulder at the Regal Cinemas in Renton during a screening of Michael Bay's 13 Hours: The Secret Soldiers of Benghazi Thursday night. KIRO 7 reports that the man left before the police arrived and went home, where he told his father that he had dropped the gun, causing it to go off. The father then called the police, who came to their house and arrested the man. The man was apparently drunk and said the shooting was an accident. The authorities don't believe the shooter and the victim knew each other. A spokeswoman at the Harborview Medical Center said that the woman's condition was upgraded from critical to serious, and that she is expected to recover.

We'll update this post as soon as we have more information.