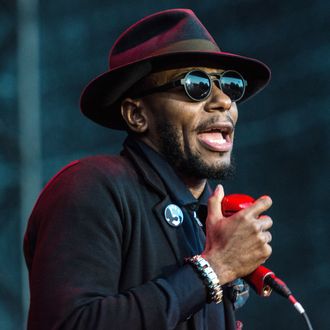 #FreeYasiin.
Photo: Julia Reinhart/Corbis
Five days after being detained at a South African airport for allegedly using a fake passport, Yasiin Bey (f.k.a. Mos Def) is speaking out on his arrest. In a deeply troubling, heartfelt phone message shared by Kanye West on Ye's site Tuesday night, Bey is pleading the South African government to release him and his family. He raps in a freestyle inspired by Kanye and Kendrick Lamar's recently released "No More Parties in L.A." (renamed here as "No More Parties in S.A."): "I'll leave and I'll stay away / I committed no crime any place / Why these police up in my face? / Why they raiding my place? / Why I don't feel safe?"
Expanding on what happened, he later says in a message after the freestyle that he's "being prevented from leaving unjustly, unlawfully, and without any logical reason." "Anyone can do the research about the world passport; it's not a fictitious document," he says of the allegedly false ID he used at the airport. "I have reason to believe or suspect that there are political motivations behind the way I'm being treated." Bey claims he was not arrested, but has been detained since last week and demands his release: "I just wanna go home, and I don't live in America, and I have the right to domicile wherever I please, without fear or without interference."
He says that the South African government, in keeping him in its country, is preventing him from "fulfilling my professional obligations." In the same message, Bey has also announced his retirement from music and film "effective immediately," saying his final album will be released this year. Hear Bey's full, disjointed speech below (and read his emotional words here).