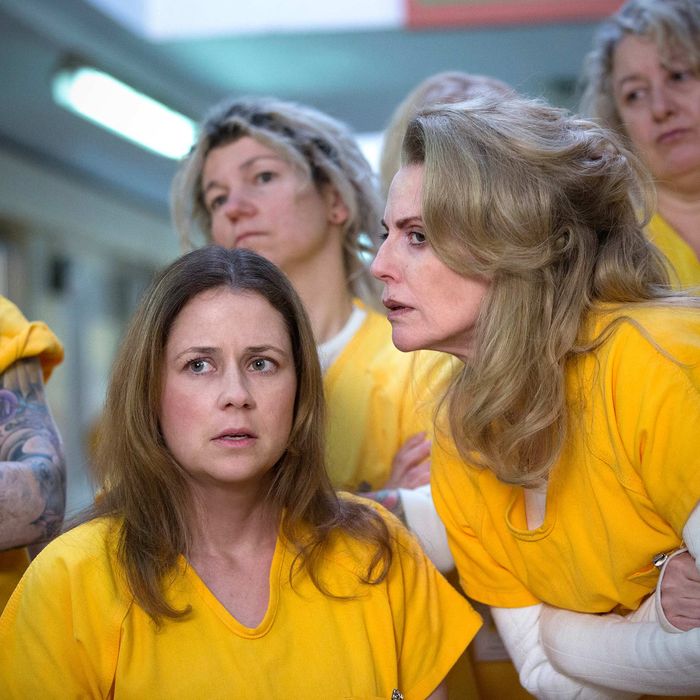 From left: Jenna Fischer as Rhonda McNeil, Megan Mullally as Leanne.
Photo: Ed Miller/WTTV Productions Limited
How dry is the NBC comedy well? Dry enough that it's taking straight-up imports. It's not unheard of for ABC to air Canadian cop shows in the summertime, say, but not so long ago, the eight o'clock Thursday slot on NBC was as primo as primo got, which is where the network has placed Sky 1's You, Me and the Apocalypse. Here is a brief history of what has aired in that time slot over the last 30-odd years:
The 1984–85 TV season until the 1991–92 TV season: The Cosby Show
1992–93 TV season: A Different World, Out All Night (that was a one-season Patti LaBelle show), Mad About You
1993–94 and 1994–95: Mad About You
1995–96 through 2003–04: Friends
2004–05: Joey
2005–06: Joey, Will and Grace
2006–07 through 2008–09: My Name Is Earl
2009–10 and 10–11: Community
2011–12: Community, 30 Rock
2012–13: 30 Rock, Community
2013–14: Parks and Recreation, Community
2014–16: The Biggest Loser, The Slap, Dateline NBC
2015–16: Heroes Reborn; You, Me and the Apocalypse
That right there is the story of NBC, and the story of broadcast in general. A lifetime of dominance squandered in a little over a decade, and not just because of lousy shows, though they're there, but more that Joey came at the worst possible time, as networks were losing ground to cable. The Biggest Loser is a creative surrender. Dozens of people loved Heroes Reborn. You, Me and the Apocalypse is NBC throwing up its hands, admitting it's not going to bother developing shows to run opposite Grey's Anatomy, The Big Bang Theory, and American Idol. You can only fight so many fights. This is the white flag.
Or … is it? Because YM&TA is actually a charmer — smart, original, oddball, and probably the best show on NBC's current roster. (Though its rejection of a serial comma saddens me somewhat.) The show's slightly cartoonish tone makes its world-is-about-to-end premise palatable, and its characters can have moments of emotional depth without accidentally grounding the show in too much realism. For a show about the end of times, it's very cheery.
The British-American series, like other postapocalyptic fare, features a eclectic group of unlikely bunker-mates. Matthew Baynton (The Wrong Mans) stars as Jamie, a somewhat mopey Brit still searching for his wife, who has been missing for seven years. There's Jenna Fischer (The Office) as Rhonda, a mousy woman who winds up convicted of a serious crime, but only in an attempt to protect her son. There's Rob Lowe as a priest, Megan Mullally as a swastika-sporting fellow inmate of Rhonda's, a whole kooky secret-twin subplot. It's reminiscent of action dramedies like Chuck, in a good way. The show bounces between its different characters — almost à la Lost in that we know they all end up together, but we're not sure how.
We have a solid number of postapocalyptic shows right now: The Walking Dead, Fear the Walking Dead, The Last Man on Earth, The 100, Between, 12 Monkeys, Falling Skies … YM&TA focuses on the lead-up, on how people respond to the news that there are 34 days left on Earth as we know it. For some people, it's a time of panic; for others, a time to hold fast to their religious beliefs; for most, it's complete mayhem. But a lot of armageddon stories teach us to fear each other — that once society's tempering structures crumble even a little, we all revert to feral violence. YM&TA doesn't seem to think that. Instead, its characters become a little more open to otherwise unlikely companionship, maybe a little bolder in the bucket-list sense. If anything, they become more inclined to see humanity in other people, not less. Not everyone's a sweetheart, and not everyone's "good" by any stretch. There are murderous cyberterrorism subplots and scary lunatics, but on a zoomed-out level the show posits that human existence is itself worth saving.
But is NBC's existence? Look at its current roster: Superstore, Telenovela, The Biggest Loser, The Voice, Blindspot, Hollywood Game Night, Chicago Med, Chicago Fire, The Mysteries of Laura, Law & Order: SVU, Chicago PD, The Blacklist, Shades of Blue, Caught on Camera With Nick Cannon, Grimm, Dateline NBC. People watch some of these shows. But can you picture rewatching them? (Other than SVU, which is grandfathered in from the NBC of yore — it's on its 17th season.) Can you picture a serious person saying "I will rewatch The Mysteries of Laura anytime I'm feeling blue!" the way people rewatch Parks and Recreation? "Come hell or high water, at least I'll always have The Blacklist." No, you'll always have The West Wing. Chicago Med is no ER.
Maybe this is just a lull, a natural part of any development program. Maybe You, Me and the Apocalypse is just the jolt the network needs. But what it feels like is that for network TV, the world already ended, and YM&TA is the scrappy survivor. Replenish your species, quirky drama with excellent performances and an inventive set of ideas. Go forth and replant the fallow wasteland of your network.