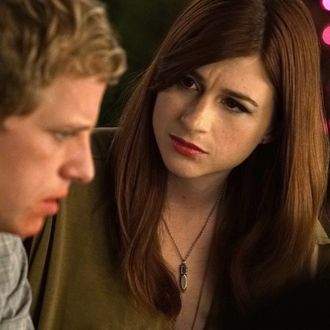 The You're the Worst cast, minus Kether Donohue (she's hard at work on Grease Live!), visited the TV Critics Association in Pasadena on Saturday to talk about the emotionally devastating end of season two and tease the upcoming seasons. "We just finished drafting the season-three arcs for each character," creator Stephen Falk explained, "but we don't have everything worked out yet." Ahead, three things we do know will (most likely) happen:
Season three will pick up exactly where the last season left off.
"I think time jumps are useful for certain shows, but it feels like a later season thing, when you want to mix things up," Falk said. "But rather than just a couple weeks later, we thought it would be interesting to see what happens right after 'I love you' and then they walk back into the house."
Sunday Funday is probably coming back.
Falk thinks he and the writers have a good idea for another edition of the much-loved episodes so he gives us a "tentative yes."
Lindsay may sing and dance next season.
Lindsay's story will pick up with her moment of regret after deciding to have a baby with "lumpy hubby" Paul. Falk says they'll probably work in Kether Donohue's singing and dancing ability because "Kether is super in-the-moment and she shares it with the world." And right now, "she's consumed now with singing and dancing," so he imagines it will spill over into You're the Worst in some way.
You're the Worst returns on FXX later this year.