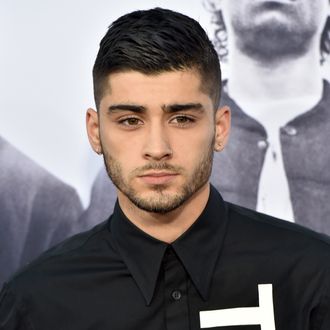 Breakups are rough.
Photo: Kevin Winter/Getty Images
Ex–One Directioner Zayn Malik has a new solo album out this spring, and so he's dutifully appearing on the latest cover of Billboard to promote it. And while Zayn does touch on the album (shady song titles include "BeFour," "It's You," and "Wrong") and reveal he has been spending a lot of time smoking sativa to get in the creative zone, he's also been feeling all the aftershocks of a breakup. No, not from his ex-fiancée, Perrie Edwards (he seems to have moved on from her just fine), but from his One Direction bros. Malik admits he's been waiting for them to make his hotline bling ever since he left 1D city: "The truth of it is, you can think one thing about a situation and the total opposite can happen. I had every intention of remaining friends with everybody, but I guess certain phone numbers have changed and I haven't received calls from a lot of people. I've reached out to a few of them and not got a reply. Certain people have pride issues, but it's stuff you overcome in time." Ouch.
But that doesn't mean he's missing their "indie-rock" (his words, which you should definitely read with an eye-roll) tunes. Aside from "Drag Me Down," Zayn hasn't even heard 1D's new album: "Nah, I'll be honest. I thought the first single was quite cool. I heard the second single and" — he screws up his face — "yeah, I didn't buy the album." Burn.
And what does "the internet's perpetual friend with benefits" have to say about the standards his rumored new boo will have to live up to? "I need a challenge. Also, I like girls that are a bit chunky in certain areas — the nice areas. I like a fuller woman. I enjoy an intellectual conversation as well, where someone can construct a sentence beyond what hair and makeup they're wearing, and talk about something political or about the world. I like an opinion."
Our opinion: Zayn SZN has arrived.