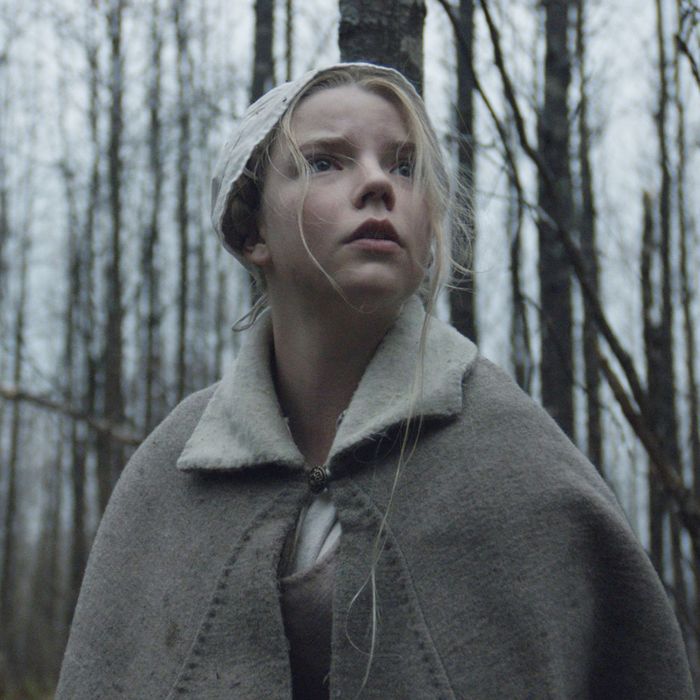 Behold, The Witch.
Photo: RT Features
The blockbuster business these days is all about spandex and sequels and reboots. It's never been a better time to be a superhero, but if you know where to look, it's also never been a better time to be a horror buff. Genre festivals like Fantastic Fest and Beyond Fest are bigger than ever, while the Midnight lineups at heavyweight events like Sundance, South by Southwest, and the Toronto International Film Festival have become pipelines for movies that generate buzz on par with the more conventional prestige fare.
What's more, digital distribution platforms like Netflix and Amazon have given life to niche horror films that don't command nationwide theatrical releases. Going to see Guillermo del Toro's sprawling Gothic romance Crimson Peak on the big screen was beautiful and all, but Mark Duplass's microbudget Creep is terrifying and available to stream at a moment's notice. And did you miss the Danish fantasy-thriller When Animals Dream? Of course you did! But don't stress, because it, too, is waiting for you on Netflix right now.
But it's not just a question of availability either. The quality and diversity of horror films right now is incredibly high. "2015 was a very exciting year for film, and even more so in the horror genre," Evrim Ersoy, the head programmer for Fantastic Fest, says. "The wide variety of topics covered, in ever-more inventive ways, showed us that filmmakers were constantly reinventing themselves and their visual language, to find fresh ways to scare, to terrorize, and to disturb us." Fantastic Fest is the biggest genre film festival in the country, which means that if Ersoy liked what he saw on the indie circuit last year, then viewers are in luck this year. Based on input from Ersoy and Beyond Fest co-founder Christian Parkes, as well as our own assessment of what's to come, here are ten independent horror films to get excited about this year. Open that Hungarian trapdoor to hell and see where it leads.
Southbound (released February 5)
Horror anthologies have a rich legacy: Roger Corman brought us the Tales of Terror in 1962; George A. Romero walked us through his Creepshow in 1982; Tales From the Crypt and The Twilight Zone have lived on over the decades. In recent years, we've seen a resurgence of the form with collections like The ABCs of Death, Trick 'r Treat, Tales of Halloween and, most notably, the V/H/S movies. When the first V/H/S collection came out in 2012, its found-footage take on the anthology construction felt fresh and gritty, but as tends to happen, the sequels got progressively less impressive. But by all indications, Southbound is the refresher we've been waiting for in the format. The movie comprises five vignettes set on a derelict highway, connected by the voice of one radio DJ. Anthologies can be uneven, but they can also be an excellent showcase for up-and-coming horror directors, and the folks involved here include V/H/S alums David Bruckner, Roxanne Benjamin, and Radio Silence. It sounds like Bruckner's segment, called "Accident," is a truly standout short; The Hollywood Reporter called it "a gem worthy of The Twilight Zone."
The Witch (February 19)
Witch writer and director Robert Eggers had a pretty great 2015. He walked into Sundance last January with his debut feature film in hand and walked out with the Directing Award in the U.S. Dramatic competition. Prior to that, he hadn't directed anything since a short film in 2008, and primarily worked as production designer on various shorts and TV shows (including two episodes of I Married a Mobster). But Eggers was apparently spending all of his free time crafting this impeccably art-directed rumination on zealotry and witch panic in 1690s Massachusetts. The movie opens with a pious family being kicked out of their township because they're the wrong kind of fundamentalist, and closes with one of the best finale sequences in recent memory. From start to finish, you'll jitter in a prison of your own nerves, thanks to brilliant writing from Eggers and guttural turns from his principal cast: professional scary mom Kate Dickie (you fear her as Lysa "I breast-feed my 10-year-old" Arryn in Game of Thrones), professionally deep-voiced man Ralph Ineson (Amycus Carrow in the Harry Potter movies, Finchy in The Office), and newcomer Anya Taylor-Joy, who delivers a quietly powerful turn as the eldest daughter of a damned family.
Baskin (March 25)
Here's one for the hard-core set. Turkish director Can Evrenol has been acquiring acolytes thanks to his short-film work over the past few years. In 2013, Baskin started off as an 11-minute film about Turkish police officers in the really wrong place at the really wrong time: A routine night patrol leads them to a "squalid, blood-soaked den of Satanic ritual." In other words, they discover "a trapdoor to Hell." When Baskin premiered at TIFF last year, the official page for the full movie version promised it would produce as much scandal and controversy as Pascal Laugier's monument to audience discomfort, Martyrs. If you're a fan of the New French Extremity movement, Baskin should be like a bowl of horror candy. If you really only go in for the minimalist psychological fare, then stay far, far away from this one. The trailer is NNNSFW, and makes it feel like this might be a movie-long version of the hell-vision sequence from Event Horizon. (If you know what I'm talking about, you know what I'm talking about.) So we advise watching with caution, but if you're in the market for "sustained, stylized revulsion," as The Hollywood Reporter put it, then Baskin should be your huckleberry.
The Invitation (March 25)
Dear God, it's a woman! Horror cinema, much like cinema itself, is typically a playground for the dudes. Unless you're a prized Final Girl in a slasher or the lead in a period piece (see: Crimson Peak, The Others, The Witch, The Awakening, etc.), you're probably either an object or a side note. And you're definitely not the director. That is, unless you're Karyn Kusama! Kusama came out swinging in 2000 with Girlfight, which premiered at Sundance and won the Director's Prize and shared the Grand Jury award. Aeon Flux from 2004 and Jennifer's Body from 2009 may have landed with a bit of a thud, but both were certainly distinct and ambitious projects featuring complex female leads. (And one could argue that Jennifer's Body was just very misunderstood!) Now, with The Invitation, Kusama is getting her highest marks in 16 years. The film garnered an admittedly early 100 percent on Rotten Tomatoes and a five-skull rating from Bloody Disgusting, which deemed it a "masterful exercise in unbearable tension." The story follows a man named Will, whose wife, Eden, leaves him in the wake of tragedy. Now, two years later, she's resurfaced with a new husband and a whole new set of friends. Eager to reconnect, Will's ex invites him to a dinner party where he finds himself "gripped by mounting evidence that Eden and her new friends have a mysterious and terrifying secret." Welcome back, Karen!
Green Room (April 5)
When you think of Patrick Stewart, what comes to mind? Is it the lobster suit in the bathtub? Is it his adorable face poking out of a ball pit with his wife? Is it his perfect friendship with Ian McKellan? If yours is a life filled with joy, it's probably all of the above, but now you can add punk-rock club owner and neo-Nazi gang leader to that list! Green Room is the third feature from Jeremy Saulnier, a rising director whose last movie, the Kickstarter-funded revenge thriller Blue Ruin, gained cult-favorite status and earned him a lot of buzz around the festival circuit in 2013. So his next effort has been highly anticipated, and the reviews so far for Green Room have lived up to the hype. The story follows a punk band called the Ain't Rights playing their final gig on a shitty tour before heading back home to Virginia. The venue — a compound in the backwoods of Oregon — fulfills its promise of dread when the band walks in and finds a bunch of Nazis waiting for their set. The show goes surprisingly well, but the rest of the night does not, and the Ain't Rights look like they're going to need to kill their way out. Stewart plays Nazi Gruppenführer Darcy, and his lot of victims includes some real gems, like Anton Yelchin, Imogen Poots, and Alia Shawkat. If you want a horror bloodbath, Green Room will satisfy.
Emelie (spring release date TBD)
The construct of the bad babysitter is fundamentally terrifying for one obvious reason: Bad things are not supposed to happen to kids. Director Michael Thelin has spent his career mostly directing concert films, and the Tribeca-touted Emelie is his first narrative feature. It starts with a husband and wife going out to celebrate their anniversary, but when their regular babysitter cancels, they call a friend named Anna to fill in last-minute. If you couldn't tell from the title, Anna doesn't actually make it to the house, and her imposter quickly transitions from Cool Girl who lets her charges horse around to coldhearted monster. At just 82 minutes, Emelie is a quick strike to the jugular. Lead actress Sarah Bolger has most recently popped up in hit TV shows like Agent Carter, Into the Badlands, and Once Upon a Time, but she's got some horror pedigree from The Lazarus Effect and The Moth Diaries. Neither of those movies was very good, but Bolger turned in solid performances, and the chance to see her play an unhinged caretaker of children seems like her meatiest film role yet.
The Neon Demon (summer release date TBD)
The lid has been very tight on Nicolas Winding Refn's next movie, which is set to land at Amazon. All we've seen so far are a few stills of star Elle Fanning soaked in blood and heavily saturated lighting — a.k.a., we've seen a few stills of Elle Fanning in a Nicolas Winding Refn movie — but not much else. The release date is vaguely rumored to be "summer," and plot details are scarce, but what we do know is very enticing. Neon follows an aspiring model named Jesse (Fanning) who moves to Los Angeles to pursue her dreams, but upon arriving encounters "a group of beauty-obsessed women who will take any means necessary to get what she has." So what you're saying is, a girl moves to L.A.! No, but actually, what's most exciting about Neon is that this will be Refn's first film anchored by a female lead. Hell, it's basically his first film featuring more than one woman, full stop, and he said the need to make it came after a revelation of sorts: "One morning I woke and realized I was both surrounded and dominated by women. Strangely, a sudden urge was planted in me to make a horror film about vicious beauty." Um, thanks? Refn movies (like Drive and the Pusher series) tend toward the aggressively masculine, so watching him walk the razor's edge of objectification versus female empowerment should be very interesting. But he's got a stacked cast of indie darlings and "It"-girl models to help him out, including Jena Malone, Christina Hendricks, Abbey Lee, Bella Heathcote, and Taylor Hill. And he's also got Keanu Reeves, whose second-act horror career is a fascinating case of reinvention, not to mention Hollywood's living Disney princess playing an embodiment of uncorrupted innocence. Of course he makes her suffer through Refnian indignities.
Under the Shadow (release date TBD)
Netflix underscored the high anticipation for Shadow at this year's Sundance Film Festival by snapping up global streaming rights to the movie a day before it even premiered. The Iranian horror picture has been drawing comparisons to Australian breakout The Babadook from 2014, and first-time feature filmmaker Babak Anvari has gone from New Guy to "Sundance discovery" in short order. The movie is set in Tehran in 1988, and the Iran-Iraq War has forced many to flee the city in fear of the encroaching battlefront, but Shideh has stayed back with her daughter, Dorsa. When Dorsa falls ill and starts behaving strangely after her favorite doll goes missing, Shideh's initial dismissiveness transitions into paranoia as she suspects they have been targeted by djinn, malevolent spirits that steal from hosts they wish to possess. Indiewire is calling it "the first great horror movie of the year," but, of course, unless you're bouncing around the festival circuit, you won't be able to see it until sometime at the end of 2016, when Netflix has it slated to start streaming. (Theatrical rights are still up in the air.) Under the Shadow marks the second highly anticipated genre picture coming from an Iranian filmmaker this year, with director Ana Lily Amirpour (A Girl Walks Home Alone at Night) also scheduled to debut her second movie, the dystopian cannibal love story The Bad Batch.
Demon (release date TBD)
One of the most underappreciated horror subgenres in the world is folklore-based horror, because it gives audiences a window through which they can examine some of the most intimate aspects of global cultures — specifically, the parts that freak local people the fuck out. Consider Rare Exports: A Christmas Tale from Finland, a movie that showed us what traditional Finnish lore has to say about the origins of Santa Claus. Krampus tormented American audiences this past holiday season by sending the legendary Bavarian yuletide goat-demon on a rampage through small-town USA. And for non-Christmas options, try Norway's Trollhunter, or Viy out of Soviet Russia. The list is long, and Demon joins the ranks as a modern take on the dybbuk, which, in Jewish tradition, is the spirit of a person not properly laid to rest that searches for a human host to latch onto. For this movie, the setting is rural Poland, and a couple is about to get married at their new country home. But when the groom accidentally disturbs some human remains on the property the night before his wedding, the celebration goes way off the rails. A week after Demon premiered at the Toronto International Film Festival, Polish director Marcin Wrona was found dead of an apparent suicide in a hotel room. This marked his third feature film, and it was praised as another strong entry in Wrona's promising career.
February (release date TBD)
Now that Mad Men is over, our Kiernan Shipka mainline has dried up, but getting to see her stretch beyond 1960s teenage ennui will be a welcome change. February is the directorial debut of Osgood (Oz) Perkins. He's the son of Psycho actor Anthony Perkins, but is probably best known to this point as David Kidney, the guy in Legally Blonde who dewormed orphans in Somalia before joining Elle Woods's freshman introduction group. But even if this is his first time at the helm, Perkins has penned a few thrillers, and for February, he's gone to the fertile horror ground of girls alone at a boarding school to stage his slow-burn possession nightmare. Shipka's character Kat is forced to spend a winter break on campus after her parents mysteriously fail to pick her up, and she's stuck there with convenience companion Rose (Lucy Boynton), who's dealing with her own substantial issues. Then there's Emma Roberts, who plays a hitchhiking girl named Joan whose fate is intertwined with the two co-eds. Since premiering at Fantastic Fest last fall, February hasn't been widely seen, but it has garnered approval from the straitlaced types at Variety, as well as the blood freaks at Bloody Disgusting, where it was praised as "one of the best possession films ever." That's a broad swath of tastes being satisfied, and it sounds like the son of Psycho has really delivered with this nerve-twister.