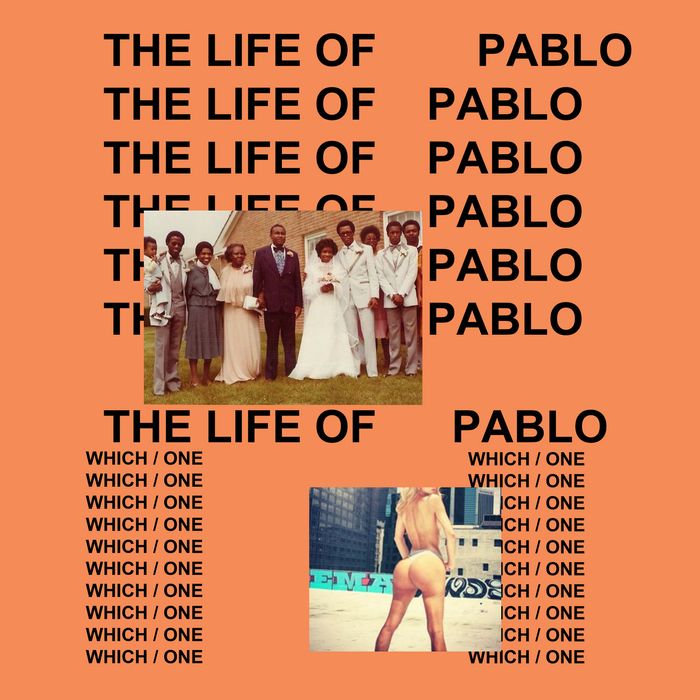 Kanye West has spent his solo career folding disparate sounds together. His greatest talent has always been his ability to combine outside elements into something personal and unique, whether the vocoder moping of 808s & Heartbreak or the operatic grandeur of My Beautiful Dark Twisted Fantasy. But The Life of Pablo might be his most eclectic album yet, fusing hip-hop and gospel and electronic music and leaving all the seams showing. Here's a list of albums for further exploration, some by Pablo collaborators, others by artists he sampled on the record, others spiritual predecessors. All of them are worth the time and attention you've put into tracking down the demo version of "Wolves."
Kirk Franklin, The Rebirth of Kirk Franklin
(Arista/GospoCentric, 2002)
Franklin is that big voice at the end of Pablo opening track "Ultralight Beam," saying a gravelly prayer for "everyone who feels they're not good enough." Just as The Life of Pablo is West's seventh album, Rebirth was this gospel legend's seventh effort, one that found him at the same sort of crossroads, inasmuch as he was an important, critically adored artist trying to make sense of an increasingly fractured world. But Franklin's focus was more external: The T.D. Jakes–featuring "911" ruminates on life in the immediate wake of the September 11 attacks. Franklin's very presence on Pablo helped legitimize the album to those who were skeptical of the gospel label Kanye had claimed for it, and he wrote in a heartfelt Instagram post: "Kanye is not me. I am not him. He is my brother I am proud to do life with. No sprints, but Marathons; like most of us are on."
Chance the Rapper, #10Day (self-released, 2012)
This Chicago rapper has made no effort to conceal the extent of Kanye's influence on him: His breakthrough 2013 mixtape, Acid Rap, opened with a song, "Good Ass Intro," which borrows its name from a proposed West album title and its chorus from one of the elder Chicagoan's mixtapes. But to find the roots of Chance's standout verse on "Ultralight Beam," you have to trace his development back to this 2012 debut. #10Day made him a local star and showcases his expressive, emotional tone.
Future, Pluto (Freebandz/Epic, 2012) and Monster (produced by Metro Boomin; self-released, 2014)
Listeners might be excused for thinking that the songs "Father Stretch My Hands, Pt. 2" and "Freestyle 4" feature Future, the Atlanta rapper who took 2015 by the throat. In fact, it's a young sound-alike from Brooklyn named Desiigner who — despite having only one song on his SoundCloud page — was recently announced as the newest signee to G.O.O.D. Music. But Desiigner is copying Future's drug-fueled monotone of the last few months; for a more upbeat, wide-ranging record, try his 2012 debut, Pluto. The influence of Future's main producer, Metro Boomin, can also be felt all over Pablo: "If young Metro don't trust you I'm gon' shoot ya" in "Father Stretch My Hands, Pt. 1" is the only producer drop ever to receive prominent placement on a Kanye West album, and he also contributed to "FML," "Waves," and "Facts."  The nihilistic 2014 mixtape Monster, executive-produced by Metro, is widely seen as the beginning of the rapper's current critical and commercial hot streak.
DJ Dodger Stadium, Friend of Mine (Body High, 2014)
DJ Dodger Stadium, the L.A.-based duo comprised of Jerome LOL and Samo Sound Boy, were brought in during the final weeks of Pablo sessions; they're credited on five songs, and "Ultralight Beam" and "Fade" in particular bear their fingerprints. The pair's first album, Friend of Mine, is dance music that might be designed as a communal act, but works just as well — maybe better — as a study in how the genre reads to you alone, on the highway, with your phone on airplane mode.
DeBarge, In a Special Way (Gordy, 1983)
And now we extend an apology to those who argued all along that a Young Thug–DeBarge collaboration was inevitable. El DeBarge, of the sibling R&B group from Detroit that scored a trio of gold-selling albums in the early '80s, provides backing vocals on the Thug-featuring "Highlights," one of the two tracks West played during his Saturday Night Live appearance. The DeBarges were originally a gospel act that moved into the worlds of R&B and pop; that same sort of transition is exactly what Kanye tries to sell on "Highlights," Ray J line and all.
Noreaga, N.O.R.E. (Penalty, 1998)
By the time Dark Fantasy reached retail shelves, it had sprawled into the stratosphere: an average track time well over five minutes, orchestras, choirs, Elton John. But during the sessions, early word was that Kanye was experimenting with stripped-down, '90s-leaning boom-bap. If you peer into the center of Pablo, it's got a similar skeleton: Look at what Swizz Beatz and Havoc did to "Famous." For one of the hardest records Swizz ever contributed to — Ruff Ryders or otherwise — look no further than Noreaga's 1998 debut. With tracks like  "Banned From TV," "Superthug," and "Body in the Trunk," it's one of the grittiest, most dynamic rap albums from the second Clinton administration.
Mario, Turning Point (J, 2004)
Like "Waves," Mario's excellent sophomore album aimed to marry R&B to gospel and hip-hop — genres that would seem to be at odds but yield something soulful and powerful. Turning Point sported production from Scott Storch and Lil Jon, and features from Juvenile, Jadakiss, and T.I.; it was released at the tail end of the early 2000s window when the commercially dominant versions of hip-hop and R&B had little stylistic crossover. But Mario melded all his influences into a lean LP that holds up as one of its era's best.
Ty Dolla $ign, Beach House EP (Taylor Gang/Atlantic, 2014)
Aside from his contributions to "Real Friends" and "Fade," Ty Dolla $ign has been working closely with Kanye as a singer, producer, and co-writer for the past couple of years. (In particular, he provided backing vocals to "Only One" and co-wrote "FourFiveSeconds," the pair of songs that team West and Paul McCartney.) Although Ty has failed to become a solo star in his own right, at least outside of Los Angeles, he's been a consistent hit-maker for years. The best distillation of his song-crafting abilities is his Beach House EP, which features  his major hits "Paranoid" and "Or Nah."
MF DOOM, MM.. Food? (Rhymesayers, 2004)
When the trio of singles Kanye dropped at the beginning of 2015 — "Only One," "FourFiveSeconds," "All Day" — failed to stick at radio or with critics, some loudly wondered if he was overdue for a brick. Public opinion did a quick 180 at the top of this year with the release of "Real Friends," an annoyed, disaffected throwback that was co-produced by Havoc of Mobb Deep. When Erykah Badu covered it, she traced its origins all the way back to Whodini's "Friends." But as good as "Real Friends" is, the best Whodini redux came courtesy of MF DOOM all the way back in 2004. "Deep Fried Frenz" is just one of the handful of Costanzan social examinations that anchor DOOM's only Rhymesayers release; for proof of "Rapp Snitch Knishes"'s importance, we'll refer you to Mos Def.
Max B, Wavie Crockett (self-released, 2008)
When Kanye announced that he had changed the name of the album from Swish to Waves, some observers complained that he was ripping off Max B, the incarcerated New York rapper who had become inextricable from the term.  As a show of respect, Kanye reached out to the rapper French Montana to call Max in prison and record an outro ("Silver Surfer Intermission") for Pablo. The second-wave Dipset member, who guested on some of Cam'ron's most exciting late-period material, was wildly prolific in the mid-2000s and became noted for his gifts with melody and plaintive, memorable songwriting.
Karriem Riggins, Alone Together (Stones Throw, 2012)
The man behind "30 Hours" is Detroit's Karriem Riggins, a jazz drummer and hip-hop producer who's worked with the likes of Erykah Badu, Common, J Dilla, Slum Village, and the Roots. Released in two halves — Alone and Together can be purchased separately on vinyl — Riggins's first (and only) solo record is a 34-track instrumental opus that weaves together live drumming, hip-hop sampling, and even audio of talk-show hosts reviewing his own music. The short snippets blend seamlessly together; it's everything you'd expect from a man who has an MPC attached to his drum kit.
Madlib, Medicine Show #13 (Madlib Invazion, 2012)
"No More Parties in L.A." is relegated to bonus-track status on The Life of Pablo, but its pre-album release helped assuage the fears of traditionalists and those who favor the first half of Kanye's catalogue. Though it features Kendrick Lamar, who was just showered with adulation and Grammys for his 2015 opus To Pimp a Butterfly, the driving force behind the song was Madlib, the legendary (and legendarily reclusive) California producer. On the bonus disc from his sprawling Medicine Show series, Lib stitches together a capellas from famous emcees over his trademark unmoored, psychedelic production.
Fingers Inc., Another Side (Jack Trax, 1988)
It was on Yeezus that Kanye started to toy with the idea of incorporating elements from Chicago house in his own music. Though the final version of that album shows only traces, Pablo's "Fade" feels like a full-on celebration of the genre's masters. The song samples "Mystery of Love," by the pioneering Larry Heard (first released under his Mr. Fingers alias). In 1988, Heard teamed up with vocalists Ron Wilson and Robert Owens to form Fingers, Inc.; their sole album, Another Side, was reissued earlier this year through his own Alleviated imprint. "Mystery of Love" is only one piece of the album's staggering run of classic tracks.
Strictly Rhythm — The Compilation (Strictly Rhythm, 1993)
"Fade" also digs into the catalogue of Strictly Rhythm, one of the greatest house-music labels of all and home to artists like Louie Vega, Todd Terry, Kenny Dope, and others. Unlike most label compilations, the one Strictly Rhythm issued in '93 is a thorough purview of the roster's most necessary — and most influential — tendencies. The Compilation is anchored by Aly-Us, Hardrive, De La Noche, Solefusion, and Phuture, and sounds as crisp and vital today as it did 23 years ago.