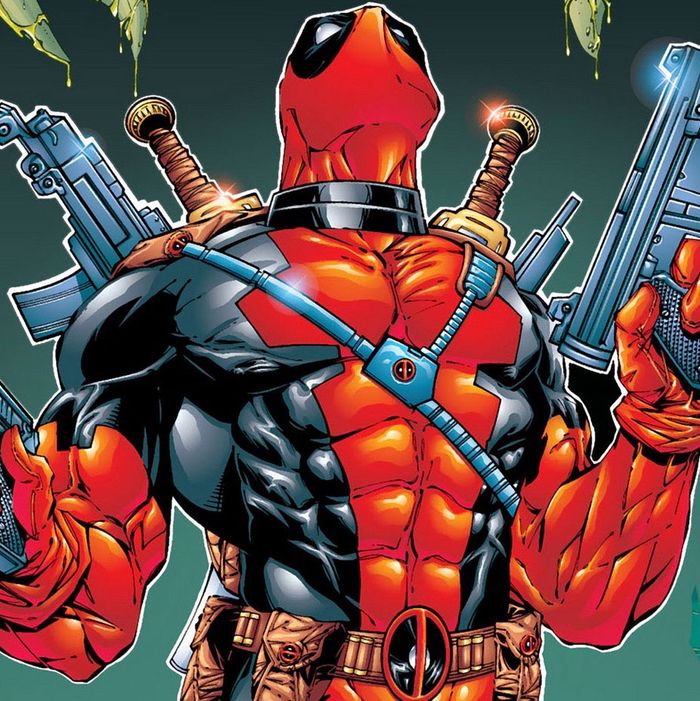 Photo: Walter McDaniel/Marvel Entertainment
This article was originally published in February 2016, in advance of the release of Deadpool.
Marvel Comics' most popular wiseass is about to make a big-screen splash in the Ryan Reynolds–led Deadpool, where audiences will revel in the character's unique mix of mirth and mayhem. But he's already had a long and varied history in print, which you can read about in our chronicle of his evolution. If you see the flick and want to dive into the comics sagas that spawned him — or if you want to bone up before you hit the multiplex — here are five great Deadpool collections you can snag in digital form or at a nearby comics shop right now.
Deadpool Classic, Vol. 3
Although Deadpool — birth name Wade Wilson — was invented in 1991 by writer/artist Rob Liefeld and writer Fabian Nicieza, he didn't come into full flower until the late '90s. In that period, his misadventures were penned by Joe Kelly, a scribe who gave 'Pool his propensity for manic monologues and misguided attempts at heroism. In this collection of Kelly tales, you'll get Wade's darkly humorous struggle to improve himself, but most important, you'll get one of the greatest Deadpool stories of all time: Deadpool No. 11. It's an unprecedented story in which Kelly and artist Pete Woods took a Spider-Man comic from 1967 and "Forrest Gump–ed" it — they edited out Spidey and replaced him with Deadpool, rendering a relatively innocent tale into something irreverent and gleefully satirical. For reference's sake, the collection also gives you the original Spider-Man story, which is pretty fun in its own right.
Deadpool Classic, Vol. 9
One of the great frustrations of Deadpool's publication history is the fact that superstar writer Gail Simone got to write so few issues about him. She was brought on to the ailing Deadpool series in the early '00s and wrote some unbelievably funny stories: In them, Wade becomes an accidental celebrity after a high-profile hit job, leading him to get an agent and become wholly full of himself. Oh, and he also shrinks classic Marvel villain the Rhino and keeps him as a tiny pet. Unfortunately, the higher-ups decided to jettison Deadpool from his own series and relaunch it as Agent X, a story about a guy a lot like Deadpool but not exactly him. The Agent X issues in this volume are delightful because Simone is a wonderful writer, and artistic collective Udon Entertainment are great at anime-influenced action. But the real action is in the Deadpool chapters, which will leave your sides hurting despite (or because of?) the wanton violence.
Deadpool: Secret Invasion
Deadpool languished in relative obscurity throughout the mid-'00s, only to experience an insane boom in popularity from 2008 onward, when his ongoing monthly series was relaunched under the guidance of writer Daniel Way. This is the first volume of Way's run, and it sets the tone that would make his time with the character such a massive success: schizophrenic dialogue, fratty humor, and widescreen action. It features tie-ins to a Marvel-wide crossover event, but all you really need to know is that shape-shifting aliens invaded. Plot isn't really where the fun is here — it's in the overall approach to a character who'd been languishing and got a fresh jolt of energy.
Deadpool Kills the Marvel Universe
This is one of Deadpool's most-popular and best-sold stories, largely because it's entirely self-contained. It's essentially a novella about what would happen if Wade Wilson finally cracked and gave in to his most violent impulses. For reasons established in the story, he fulfills the title of the collection and kills just about every Marvel hero and villain. Writer Cullen Bunn and artist Dalibor Talajic somehow makes the story simultaneously charming and chilling — there's lots of vintage Deadpool dark humor, but also a ton of jaw-dropping viciousness. It's not for the weak of heart, but if you want to see the character pushed to logical extremes, this is the tale for you.
Deadpool: The Good, the Bad, and the Ugly
Writers Gerry Duggan and Brian Posehn were tasked with helming a relaunched Deadpool series in 2013 and quickly became fan favorites. The two men have a gift for humor and irreverence, but with this incredible story, they also demonstrated that they know how to do goose-bump-inducing terror. It follows Wade as he is kidnapped and dropped off in North Korea, where the government has attempted to re-create the X-Men through dodgy science and efficient brutality. It features artwork from Declan Shalvey and Jordie Bellaire, one of the best duos working in comics today. Wolverine and Captain America show up as guest stars, and their dynamics with 'Pool are memorable and pitch-perfect. It's a deeply sad story, but one with truly thrilling action and just enough jokes to keep you from weeping.