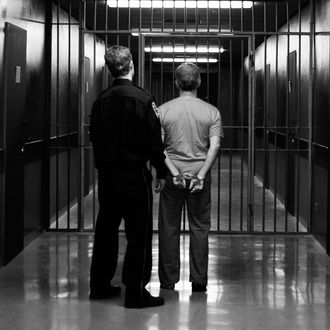 Stock image!
Photo: Halfdark/Corbis
A&E announced on Wednesday that it will be debuting a new docuseries called 60 Days In, which will send seven civilians into the prison population at Clark County Jail in Jefferson, Indiana. Over 12 episodes, the series hopes to "expose internal issues and what really happens behind bars." You're wondering: How did they get an unbiased look into the correctional facility? The series was made possible with the aid of the state and Sheriff Jamey Noel, who "hand-selected" the participants. "It was no secret that the Clark County Jail had problems and we needed to take quick control," said Sheriff Noel. "The only way to truly understand what was going on in the jail was to implement innocent participants into the system to provide first-hand unbiased intelligence. These brave volunteers helped us identify critical issues within our system that undercover officers would not have been able to find."
The lucky men and women include an ex-Marine named Zac, a social worker named Maryum, and a security guard named Jeff who hopes that this project will help him achieve his goal of becoming a prison guard. "We couldn't be more thrilled with the success of this inaugural program," Sheriff Noel said, eerily hinting at the possibility of a second season. 60 Days In premieres with back-to-back episodes on Thursday, March 10 at 9 p.m., and then continues weekly at 10 p.m.