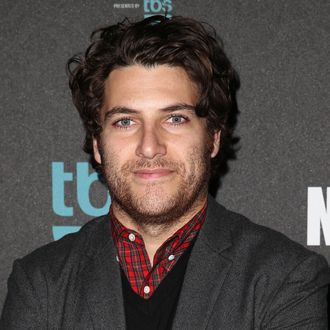 Where else in time would you want to go?
Photo: Imeh Akpanudosen/2014 Getty Images
In timely casting news, as his Happy Endings co-star just booked a Hulu show, Adam Pally will lead Fox's latest comedy pilot, a time-travel pitch called Making History, which is about a "nerdy computer science professor" who invents time travel and then goes into the past to wow people with pop culture from the future (they apparently find him "interesting, dashing, and gallant"). The series is executive-produced by The Last Man on Earth's Phil Lord and Chris Miller, and written by The Grinder's Julius "Goldy" Sharpe. According to its description, the characters visit some of the "greatest moments of the past," so we're imagining something like the construction of the pyramids, the signing of the Declaration of Independence, and the time from 2011 to 2013 when ABC's comedy lineup was especially good for some reason.