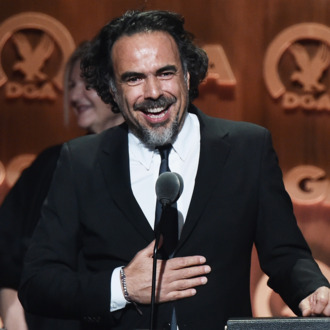 Iñárritu at the DGA Awards.
Photo: Alberto E. Rodriguez/2016 Getty Images
Alejandro González Iñárritu nabbed the Directors Guild Award for Outstanding Directorial Achievement on The Revenant yesterday, bringing him one step closer to his second Oscar in as many years. But that night, the director also drew attention to the political climate surrounding awards season this year and to politicians like Donald Trump, who have spread stereotypes about people from his native Mexico.
"When I went as a nominee back there, there was more than 120 Mexicans in the kitchen that serve you hot food, and that was the best party I had," Iñárritu said while accepting his award. "Viva Mexico! That's not the people Donald Trump has described at all, let me tell you."
Backstage, Iñárritu had more to say about the diversity debate currently taking place in the entertainment industry. "The power of this country comes from diversity," He said. "This country was impregnated by so many different races and the power of it relies on that. To try to build a wall and stop that is exactly to betray the power of this country, what has been absolutely outstanding, admirable, and unique in the United States."
"The big enemies are not human beings," he continued, arguing that ideologies can "impregnate hate and to stop the flow of this incredible society … It's a cultural problem, not the problem of the Academy. It's a cultural perception that has to change"