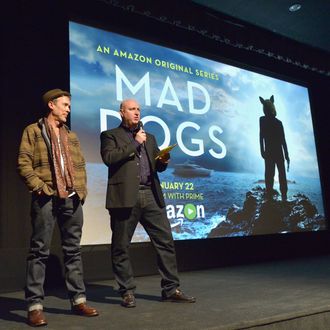 Cris Cole and Shawn Ryan.
Photo: Charley Gallay/2016 Getty Images
It's slightly less of a mad mad mad mad world. Amazon has canceled Mad Dogs, its drama series about a group of middle-aged men whose Latin American vacation goes horribly awry. The show's EP Shawn Ryan, creator of The Shield, announced the news on Twitter today. Ryan noted that Mad Dogs was intended, like the British program it was based on, to be a limited series, but, in order to go ahead with a first season, Amazon wanted assurance that Ryan and co-creator Cris Cole (who also created the British series) could provide more material. In discussions for a second season, however, "Amazon didn't want to make [the story for season 2 we believed in] and we didn't want to make the kind of story they wanted us to make," and Ryan and Cole decided to "declare victory after ten episodes, which was our original plan all along anyway." Ryan also said that the series has gotten "better streaming stats than many other Amazon shows" in the four weeks since its release, though the service (like many others) does not release its viewership data. Mad Dogs joins Chris Carter's The After, which never saw the light of day, on Amazon's short roster of cancelled programming.
Read Ryan's Twitter message in full below.