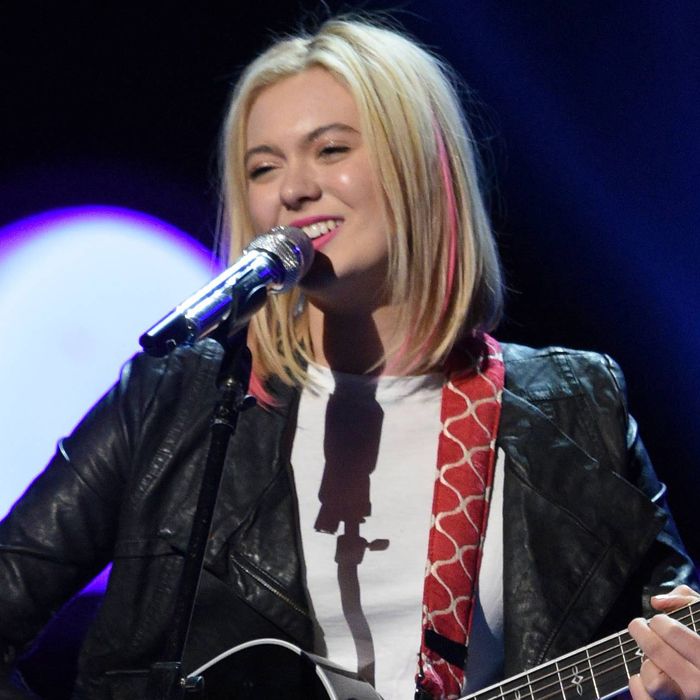 Olivia Rox.
Photo: Michael Becker / FOX
This week's episode is called FINAL JUDGMENT, which is a fitting and hilarious capper to our endless and heavy Hollywood Week experience. You know the drill by now: The remaining 51 hopefuls must give a performance for a crowd, who probably didn't realize how long a show they signed up to watch. And then, one by one, each contestant walks four miles toward our judges to find out whether they've made the top 24. Along the way, we say good-bye to some people we've never met and firm up our Fantasy Idol teams. We're getting somewhere … almost.
I could pad this out, because God knows American Idol does, but I don't want to. Tell you what: Let me just reveal who made it, what I think about them, and then we'll all get out of here and start our Super Bowl weekend.
Sound good? Okay, I can't hear you.
Stephany Negrete has very silky hair and strikes me as the kind of person who puts tons of lotion on her legs so she looks like a Real Housewife at a reunion show at all times. Her final performance is "Girl on Fire," and while she definitely works the crowd, she is missing a little sincerity. Plus, her heels are too high. Whatever — she's in.
Shelbie Z. feels like this year's Amanda Overmyer (from memory, people). She will sail through to the top 12, but at some point she'll run out of Heart songs to sing, and then where will we be?
There is no way in this or any dimension that the judges would not put Mackenzie Bourg through to the top 24. He is a dreamboat, and his final performance of "Can't Help Falling in Love" is designed to make young girls explode with desire. (Middle-aged men may have a similar reaction, I am just saying.) Top 5, mark it.
Trent Harmon had mono during Hollywood Week, and apparently one of the symptoms of mono is that your body produces scarves. For his final performance, he oversings and contorts his body and wears a Carmen Sandiego hat. His abysmal fashion sense lives for another day; he'll be the guy who almost makes the top 12 but is shockingly cut at the very last minute.
I have never really seen it with Jeneve Rose Mitchell and her boots and kerchiefs and giant hats, but I understand that her story — off-the-grid girl is exposed to showbiz — is compelling. Harry gives her a very clunky fake-out: "It's a shame that all your neighbors don't have televisions, because they won't be able to … [long pause] …congratulate you on making the top 24." How else would that sentence have ended?
I find myself pulling for CJ Johnson, hats and soul patch and all. He cut his teeth in smoky bars and rock clubs, and you can tell. I think I felt this way about Lee DeWyze back in the day, but CJ connects with his audience in a way Lee never could. I don't know what the voters will do with him, but he's my favorite so far.
We haven't seen redhead Amelia Eisenhauer, the girl with the katana, in ages. Frankly, I didn't miss her. Her final performance is "New York State of Mind," which she sings in an accent I can only call Theater Kid. There's a fiddle somewhere in there, too. She's in! She'll be out next week, probably!
Lee Jean shooshes the crowd twice during his final number, which Jennifer clocks him for, but it doesn't matter. He has charm and talent and he's young. He's through.
I have warm feelings about Avalon Young, and I just realized it's because she reminds me of troubled young Faye from Coronation Street. She's this year's MK Nobilette, but with charisma. Get onboard with Avalon Young. (And Coronation Street. It's on Hulu.)
Do I even need to tell you that Dalton Rapattoni is in the top 24? I do not. But I do need to tell you that his final performance is 'N Sync's "It's Gonna Be Me," and he even pronounces it like "It's gonna be may," which is sneakily brilliant. I'm a believer now. Dalton Rapattoni has been planning this for years.
Manny Torres has barely held on for these last few rounds, but he is enormously likable. He picks Ryan up, which honestly seems like a pretty easy thing to do, and while I don't think he'll make it out of the next couple of weeks, he's in.
Tommy Stringfellow's girlfriend broke up with him the night before his final performance, because Tommy Stringfellow's girlfriend is an idiot. He does a very, very hiccupy version of "Story of My Life," which frankly I do not dig, but the judges send him right through because come on.
I worried that Sonika Vaid's goose was cooked the moment Jennifer said, "You gave a great final performance … vocally." This is of course a competition of vocals, so to have done a great vocal performance should be enough, but I see her point. Sonika is talented, but she doesn't know how to connect to the audience yet. Work on it, Sonika! Take an improv class. Busk. Do something.
Olivia Rox is the girl who grew up on the road with her musician parents. She's the new Jax. A pink hair streak is the new facial star. She will either make it to the top three or get cut right away. I truly have no idea.
Emily Brooke is through because of course she is. There's not much to say about her, except that the producers of American Idol see their own young Taylor Swift in her and are going to rig this whole show to her advantage from this point forward.
Gianna Isabella does "I Still Believe," just in case you forgot that Brenda K. Starr is her mother, which you didn't, because Brenda K. Starr is always right there reminding you. Gianna's gambit works, but if Brenda K. Starr doesn't back off soon, we will have to learn another Brenda K. Starr song. Let's take a moment to savor her performance of "If You Could Read My Mind" from the late, much-lamented Dance Party USA:
Jenn Blosil's package is set to "People Are Strange" because she is a real cuckoo bird. But she has a nice, quirky tone to her voice, and seems sincere in her oddballery. I look forward to Ryan's awkward attempts to do comedy with her.
Tristan McIntosh has so many hair extensions, it's upsetting. Her hair is Dee Snider multiplied by Taylor Dayne. I have to reach back 30 years for my hair-volume references, that's how many extensions there are. Up to this point, she hasn't shown us much in the way of personality. It's been pining for deployed mom and nothing else, which is strange for a lot of reasons, not least of which is that Tristan's mom always seems to be right there next to her.
Jenna Renae, James VIII, Kory Wheeler, and Adam Lasher all make it through, but we don't get to see their final performances, so that might not bode well for their overall chances. Kory and Adam might be sleepers. James VIII will either really connect with voters or really not at all.
And then they do the thing where two people go in at the same time and they only pick one. First: Freshly-in-recovery Kayce Haynes and man-bun enthusiast Jordan Sasser. Jordan's final performance is a OneRepublic song, which really tells you all you need to know about him. Kayce goes with "Hold On, We're Going Home," and displays the grown-man sex appeal I think this competition needs, because I like grown-man sex appeal. I am apparently in the minority, though. Jordan makes it through. At least this time we are spared a FaceTime with the wife and the kid.
On the final female side, La'Porsha Renae and Lindita. Extreme poverty versus extreme weight loss! Lindita is without a doubt a talented singer, but boy, does she overdo it. La'Porsha goes a little overboard with the runs, too, but it feels effortless. With Lindita, you feel the work. La'Porsha makes it. I would pay top dollar for a personal training session with Lindita.
So there's your FAREWELL SEASON top 24, America. Here's who didn't make it:
Michelle Marie, the very first person we saw this season, sleeps in the kitchen of a trailer with her little sister and nine other kids. She saw Idol as a way to make money for her family, which is a terrible thing to contemplate. She puts a good face on her dismissal: "It's a no this time," she tells her family. Even this kid knows she'll get another chance when this show comes back for the 2017–18 season. Also out: Colette Lush, Jessica Cabral, Terrian, Anatalia Villaranda, Malie Delgado, Kassy Levels, Destiny Something, Blondie McUkulele, and 20 other people we see for the very first time.
So there we are! I am Team Johnson or Blosil or Bourg. You?