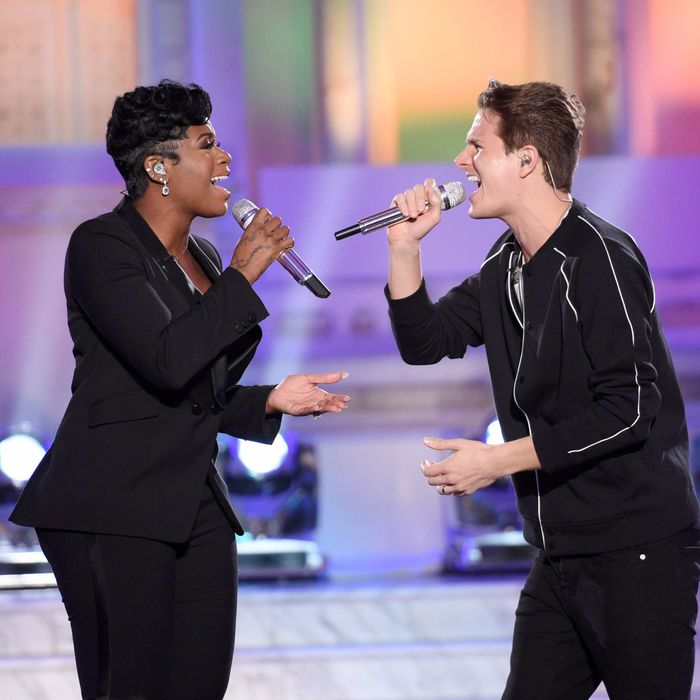 Fantasia Barrino and Jordan Sasser.
Photo: Michael Becker / FOX
Tonight, six full weeks into the FAREWELL SEASON of American Idol, we are finally seeing our FAREWELL crop of singers give full performances. It is about damn time.
Here's the deal: Twelve of the top 24 perform, and they'll each do duets with former American Idols tomorrow night. After that, five of them will be eliminated. And this will all come to us from the Vibiana, a wedding-and-special-events venue in downtown Los Angeles. That says it all, doesn't it? The last contestants of the final season of the biggest talent show in television history are performing in the middle of what looks like a moderately fancy quinceañera.
Oh, and the producers give us fun introductory packages about each singer. At the bottom of each one, we see little nicknames for them. Not in hashtag form, which is actually kind of refreshing, but also not in quotation marks. You kind of wonder what they're there for. Like …
Stephany Negrete is called "La Mujer del Mundo," because she wants to learn as many languages as she can. Okay! I get it, kind of! She chooses Jessie J's "Mamma Knows Best," and it's not really in her range, and she seems a little scared, just as I imagine anyone would be. As a result, her performance lacks any strong personality. But I hope she succeeds in becoming multilingual so she can hold conversations in the many countries where Jessie J isn't really catching on.
MacKenzie Bourg gets the honorific of "DJ Mack Daddy," because he says has an encyclopedic knowledge of the hip-hop songs made between 2006 and 2007. He is asked to prove it by singing "Temperature" by Sean Paul, which is a) not a hip-hop song and b) from 2005. He can't do it. So far, everything is going great. For his actual performance, he chooses that Great Big World song you only hear in singing-competition shows. Here's the thing about MacKenzie: He gives me strong notes of Clark Kent, by which I mean he has messy hair and glasses, but you know that he's secretly hot. He's a male Rachael Leigh Cook in She's All That. He should have sung "Kiss Me." Tonight's performance is not up my alley, but he'll make it through with ease.
At this stage, I'm just starting to guess what the producers will call these kids. When Jeneve Rose Mitchell appears onscreen, I shout, "Rootin-Tootin' Corn-Cob Gal!" I am wrong. They go with "One Woman Band" because she can play all of the instruments in the world. As if to illustrate this further, she plays a harp — a full-size, real-life, fancy-quinceañera harp — to accompany her version of Sarah McLachlan's "Angel." This is how theater kids look and behave when they have no access to popular culture. She does okay, but you have to wonder how marketable her whole thing might be. I mean, her demographic is "religious hostages." Also, she's dressed like Prince in the "When Doves Cry" video, and I don't even know how to unpack that.
Jenna Renae is "Your Fav Homie" because she used to sing Def Leppard songs in grammar school and the producers are in a hurry. Her performance of "My Church" by Maren Morris — a song I have never heard even once — is one of those sassy country routines that doesn't really stand out. Nothing about it supports the theory that Jenna Renae is even in the top 50 of my fav homies.
James VIII is "The Last Boy Scout" because his parents forced him into the Boy Scouts with the promise of an electric guitar. He does "Love Lockdown" by Kanye West, because James VIII is one of those guys who thinks he will blow your mind with a rock arrangement of a hip-hop song. Keith tells him, "You can't assume you're going to be here to do another song," which is good advice, but he probably will be here to do another song. (This whole thing will be the subject of Macklemore's "White Privilege III.")
Sonika Vaid likes to look at sheet music, even though she doesn't use it when she plays piano, so she is "Keeper of Tabs." Do you get it? Do you get why they're doing it? Why are they doing it? She chooses "Safe & Sound" by Taylor Swift and the Civil Wars, from that first Hunger Games movie. Just like the Civil Wars, I forget it the second it's over.
Gianna Isabella is "Bookworm" because she likes to read, and it's possible that in 15 years of life as the daughter of Brenda K. Starr, she hasn't done much else in the way of personality-construction. She sings Annie Lennox's "I Put a Spell on You" from Fifty Shades of Grey — oh dear God, please let her enthusiasm for reading have limits — and though she hits a bum note or two at the end, I will allow it. She is actually pretty poised and charming when her mom isn't hogging the frame.
Emily Brooke gets the name "Super Fangirl" because she likes musical artists or something. Emily Brooke doesn't really hold my interest, to be honest. But she does do an interesting thing by choosing "I Am Invincible" by Cassadee Pope, who I think was a winner on The Voice or Duets or one of the other competition shows. It seems like it might be disrespectful to American Idol — in its FAREWELL SEASON! — to do something like that. Also, it's wrong for her range; she's either too quiet or sharp throughout. She came into this performance as the anointed one, but tonight does her no favors. (The judges will, though.)
By the way, the judges choose who makes it past the top 24. Not you. Not yet. We'll get to vote in April, maybe.
Avalon Young is a "Skater Chick" for reasons that are self-explanatory. In her intro package, she is wearing a Cosby sweater. Are we reclaiming Cosby sweaters now, the way we did the word "queer?" I think I'm into it. Her version of "Love Yourself" by Justin Bieber is relaxed and confident, and although relaxed is maybe not a thing you want to be at this particular stage, I think the confidence is enough to carry her through. She is in sweats, and soon we will have to address that.
Is "Reptile Lover" a comedy sketch your friend made and posted to your Facebook wall? No, worse: It is young dad and recovering bun-wearer Jordan, who loves him some turtles, and who thinks loving turtles a lot is the same thing as having a personality. He does "All by Myself" by Céline Dion, and I think this is the second time he's covered a Céline version of a popular song and tried to out-emote her. His voice is quite strong, but the performance flits from big moment to big moment. It's an aural Ryan Murphy show. When the judges clock him for being too theatrical, he says, "Thank you so much for sharing that," which is really the most theatrical thing you can say in that moment.
Tommy Stringfellow is "Oink Oink" because he can speak Pig Latin. Let's not talk about it anymore. Listen: I like this kid, I think he's talented, I've been trying to figure out who he reminds me of, and I've arrived at "Deflated Jamie Bell." But his version of Radiohead's "Creep" is stuffed full of this wacko pronunciation the kids do these days, and it hurts my ears. (Somehow, the word "special" becomes "spayshoyrn.") There probably isn't room for both him and MacKenzie in this competition, and his voice will have to be a lot more straightforward if he wants to come out on top.
LaPorsha Renae is a "Screen Diva" because she likes to listen to film scores. The producers have made this bed and must now lie in it. She does "Proud Mary," and you already know it's great, but the entire thing — the styling, the arrangement, the vocal delivery — is exactly what we would have seen in the first season of American Idol. It is, in fact, something we have seen in every season of American Idol. I like her, but I need to know how she works in 2016. I need to know what's FAREWELL SEASON about LaPorsha.
And that's it. I predict Jordan, Jenna, Jeneve, and Stephany are going home. James VIII or Sonika might join them. Your thoughts?