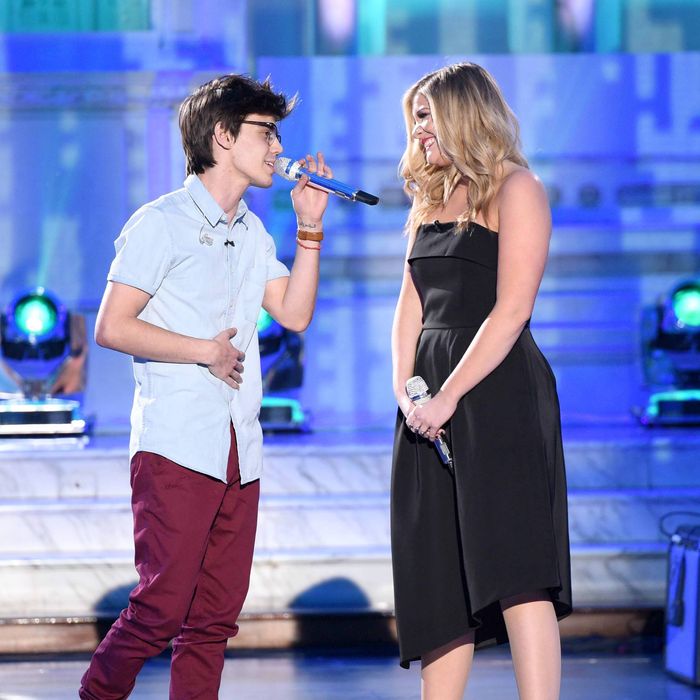 MacKenzie Bourg, Lauren Alaina.
Photo: FOX
It's the second half of the first half of the FAREWELL SEASON top-24 experience! It's an unnecessarily long performance and results episode that will wear down even the most enthusiastic Idol fan! It has no reason for existing, and we can't vote in it! ARE YOU READY?
Me neither, but here's the deal: They bring back six former American Idol stars, all of whom must pull double duet duty with our 12 hopefuls, and then the judges — who by now have surely seen everything they need to see — cut five of them. Why this can't be done in one hour or at the end of the previous night is a secret known only to Fox's advertising sales department.
Let's get into it.
Emily Brooke with Lauren Alaina
"Flat on the Floor" by Carrie Underwood
Lauren Alaina, last seen coming in second to Scotty McCreery in season ten, is currently serving hot Candace Cameron Bure, but with Dynasty shoulder pads. Emily Brooke wears a bridal hot-pantsuit under a lace trench-cape. Aside from Shania Twain and fancy Thai madams, who dresses like this? Vocally, it's an odd pairing. Their voices are very similar — though Lauren's is undeniably stronger — so there's no point in having them sing together. Emily is shaky and nervous. Could this really be it for her? Also, Lauren Alaina comes off like a veteran of the road, but is not yet three months into being able to drink in a bar.
Tommy Stringfellow with Nick Fradiani
"Man in the Mirror" by Michael Jackson
We are well into the FAREWELL SEASON of American Idol, but has NEXT TO FAREWELL SEASON winner Nick Fradiani released an album yet? Did Caleb's album sell so poorly, they're just not doing them anymore? Is it only available in another dimension, with Candace Glover and Melanie Amaro's records? If there's no album, what's the point in winning? Anyway, it is a stroke of genius to make Tommy do a mid-period Michael Jackson song, as they both sing largely in hiccups. Tommy is dressed like a chef's deconstructed version of a French mime. The judges don't like it, but they did like his version of "Creep," so he's probably safe. But if we're judging last night, why are we here tonight?  
Stephany Negrete with Ruben Studdard
"Superstar" by Luther Vandross
Either this starts with Ruben onstage alone, or with Stephany standing behind him. It's hard to tell. Stephany is looking very 1977 Cher, Ruben is instantly sweaty, and though they relate to each other more than the previous two pairs do, it still feels less like a "duet" and more like an "assignment."
Sonika Vaid with Caleb Johnson
"Skyfall" by Adele
This pairing makes no sense at all. If they're not trying to pull something new out of Sonika, then they've given up on her entirely. Both the song and the voices singing it don't grab me — all I notice is the giant rope of saliva in Caleb's mouth when he hits the first big note. It is upsetting. But the whole thing actually makes Sonika push a little bit, so maybe my retching wasn't all in vain.
Jenna Renae with Scotty McCreery
"See You Tonight" by Scotty McCreery
Scotty asks adorable Jenna asks whether she's got a fella back home, and she says she's married, and he says "I LOVE THAT" a little too quickly and enthusiastically, and we all learn at the same time that this is a country meet-cute that will not happen. Their voices blend well, though. This is actually the first performance that feels like a duet, as opposed to two people forced to perform together. And they look like they're having fun! Jenna is actually doing better than her country competition (and early front-runner) Emily, but it may be too late and the judges' minds too made up. Jennifer's entire critique is "You did the best you could on it," which sure does not bode well.
La'Porsha Renae with Fantasia
"Summertime" by Ella Fitzgerald
La'Porsha and Fantasia bond over abusive relationships and divorces, and you won't believe me, but it's actually pretty uplifting. (I mean, La'P is going to go far in this competition, and whatever happens from here, her life is bound to improve, just as Fantasia's has. That's something to feel good about.) Their duet is the first performance where the returning Idol doesn't outshine the contestant; their voices are equally strong and playful. Harry correctly identifies it as "a battle of runs," and I don't hate it as much as his description would make you believe.
Mackenzie Bourg with Lauren Alaina
"I Hope You Dance" by LeeAnn Womack
Their introduction begins with a lot of awkward flirting: Lauren tells Mackenzie he's handsome, and he says he's nervous, and they both giggle. In his solo interview, Mackenzie then says, "I didn't know if I was supposed to compliment her back, or …" So, you know, ouch. But for what I believe is the first time in this episode, the contestant gets to sing the first line. (For real: What is the point of this? To prepare the kids for their lives as backup singers and Broadway chorus boys?) The song is much more in her key, but he does what he can. Ryan tries to get Mac to flirt with Lauren, and it doesn't quite work out, then she runs offstage. Man, when this show gets a potentially fun moment, they really beat it into the ground.
Gianna Isabella with Nick Fradiani
"Beautiful Life" by Nick Fradiani
It seems cruel to saddle someone just starting out in this competition with a winner's song, and it seems doubly so to do it with this one. The only person who has heard "Beautiful Life" more than once is Nick himself. She tries, she really does, but you can't pretend to be excited about "Beautiful Life." But she is a charmer, and she brims with what seems to be genuine youthful enthusiasm as the judges give positive notes. She'll be fine. Brenda K. Starr is going to have a heart attack on live television in five weeks.
Avalon Young with Ruben Studdard
"Flying Without Wings" by Ruben Studdard
This is an inspired pairing, as the both of them have such relaxed, effortless charm. And although this is another one of those songs that nobody outside of the Idol bubble really knows, they both attack it like it's a standard. I love Avalon's voice, and I love that she's not super aggressive with it. It's so nice not to be battered about the ears with technique. Avalon for FAREWELL SEASON Idol.
James VIII with Caleb Johnson
"Gimme Shelter" by the Rolling Stones
The better call would have been to pair James with Fantasia and make her be the Merry Clayton in this song, but what do I know? This is not a song that shows off a voice, and James VIII does not have the charisma of a Mick Jagger, so it doesn't go anywhere. James VIII is a guy who makes bad choices. Caleb is still Caleb.
Jeneve Rose Mitchell with Scotty McCreery
"Gone" by Montgomery Gentry
Jeneve is dressed like the mascot of a cruel Texas steakhouse, and I am here for it. But overall, I am of two minds about Jeneve. She is truly unlike anyone who's ever been on the show, and I'm curious to see her evolution, but she's also one of the weaker singers in the top 24. I'd hate to see a Cute Boy With Guitar get sent home while she flails in his spot. I feel like tonight might be the end of the road for our li'l Kimmy Schmidt of Song.
Jordan Sasser with Fantasia
"I Believe" by Fantasia
As soon as I saw the two of them together, I worried that this would be a battle of runs in the bad way. It's actually not as ear-traumatic as I feared. Jordan holds his own with Fantasia, and although he gets on my nerves, he has a lot of talent. I'm still convinced he's finished, but I wish him success in the OneRepublic tribute band he's destined to form.
Alright, it's clobberin' time. In order, the singers moving on to the top 14 are:
La'Porsha Renae
Sonika Vaid
Avalon Young
Gianna Isabella
Thomas Stringfellow
Mackenzie Bourg …
At that point, the remaining women look downcast. Only seven people are going through — surely five of them can't be women. Jenna grimly shakes her head. Stephany looks at the ground. Emily looks like she just found out the truth about Santa. (These kids have been too busy to watch the show and see how the producers are grooming Emily to be the winner.) And then …
JENEVE ROSE MITCHELL.
It's going to be an interesting FAREWELL SEASON. If you're heading to Hollywood, be sure to wear kerchiefs in your hair.