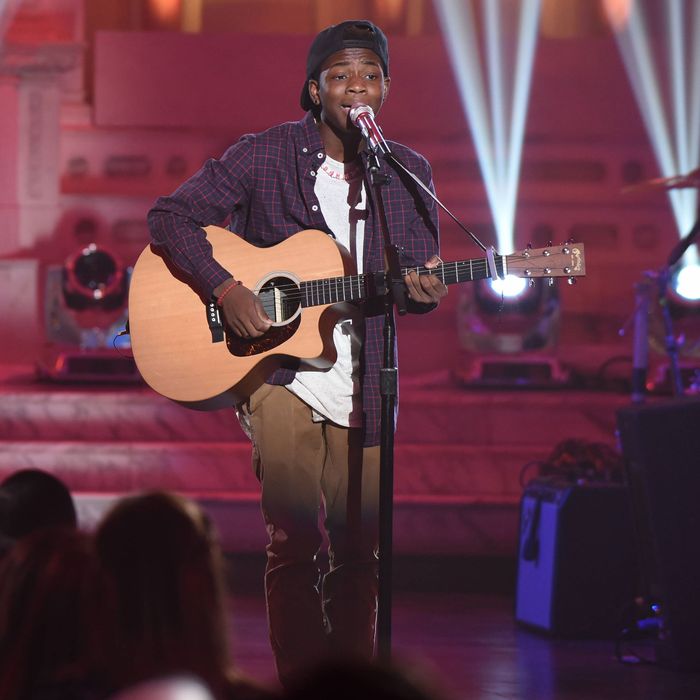 Lee Jean.
Photo: Ray Mickshaw / FOX
Our Idol journey continues in almost the exact same fashion as last week: The other half of the top 24 sings for their lives, first in this solo episode, then again Thursday, in a bloated and useless two-hour duets special with Idols past. The judges acknowledge right at the top that tonight's performances are the ones that really count, so it's good that we're spending half as much time on them. Idol, you're weird.
Shelbie Z. is up first. Shelbie Z. is a down-home country gal who likes her ATV and shootin' guns and "mud-boggin'," which I am 95 percent certain is a thing she just made up. Also, Shelbie Z. is afraid of wet paper. Wet paper seems to be the kind of thing a person can avoid without trying too hard, so I would encourage Shelbie Z. not to dwell on it. Go on about your business, Shelbie Z.! Mud-bog like nobody's watchin'! She sings "Work Hard, Play Harder," by Gretchen Wilson, a song that was spat out by a Tough Country Gal Song Generator in 2006. Of course, it's perfect for her. The judges ding her for putting the song in a low key so that she can nail the final note. It's a solid point, but she delivers the song with personality. As we'll see, that's a thing that is really, really lacking tonight. I think she'll be fine.
Manny Torres can do all things through Christ who strengtheneth him. He can, for example, dress like a bellhop in the Cirque du Soleil adaptation of The Grand Budapest Hotel. One thing he cannot do, because it is not possible, not even for the Son of God, is enliven Coldplay's "Adventure of a Lifetime." I don't know when this happened, but all at once, Coldplay turned into the kind of music you hear in a McDonald's in the Czech Republic. The judges are mostly positive, but not too enthusiastic.
Kory Wheeler apparently got cut in Hollywood Week last year, but I don't know because I sat that one out and I am grateful for it every day of my life. He does a good version of James Bay's "Let It Go," which he may think America will recognize from Bay's performance at the Grammys on Monday, but I'm pretty sure the James Bay/Tori Kelly duet is when the entire country got up to make snacks. I think the song is perfect for his voice, and Jen and Keith agree, but Harry isn't into it. Kory's a sleeper, if you ask me. And has lovely eyes.
Amelia Eisenhauer is our kooky theater kid, and, in kooky-theater-kid-style, does an acoustic take on Avicii's "Wake Me Up." Unplugged versions of EDM songs are not a novel thing at this point, but she's 16 years old, so I will let it slide. Again, the judges pile on the faint praise. This has been a pretty lackluster night so far.
Jenn Blosil does not drink or do drugs, which actually makes a lot of sense when you think about it. (Growing up, we are warned about the dangers of drugs and booze for good reason, but in adulthood you learn that it's the teetotalers you really have to watch out for.) She does a piano-bar version of Justin Bieber's "Sorry." Throughout it, she makes eyes that can only be called "Michele Bachmann–esque." And Harry does a praise bait-and-switch where he's like, "I expected everyone in the place to applaud when they did … because it was the only time you were in tune." Ouch. But here again, she has personality. That will be enough to get her through tonight.
Oh, CJ Johnson. He's one of my favorites. He's got a lovely tone and a history of playing crappy clubs, and there's nobody like him left in the competition. But then he goes and breaks my heart by doing Edwin McCain's "I'll Be," far and away the most overdone song in American Idol history. It has to be a strategic move, right? Like, he's making a commentary on the song's outsize significance, in the show's FAREWELL SEASON? Am I reading too much into this? Either way, he's not playing guitar, which is a thing he should always be doing. Also, he could maybe have worn a jacket over his gray T-shirt, because right from the start of the performance, he is in wet-pit city. The judges praise the song choice, of course, but Harry says this: "I loved it, but you should think about trying to sing it in tune." Tonight, Harry is very patiently having to explain what musical notes are and how they work.
Lee Jean continues to do what Lee Jean does, and I think an Ed Sheeran song is the exact right way to do it, but the judges disagree. Jennifer makes the very good point that nobody has done a big, crowd-pleasing, sing-along-type song tonight, but I think this gang is naturally more low-key than that.
Trent Harmon kind of reminds me of Colton Dixon from a few years ago, in that he's very emotional and has great pitch and looks malnourished. His version of "What Are You Listening To" by Chris Stapleton is the right acoustic ballad for his voice. But on the other hand, he continues to wear big, unfortunate hats. I am torn on Trent Harmon.
Tristan McIntosh does Carrie Underwood's "Good Girl," and she's fine, but she seems to have somehow achieved all of a fully grown adult's dullness at age 15. She is the very model of the modern American Idol contestant. Like, if there were an American Idol Xbox game (which there probably is, what the hell do I know), she would be one of the default characters. [Ed. note: Yep, the game exists.] Even in real life, she seems computer-generated. Again, the judges say the performance is just fine, but they (and I) are longing for an emotional connection.
Adam Lasher went and got himself very handsome between Hollywood Week and now. And listen: I love "Black and Gold" by Sam Sparro, and I love very handsome guys, but this performance doesn't do much for me. He's got a throatier, raspier tone than anyone else in the top 24, but this song doesn't show it off. It might all have been an excuse to wear gold shoes, which, if it was, then mission accomplished. The judges agree: Eh.
Have you heard of yaoi? The Japanese genre of cartoons depicting gay sex, which are generally made by and for women? Dalton Rapattoni looks like a yaoi drawing. I'm here for it. He does a version of "Rebel Yell" that is slowed down and My Chemical Romance'd all the way up. Initially it raises my hackles because you do not mess with a Billy Idol arrangement, but he sells it, and boy, does he understand eye makeup. He will make it to the top three, if he doesn't win the whole thing — talent aside, he is far too pretty not to go that far. But if he starts tinkering with "Flesh for Fantasy," I quit.
Olivia Rox is very poised and very lovely, and the judges and producers seem to adore her, but she needs to impress me tonight, and a Demi Lovato song is not the way to do it. "Confident" seems to suit her well enough, though. She isn't the Kelly Clarkson they want for the FAREWELL SEASON, but she should be safe.
And that's it for the last 12 of the top 24. Five go home tomorrow night. My money's on Adam, Tristan, Lee, Amelia, and Manny. Your thoughts?