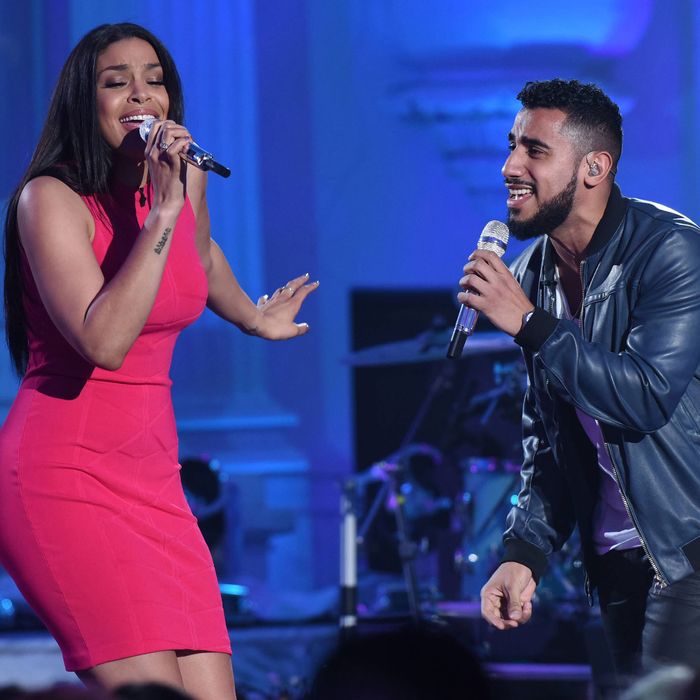 Jordin Sparks and Manny Torres.
Photo: Ray Mickshaw/FOX
All right, here we go. It's the second night of the second half of the thing where the top 24 become the top 14, and it's two hours long and we don't get to vote. The FAREWELL SEASON of American Idol is quickly becoming the HERE'S YOUR HAT WHAT'S YOUR HURRY season.
Helping out tonight are six former Idols: Winners David Cook and Jordin Sparks, up-for-anything Kellie Pickler and Constantine Maroulis, and too-good-for-this Haley Reinhart and Chris Daughtry. I'm actually wondering whether 19 Entertainment is seeding an Idol Legends tour for when this whole thing wraps up. I'd go.
All the judges agree that last night was a disaster. This second half of the top 24 is a snoozy bunch, and the prospect of two hours with them is so distressing. But we have agreed to do this, so let's do this.
Amelia Eisenhauer with Kellie Pickler
"Suds in the Bucket" by Sara Evans
Kellie has turned into a real character in the last ten (ten!) years, spinning her Kooky Country Gal brand into a record deal, a reality show, and probably a line of nonstick cookware. Their voices blend well, and our weird young redhead gets to fiddle. Afterwards, Kallie asks her, "D'jew hayve a good tahm?" And it is clear that she did hayve a good tahm, and she shoulda hayd eet last naht.
Kory Wheeler with Haley Reinhart
"Bennie and the Jets" by Elton John
There is history with this song, as Kory auditioned with it this year and Haley tore it all the hell up in season ten. Since then, it seems that Haley has committed herself to unfortunate hats. Kory works a look that I can only call "dreamboat chipmunk in a suit." Ultimately, though, this song worked for Haley because she could hit high notes in the Bennies, which Kory just can't. I fear the worst.
Lee Jean with Chris Daughtry
"Home" by Daughtry
Lee seems a little nervous, so Chris tells him to do the Cabbage Patch and the Running Man to get through it. Chris's perceptions of how young black men behave seems to have come from the House Party series of films. He reminds us over and over that he wrote "Home," which, you know, we believe you. Lee does what he can to give the song some personality, but it is such a post-Nickelback wet noodle. There is only so much he can do.
Though this is far too slow so far, it's actually much more interesting than last night. It's the complete opposite of last week. (It should still be half as long.)
CJ Johnson with David Cook
"The World I Know" by Collective Soul
Ugh. All right, this song was chosen for poor CJ because it was David Cook's final and most memorable Idol performance, which I will have to take their word for because I'd forgotten it completely. And while "The World I Know" is fine, it doesn't lend itself to the big vocal moments a contestant needs right now. David encourages CJ to end the song on a big, corny falsetto note, which he does, and I sense doom, and I don't like it. I want my sexy David Koechner to live.
Manny Torres with Jordin Sparks
"No Air" by Jordin Sparks and Chris Brown
Finally, a duet that's an actual duet and not just two people who have been asked to stand onstage together. It makes a difference when the song is specifically written for two voices to sing to each other. But you know what's always amused me about this song? The fact that the songwriters employed my favorite affectation in hip-hop: The use of it's in place of there's, as in "it's no air." The very idea that Jordin Sparks would use it's instead of there's is straight-up hilarious and heartwarming. The fact that I am thinking about this and not Manny's performance is probably not good news for him.
Jenn Blosil with Constantine Maroulis
"My Funny Valentine" by Frank Sinatra
When you make this song a duet, especially here, it just becomes two people shouting at each other about how ugly they are. Constantine does his thing where he sexually assaults the camera with his eyes, and Jenn's performance is about 90 percent squeaks and honks. Harry calls it out for becoming a shouting match, and that "My Funny Valentine" doesn't call for a shouting match. Harry gives good notes.
Tristan McIntosh with Kellie Pickler
"Best Days of Your Life" by Kellie Pickler
I watched it three times, and it wouldn't stay in my head no matter how hard I tried. Tristan McIntosh is clearly very talented, but she gives me acute situational ADHD.
Olivia Rox with David Cook
"Light On" by David Cook
I had forgotten about "Light On," largely because there is no song to remember — it's just a three-minute opportunity for David Cook to stare stalwart into the middle distance. Olivia does a good job of pretending she's familiar with it, which really should be enough to win her the entire competition.
Adam Lasher with Haley Reinhart
"Can't Help Falling in Love" by Elvis Presley
Between her first duet and this one, Haley went and got a full "Lady Marmalade 2001" application of eye makeup. Between the hats and the glitter eye shadow, Haley is serving some prime-time Burning Man tonight. She and Adam do the thing where the song is so pared-down that it has no rhythm to hold on to, which is hard enough for one singer to pull off … much less two … much less two who have just met. The judges are lukewarm.
Dalton Rapattoni with Chris Daughtry
"Higher Ground" by Stevie Wonder
A list of perfectly synchronized things: Dalton and Chris's voices, Dalton and Chris's performance styles, Dalton and Chris's wallet chains.
Trent Harmon with Jordin Sparks
"To Love Somebody" by the Bee Gees
I think it's because he had mono during Hollywood Week, but I will always think of Trent Harmon as being sickly. I feel like I should be donating to a GoFundMe for his treatment, or running a 5K to raise awareness for Trent Harmon Disorder. That's probably not fair, but that's the way it is now, and his gruesome high-note faces don't help. He is talented, but he should eat a cheeseburger and dial it back.
Shelbie Z. with Constantine Maroulis
"Bohemian Rhapsody" by Queen
Constantine's performance of this song in his season is legitimately memorable, largely for its ambition, and I worry that it's more than Shelbie can take. There is also no reason for it to be a duet, and it suffers horribly when it is truncated to fit a 90-second Idol window. Poor Shelbs gets blown off the stage, as you would imagine. She doesn't perform badly; she just doesn't have much to do. The judges say as much. Hoo boy. This duets night, which allegedly doesn't count as much as last night's performances, is killing some of my faves.
Making it through to next week:
Lee Jean
Olivia Rox
Jenn Blosil
Dalton Rapattoni
Manny Torres
Tristan McIntosh
Trent Harmon
That means Shelbie, Kory, CJ, Adam, and Amelia are all going home — and at least two of those are real shocks.
Next week, we and the judges choose our top ten, which includes our wild-card picks. I have no idea how that's going to work, or who's eligible to become a wild card, or when this is all going to add up to something interesting. And yet, I remain hopeful.