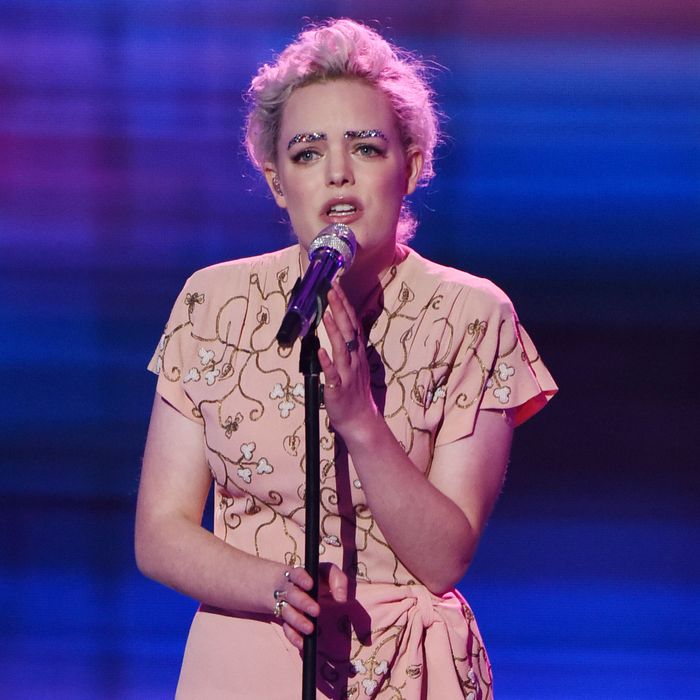 Jenn Blosil.
Photo: Ray Mickshaw/FOX
In this very weird and confusing episode, our "wild card" picks are revealed. (Except this year, "wild card" means "judges' pick!") And finally, we get to vote. (Except it's only for the six spots not occupied by the four wild cards chosen by the judges!) And it's live. (Except not really, because it was taped earlier this week!) Right from the beginning, I was confused and frightened.
So let's start with our four judges' picks, which are pretty obvious: Dalton Rapattoni, Olivia Rox, La'Porsha Renae, and Trent Harmon, who is dressed like a chair in a Las Cruces, New Mexico, Jiffy Lube. Their reward for being the best? Being forbidden to participate in tonight's episode. The remaining ten will perform, and then I guess four will be sent home tomorrow. Or maybe not. I truly have no idea.
I will say this, though: This feels very much like a FAREWELL EPISODE top 14. We don't have a fresh new group of singers so much as we have a sampler box of Idol archetypes that have succeeded in the past. Everyone seems to have been carefully chosen to bring back special Idol memories.
Manny Torres, the Big, Handsome Lug (Michael Sarver, Stefano Langone)
"Master Blaster" by Stevie Wonder
Manny is very flirty. While he doesn't have a bad singing voice, there's not much that's memorable about it. Overall, he comes off like a guy who gets super intense at the gym. Tonight will probably be the end of the line for him.
Gianna Isabella, the Determined Young Striver (Paris Bennett, Jasmine Trias)
"I Put a Spell on You" by Annie Lennox
I hate that I am going to say this, but I am going to say this: I acknowledge and appreciate Gianna's blowout. She looks (and sings, and behaves) considerably older than her 15 years, and I'm going to need to see her try something youthful soon, or I'm going to lose interest. I think I'll get that chance, though. I still believe. Do you see what I did there? (See, her mother is Brenda K. Starr, whose biggest hit was called "I Still Believe." It was a very clever piece of wordplay. I had a lot of fun with it, and I hope you did, too.)
Thomas Stringfellow, the Quirky, Handsome-ish Young Guy (Alex Preston, David Archuleta)
"Story of My Life" by One Direction
One thing I had not noticed about Mr. Stringfellow is that he has a tiny head, which he accentuates by wearing an enormous ball cap. Oh, also: I've determined who he reminds me of, and it's Tilda Swinton. His performance, as ever, is very fluttery and hiccupy, which Harry calls him on, and in so doing, invokes the name of Dolores O'Riordan from the Cranberries. We are simpatico, Harry and I. Thomas is getting on my nerves, but the girls will love him, and I don't blame them.  
Tristan McIntosh, the One Who Is Good But Needs to Do Some Living (Jessica Sanchez, Diana DeGarmo)
"What Hurts the Most" by Rascal Flatts
I'm sure Tristan has a good voice, but I just hear a dial tone when she sings. If only this weren't the FAREWELL SEASON. If that were the case, she'd come back again when she turned 21, after she'd had her heart broken a few times. Right now, her biggest heartbreak is that her mother was briefly deployed to Kuwait. Pretty weak mahyawa, if you ask me. (Mahyawa is a spicy Kuwaiti fish sauce. Again, this is solid, timeless comedy I'm doing here.) Tristan will be the girl who makes it to No. 3 despite not being anyone's favorite.
Avalon Young: the Laid-Back, Effortless Genius (Jason Castro, Crystal Bowersox)
"Yo (Excuse Me Miss)" by Chris Brown
Avalon serves up a delightful mix of Nelly Furtado and Edie Brickell, with a skater-girl style that is all her own. Of the girls, she is the only one who seems to be enjoying herself. At some point, she'll have to start pushing, but for right now, it's just infectious and enjoyable, the way this show should be.
Jenn Blosil, the Endearing Goofball (Naima Adedapo, Megan Joy)
"True Colors" by Cyndi Lauper
We must first address Jenn's robot forehead. Tonight she takes the stage with a startling, fully Bedazzled eyebrow region. Why? We can only speculate. Song-wise, you've heard her do this before, and even if you haven't, you know what to expect: A lot of Feist-y yipping and yowling. Harry calls it a flawless lyric delivery, which might be his way of congratulating her for remembering the words.
Lee Jean, the Too-Young Guy (Daniel Seavey, Sam Woolf)
"Make It Rain" by Ed Sheeran
Lee Jean clearly knows the whole Ed Sheeran catalogue backwards and forwards, so I'm not sure why he chose this one to do twice. It plods along, it doesn't showcase his voice terribly well, and its beat is so sluggish that when the studio audience attempts to clap along, it sounds like a strip of Velcro being gently pulled apart. The judges heap on the faint praise.
Sonika Vaid, the Talented Woman Who Gets Cut Way Early (Pia Toscano, Nadia Turner)
"I Surrender" by Celine Dion
Why would anyone under the age of 45 choose any Celine Dion song, much less this one? It is utterly boring. Although Sonika clearly has a fabulous voice, she fades into the scenery tonight.
Jeneve Rose Mitchell, the Kid They Are Just Messing With at This Point (Sanjaya Malakar, Kevin Covais)
"Ring of Fire" by Johnny Cash
She is charming, and there is obvious talent there, but this has got to stop. Tonight she wears what may be a tablecloth in her side-braid, and adds about 50 million syllables to this Johnny Cash standard. I will say this: I'm genuinely curious to see if America accepts her. They either really will or really won't; if she survives this vote, she'll make it to the top five for sure. (Is Vote for the Worst still a thing?)
MacKenzie Bourg, the Winner (Phillip Phillips, Kris Allen)
"His Own Song That I Can't Remember the Name Of" by MacKenzie Bourg
I mean, this kid is head and shoulders and surprisingly good arms above anyone else in tonight's episode. He sings with emotion, he plays a tiny guitar that makes him look like a homeless guy you want to take in and feed soup to, and he will clearly lose the glasses and comb his hair somewhere around Top 5 Week and the girls of America will go all the way through puberty in one night. It's him and Dalton in the finals, MARK IT.
All right: I think tonight is the end of the line for Manny, Sonika, Jenn, and Lee. But in a Donald Trump world, who even knows what America wants anymore? Your thoughts?