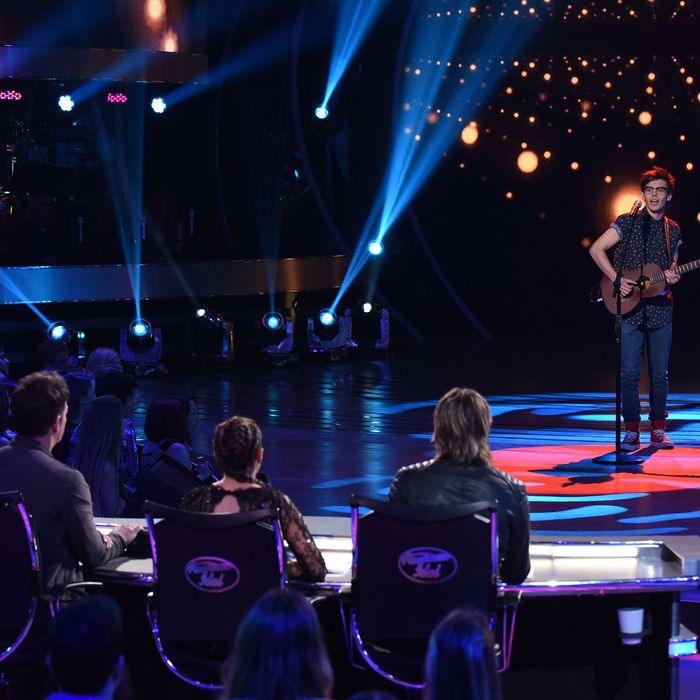 MacKenzie Bourg.
Photo: Ray Mickshaw/FOX
After what seemed like an eternity, we finally have our top ten. Actually, it's only 60 percent ours. The judges already fast-tracked four of them. But still, progress is progress.
We begin the episode with a timeline of the important world events that have transpired since the debut of American Idol, if you define "important world events" as social-media-platform launches and Idols winning Grammys and Oscars.
We find out who survives right at the top of the show, which seems like the kind of thing the Idol of old would have stretched out for hours. Joining Dalton, La'Porsha, Trent, and Olivia in the top ten will be:
Tristan McIntosh
Sonika Vaid
Gianna Isabella
MacKenzie Bourg
Avalon Young
Lee Jean
So that's a wrap on Jenn Blosil, Thomas Stringfellow, Manny Torres, and Jeneve Rose Mitchell. I agree with exactly half of your rejections, America. Jenn immediately goes to comfort Tommy and Jeneve; maybe she is in child care after all.
Tonight's theme is "Songs That Came Out Since Idol Premiered," and the songs will be sung primarily by people who've been born since Idol premiered. My God, this show will make you feel old. Oh, and Kelly Clarkson will be judging and performing and generally behaving like someone who says "awesomesauce" 500 times a day. Let's get into it. My thoughts are below, along with snap categorizations of the four who didn't get to perform last night.
Olivia Rox, The Very Professional Youngster (Angie Miller, Jax)
"Unconditionally" by Katy Perry
All I know of this song is that it looks it's going to be used in Tyler Perry's The Passion, which I just truly cannot wait to watch. A Fox/Tyler Perry jukebox musical about Jesus? Come on. And as of tonight, I am officially onboard with Olivia. Is she one of those overly composed Los Angeles teenagers who frighten me? Sure. But it's so refreshing to hear a Katy Perry song sung on pitch. She'll go far.
Gianna Isabella
"Listen" by Beyoncé
In her intro package, we learn that Gianna had a crush on Scotty McCreery, which tells you everything you need to know about her. (I mean, the kid was serving fresh George W. Bush babies in his season.) Actually, you need to know one other thing about Gianna: She thinks "Listen" is a good choice for her first live show. It's not. "Listen" was tacked onto the film version of Dreamgirls so Beyoncé could get an Oscar nomination. Both it and Gianna are flat. All of the judges do variations of, "That wasn't good, but you're very young."
Lee Jean
"Skinny Love" by Bon Iver
Lee finds inspiration in the Idol journey of Chris Medina, the guy with the fiancée who was in the car accident that put her in a wheelchair. I'd forgotten about that, and now I'm sad all over again. (A quick coup de Google reveals that the fiancée was drinking and texting at the time of the accident, which, you know, let's all keep not doing those things.) Lee hops off the Ed Sheeran train and catches the Bon Iver, which is really just the next platform over. Once again, the audience attempts to clap along but has no rhythm, which would throw a lesser talent off, but Lee is unperturbed. Also, Chris Medina is in the audience! He looks like Sean Lennon now! They ask for his opinion of Lee, which he gives, but he is not on a mic, so it is a long, weird, silent moment.
Avalon Young
"Stitches" by Shawn Mendes
When it comes to Idol inspirations, Avalon reps for Justin Guarini, so she has earned even more of my respect. (Are you following Justin on Twitter? You should! Dude is legitimately funny!) This is the first current hit song of the night, and it's a smart move, even if she seems more nervous than we've ever seen her. The judges tell her she was working too hard. I disagree! Kelly finds her captivating, and adds that Avalon makes her love the songs she sings, even if they're garbage, which "Stitches" kind of is. I agree!
Dalton Rapattoni, The Smoldering Earnest Guy (Constantine Maroulis, David Cook)
"Hey There Delilah" by Plain White T's
As my boyfriend has pointed out, Dalton somehow looks like all three members of Green Day. And listen, I reached my quota of this song about a week after it was released, but he gives it a punchy, upbeat little rhythm. He also makes eye contact with the camera and the girls in the audience, and those eyes are going to get him to the top three, at least. It's not a memorable performance, but he doesn't need one at this stage.
Tristan McIntosh
"Nothin' Like You" by Dan + Shay
Tristan reminds me of Alicia Keys: She is preternaturally poised, clearly wildly talented, and super boring. And I don't know who Dan + Shay are, but I'm assuming they're a country duo, judging by the dropped G in "Nothin'." Regardless of how far she makes it in the competition, she's got a bright future in the world of country — if country has room for Bucky Covington, there is a space for a cute, mixed-race girl with a mother in the Army. Kelly tells her she wants her to sing a song that she has truly felt. That might be hard because she is a child, and might not have done much actual feeling yet.
MacKenzie Bourg
"I See Fire" by Ed Sheeran
Jeez, the kids really love their Ed Sheeran album tracks this season, don't they? It's not my favorite of Mac's performances, but he has bought himself a pass to next week on the strength of what we've seen so far. For reasons I don't fully comprehend, we also learn that William Hung is married now! There is a lid for every pot, folks, and don't you forget it. Also, MacKenzie is dressed like he should be hanging out at the Max.
La'Porsha Renae, The Hard-Luck Belter (Fantasia, Jennifer Hudson)
"Diamonds" by Rihanna
The thing that has always made Idol great is that sometimes, someone just comes out on stage and tears it all the hell up. I mean, just look at this. She's wearing a cape like a goddess superhero, the hair is done up like the crown of some kind of funk queen, and then she opens her mouth to sing and this comes out. The ovation goes on for a full minute. She's flawless. Kelly pronounces her the winner. It could happen.
Sonika Vaid
"Bring Me To Life" by Evanescence
Okay, you cannot convince me that Sonika Vaid has ever had a mall-goth moment. Sonika Vaid has never felt like nothing inside. The Kidz Bop version of this song is more convincing. But technically, it's very good, and it shows us a more animated Sonika than we've seen in the past. She's up and down, our Sonika.
Trent Harmon, The Guy With a Good Voice Who Gets on Your Nerves (Danny Gokey, Blake Lewis)
"Like I Can" by Sam Smith
I can't get past the faces. Can you get past the faces? How do you get past the faces?
And then Kelly performs her new song, "Piece by Piece," and she cries and everyone cries and she says "#awkward!" or whatever and we are at last released from this two-hour glitter-prison sentence.
Next week, we get back to the one-show-a-week schedule, and two of these kids will go home. I say Gianna and Lee. I have no idea who is going to win this thing, but I think it's about to get interesting. Wouldn't that be the sickest FAREWELL SEASON twist of all?