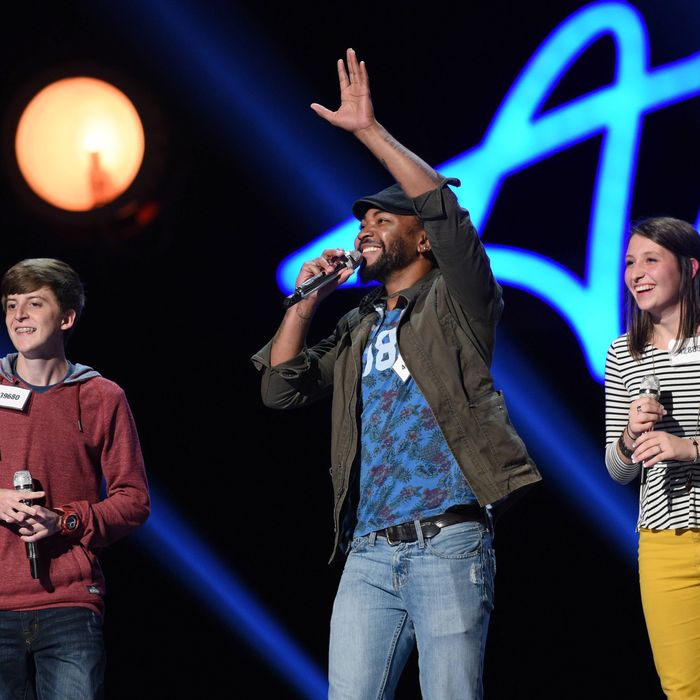 Contestants in the "Hollywood Round #2" episode.
Photo: Michael Becker / FOX
It's the bloodiest entry in the Hollywood Week horror franchise: Solo Night. Okay, so "Solo Night" is actually a bit of a misnomer, as they've already done plenty of solo performances by now, and this is actually the first night they'll be performing with the whole American Idol band. It's really more like Hollywood Week: Band Night. Or Hollywood Week: Just Tell Us Who the Top 24 Are Already. Or Hollywood Week: So Much Christina Perri.
Stephany Negrete has nobody with her, as her father is at home recovering from a heart procedure. But she was part of that group that was mean to the girl with the brassy mother from last week, so I am unable to feel sympathy for her. Also, she sings "Set Fire to the Rain," which is a song nobody needs to hear again, and you cannot argue otherwise. She does have shiny 1972 Cher hair. I have mixed feelings about Stephany Negrete.
Tommy Stringfellow, Olivia Rox, and Avalon Young all give performances they're not happy with, and then we see John Wayne Schultz, who has misplaced his lucky cowboy hat. It's unlucky for him, but good news for us because we finally get to see his entire head. He has a nice head! His take on Keith Urban's "John Cougar, John Deere, John 3:16" (which I swear is not a song title I made up as a withering critique on modern country music) is a little soulless. That ass, though.
Through some arcane Idol rule, Tristan McIntosh drew a high number and cannot sing "What Hurts the Most." She invokes the "deployed military parent" defense — I have to sing this bland Rascal Flatts number because my mother was in Kuwait! — so that sweet Alaskan radio personality Malie gives up her claim on it. Tristan does fine, but fighting for this song makes less sense than an American military presence in Kuwait.
This has been the political activism section of the recap; forgive me for blowing your mind.
Mackenzie does an original song called "Roses," which ends with, "so let me help you out of that dress," which … I mean, he's 23, he has reached sexual maturity, but he still seems like a little boy to me, and the whole thing makes me feel dirty. This is not necessarily a complaint. Shelbie Z. sings Heart's "Alone," that James VIII guy from a few weeks ago does all kinds of vocal tricks all over Chris Isaak's "Wicked Game," and Kory Wheeler does a great job on Coldplay's "Fix You," and I'm not just saying that because I know he reads these. Hi, Kory Wheeler!
We have reached the point in the competition where everyone has a very nice voice. Sonika Vaid, who impressed me at the beginning, continues to be pleasing to the ear, but she's not giving me anything new. Tonight, another Ariana Grande song. This is how she Sonikas.
The producers are also trying way too hard. Tonight, we get a lot of awkward friendship packages. A lot of moments are supposed to look like hidden-camera footage but are so obviously staged, produced, and designed to pad this show out to three hours a week. This season's Ross and Rachel are Lee Jean and Sara Sturm. Lee does "Stitches," Sara does "Somewhere Only We Know." It's a real will-they-won't-they, but Sara is 18 and Lee is 15, so it would be actual statutory rape if they will.
Jenn Blosil does "True Colors" and doesn't think she did the song justice, but she for sure wears a colorful cardigan. Emily Brooke takes on that inexplicably popular "What Hurts the Most" song and the judges love her, but I just don't think she's ever going to do it for me. She is a Taylor Swift who will launch zero think pieces.
Laryngitis has ravaged the FAREWELL SEASON of American Idol. Malie falls apart on "Stitches," Mionne Destiny rasps through a song that I assume is called "Chains," and Jessica Cabral sounds just like normal on whatever her song is. Did I say "ravaged"? I meant "mildly inconvenienced."
Young dad and new Dan Fogelberg Joshua Wicker sounds weak in his version of Christina Perri's "A Thousand Years," but Harry finds something "mournful and soulful" about him. CJ Johnson gives me what I can only call "sexy David Keochner" on Fleetwood Mac's "Go Your Own Way," and Harry calls it "average." Jeneve Rose Mitchell is wearing all of the world's kerchiefs as she sings "Danny's Song," and though I don't see it with her, Harry is intrigued. Harry and I are not getting along tonight.
Dalton Rapattoni looks like all of Green Day fused into one, and he does a surprisingly pretty version of "Hopelessly Devoted to You." Did he know how soon after Grease: Live this episode would air? I choose to believe that he studied the Fox schedule closely. He is too much of a Hot Topic dreamboat for my taste, but I have to respect it.
And then we do the thing where the kids are divided into three groups who go into three different rooms, and one of them is sent home, but maybe this year they'll all go through because it is the FAREWELL SEASON and none of the judges want to be the bad guy, and sometimes I feel like I will never be free from this show.
The first room contains Dalton Rapattoni, Mackenzie Bourg, and Tristan, so there's no suspense here at all. Boy-Bun Worship Leader is also in this room, which is a thing I do not agree with, and you are correct in your assumption that he FaceTimes that poor ukulele-playing wife of his.
In the next room, there's a slew of people they didn't even bother to show us, but also sweet John Wayne Schultz and Joshua Wicker. It's a big old no for this whole room. So that means Olivia Rox and Tommy Stringfellow and Malia with Laryngitis and literally all of the other people I mentioned in this recap are safe. This was actually not that bloody an installment of the Hollywood Week franchise.
So now there are 51, and tomorrow we will see each and every one of them as they are narrowed down to 24. John Wayne Schultz, I will save a spot on my couch for you.