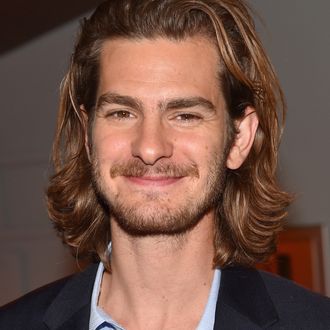 We will not rest until Andrew Garfield does Angels in America in America.
Photo: Alberto E. Rodriguez/Getty Images
Andrew Garfield, Spider-Man no more, will star in the National Theater's production of Angels in America in May 2017. Part one of Tony Kushner's epic two-part, six-hour play had its British premiere in 1992 (with the second part premiering the year after), making this something of a 25th-anniversary staging. Garfield will play Prior Walter, a gay man diagnosed with AIDS at the height of the epidemic in New York. The role was originated by Stephen Spinella in the play's 1992 debut in L.A. and its later Broadway staging. Justin Kirk played Prior in Mike Nichols's 2003 HBO adaptation. In London, Angels in America will be directed by Marianne Elliott. The rest of the cast has not yet been announced.