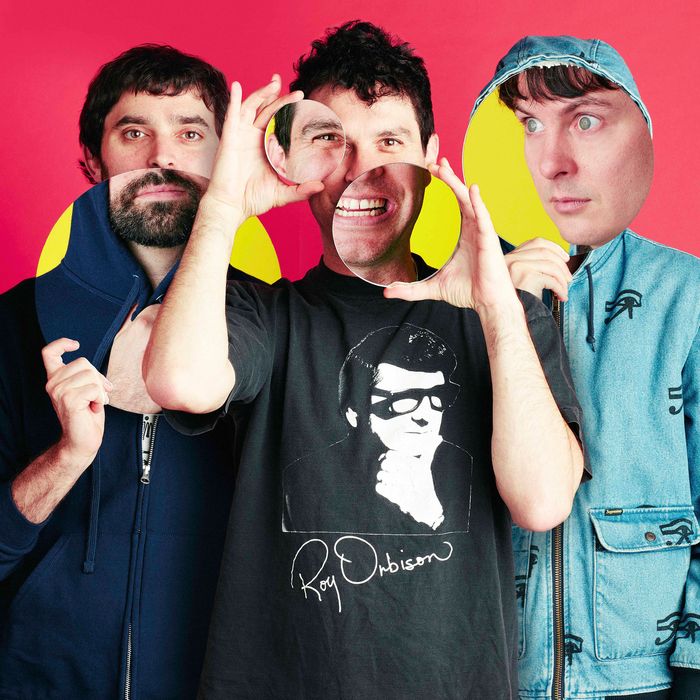 Despite Brian Weitz's years spent in New York City — first as an undergraduate at Columbia University, then as a member of Animal Collective — he found himself somewhere he had never been before during a recent return to the city. With his bandmate Noah "Panda Bear" Lennox in tow, the man known as "Geologist" had scored courtside seats at a Brooklyn Nets–Phoenix Suns game.
"Floyd Mayweather was there," Weitz said the morning after. Weitz still couldn't believe the largesse such seats afforded: "There's a sundae bar and all-you-can-eat sushi for ticket-holders, and during halftime, all the children of the VIP people can shoot on the court. It's a world we've never been in before. We were like, 'What are we doing here?'" But as fathers with two kids at home, Lennox and Weitz empathized that as parents, they get the conflicting emotions of providing for your family and avarice. "The natural impulse is to take as much for yourself and your family for your own survival," Lennox said. "But having kids and having that perspective shift made me stop thinking about myself so hard. Self-obsession is about getting your own, and it's a destructive force in the world." It's a topic broached on the hiccuping standout "The Burglars," from the group's tenth album, Painting With: "What you think you own, you don't," Dave "Avey Tare" Portner sings. "Watch out [for] the burglars stealing from the day."
While the band now resides in three time zones — Weitz in the Maryland suburbs, Lennox in Lisbon, Portugal, and Portner in Los Angeles — they convened one morning at Veselka in the East Village to discuss their new album, out February 19. The trio still look every bit like hoodied undergrads — Portner even accessorizing with a Grateful Dead pendant — rather than one of the most respected indie acts of their generation. While they've all been friends since high school in the Baltimore suburbs, it was only when they started playing music together while living in New York City, as students and Other Music employees, that they began in earnest as a band. Coming back, they're still struck by the rapid changes to Brooklyn. "When we first moved here, nothing was happening at the Bedford stop," Weitz said, while Lennox recalled that "Bushwick circa 2001 was the darkest zone of New York. There was never anyone around." Back then, they perplexed audiences at experimental Manhattan venues like Tonic and the Cooler, and nontraditional spaces like Columbia rec-rooms, with off-kilter noise, tribal drumming, yips, and free-form explorations, often wearing masks onstage.
"The reason we even called ourselves Animal Collective was more as an animalistic and primal energy," Portner said. "What made it more childlike back then were the themes, the lyrics — the wanting to preserve where we were at then. We saw it as being free, while other people perceived us as being juvenile. Some people hated it."
"Their sound was pretty fucked up, really abstract, pretty different," says artist/musician Hisham Bharoocha, who met the band while drumming for Black Dice in early 2000. "During our first U.S. tour together, neither one of our groups were popular. They were still doing experimental sets, typically thought of as non-musical. Most people hated both our bands back then."
Back in the summer of 2003, the group released Here Comes the Indian, their first album as Animal Collective (their two previous handmade, self-released albums were credited to Avey Tare, Panda Bear, and Geologist). I interviewed them around then at Prospect Park, and they wondered whether they might never be able to eke out an existence playing this type of music. And sure enough, the subsequent tour nearly destroyed the group. Weitz quit and moved to Arizona for grad school, "But even while I was at school, Dave would visit and Josh ["Deakin" Dibb, who still plays in the band intermittently] still came out and we went camping. We had to take a break from engaging one another as a band and get back to being friends."
Lennox and Portner recorded the next Animal Collective album as a duo. With its African guitar stylings and harmonies that've earned them Beach Boys comparisons since, Sung Tongs broke the band out of the New York improv cul-de-sac and sidestepped the dominant electroclash/Strokes paradigm of the early '00s, even if it briefly lumped them in with the freak-folk scene. "We weren't really interested in rock," Weitz said. "Dave and I listened to French musique concrète, Noah liked German electronic music, and we all loved the Incredible String Band. That's where we came from. We weren't listening to Rolling Stones records."
But that album proved that the band could construct a catchy pop song and tap into resonant emotions in three-minute bursts, rather than merely hunch over a cheap keyboard and make eerie noise while wearing bear masks. Sung Tongs began to garner buzz online, meaning the band could tour more in Europe and play more shows. "We were kind of that last era of bands that did it in the brick-and-mortar, physical way, taking our albums into shops on consignment," said Weitz. "And then with Sung Tongs we tripped into the internet, and it took our music and did the rest of the work for us." The band soon found themselves able to make a living off of being a band. Ultimately, Sung Tongs helped birth the Brooklyn indie scene as we know it today.
"I remember being moved to tears by Sung Tongs, which was so beautiful and original, their sound, what they did as a group with all their harmonies," recalled Bharoocha. From this vantage, it's hard to recall a time when indie music was cloistered and safe, afraid to embrace outside influences, be they strange electronics or African field recordings, but in listening back to that album 12 years on, it's easy to hear Sung Tongs' DNA as it transferred to acts like Grizzly Bear, Dirty Projectors, Vampire Weekend, tUnE-yArDs, and MGMT, to name a few who used it as a blueprint. But just as quickly, Animal Collective changed again, with each subsequent album differing radically from the previous one.
"The heart of Animal Collective stays the same, but the skeleton and body structure that forms around that heart will always be different," Portner said, to which Lennox added: "That heart has something to do with an openness about types of music and an eagerness to explore that. Our relationship is so old, so much about it is the same in terms of how we relate to each other."
Painting With adds yet another dimension to Animal Collective's sound, moving them further afield from the hypnotic electronics of the group's most popular album to date, 2009's Merriweather Post Pavilion. Gone are the ambient washes of reverb that swaddled that set of songs, as Painting With retains the writhing density of 2012's Centipede Hz but delivers at a quicker pace: Only four of the 12 songs top the four-minute mark. It's the first time that Portner and Lennox wrote the others' vocal parts, which recall Sung Tongs's coiled vocal harmonies. Early Beatles and early Ramones get thrown around as influences here, but the album embeds sonic oddities from all over: a traffic report about dinosaurs, John Cale, the creepy giggle from the Surfaris' "Wipeout," the flapamba that Steely Dan used at the start of "Rikki Don't Lose That Number," and The Golden Girls' Bea Arthur, the latter ultimately "a more expensive sample clearance than the Grateful Dead," Weitz notes. The album was recorded at EastWest Studios in L.A., where the Beach Boys' Pet Sounds was made.
Ten albums in, family remains a recurrent theme for the group; the childlike energy and naïveté that underpinned those early records giving way to a band with children of their own. Lennox's songs often touched on family, from the death of his father ("Leaf House") to providing for "My Girls" to filial love for his younger brother on "Brothersport." But the heart of Painting With comes from Portner's look at his own family roots, on "Bagels in Kiev."
"My grandfather Louis and his parents left a small village outside of Kiev in the Ukraine and came to America in 1910," Portner said. "They came from a family of bakers and set up a bakery in New Jersey. My grandfather invented the bagel press, which shapes the bagel in a mechanical, practical way. But he needed what little money he could get for it and sold it for very cheap to a larger company, which then spread the bagel nationwide. He also invented a device that makes the grooves in the tops of Kaiser rolls. My dad has all the diagrams and blueprints for these devices."
"'Bagels in Kiev' is more or less about having a conversation with my grandfather's ghost and wondering what he would think of the world now," Portner continued. "In many ways, the world is very sad to me. I wanted to write about having a past that exists and being connected to it, yet at the same time being estranged from that past, not having a direct experience of it. How much of the world's problems are based on these things that happened so long ago that none of us can personally attest to? Yet these connections [are] to traditions that people take very seriously, so much so that they are willing to kill and start wars over it."
"When Dave and Noah send me their demos, there are the singing parts and usually a rhythmic guide," Weitz said of arranging the song. "For that one, Dave just played a single note and we started filling in the chords. Dave kept saying: 'Minor key. Make it sadder.'"
Even with kids, adult responsibilities, and the upcoming demands of a world tour ahead of them, making music as friends keeps Animal Collective's sense of wonder intact. "The heart of Animal Collective is about being open to these different forms and styles of music from around the world," Portner said. "Every record is a new opportunity to explore. If you can't look at something different about music, then you're just doing the same thing and it stops being interesting." Their longevity wouldn't be possible without their friendships, and as they enter their 15th year as a band, they know they are fortunate. Bands they came up with in the early '00s (like Black Dice and Gang Gang Dance) have dissipated, for the most part, and even when they think back to their favorite bands, they realize that their time was also brief. "We're really lucky, because bands just don't last that long anymore," said Portner. "Even Pavement, which we liked a lot, they didn't last that long."
That longevity is balanced simply by Animal Collective continuing to feel like children when they get together and play. "Whenever we go into a studio to make a new album, I still feel like a teenager with my four-track," Weitz said. "I don't think I'll ever hear a playback where it all comes together and not feel the same giddy excitement."