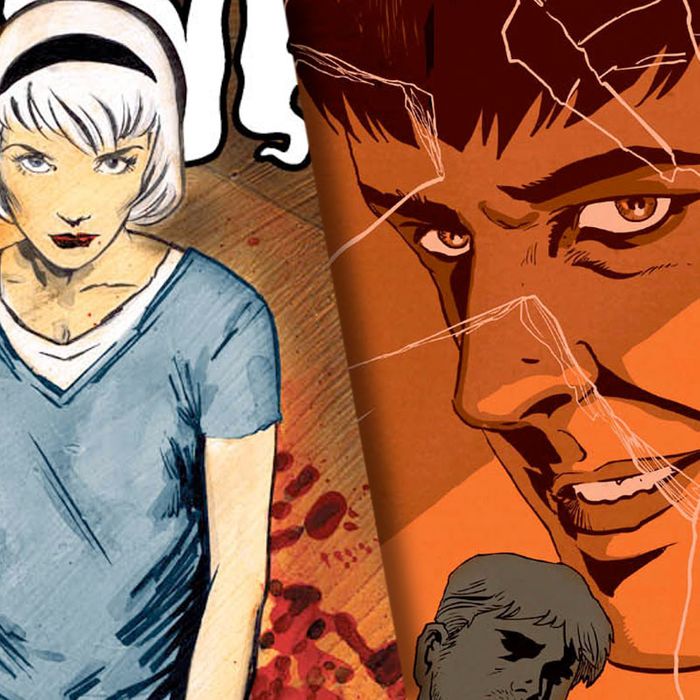 Artwork from the two Archie Horror series.
Photo: Francesco Francavilla, Robert Hack/Archie Comics
Comics geeks, rejoice, for Archie Comics is finally getting back on track with Afterlife With Archie and Chilling Adventures of Sabrina. The two series — collectively known as the Archie Horror line — became critical sensations when they launched in 2013 and 2014, respectively. Afterlife was written by screenwriter and playwright Roberto Aguirre-Sacasa with art by Francesco Francavilla, and it followed the adventures of Archie and the gang after Riverdale became overrun by zombies. Sabrina, also written by Aguirre-Sacasa and drawn by Robert Hack, took a more serious approach to black magic than other tales of Sabrina the Teenage Witch had in the past. They were keystones in Archie's recent rebranding effort — in which they've reimagined a wide array of their series — but both of the horror titles ran into massive delays last year: There hasn't been an Afterlife issue since May or a Sabrina issue since July.
That's all changing. Archie Comics tells us that the two series will return this summer. Aguirre-Sacasa offered this mea culpa, noting that his work on the Archie-based CW pilot Riverdale took up a lot of his time:
After a too long delay, Archie Horror is back from near-death, with a new issue of Afterlife with Archie and a new issue of Chilling Adventures of Sabrina. With follow-up issues already in process! There's no excuse for late books, just apologies. It's been a humbling — and busy — few months. I've been working on our soon-to-be filmed television pilot Riverdale, which will bring our favorite characters to life for the first time in … decades, maybe? Again, that's not an excuse, just something that's been taking up a lot of time and energy. But … we're back! And, as always, Francesco Francavilla and Robert Hack are doing the work of their careers. We know how much these books mean to you — so thank you, thank you, thank you for sticking with us through thick and thin. You're the best fans in the world, is the truth, and hopefully we can serve you on a more consistent schedule over the next few months.
According to Archie's reps, Chilling Adventures of Sabrina will be back with issue No. 5 on May 18, and Afterlife With Archie will return with issue No. 9 on June 1. Below are some exclusive preview pages from the two series: