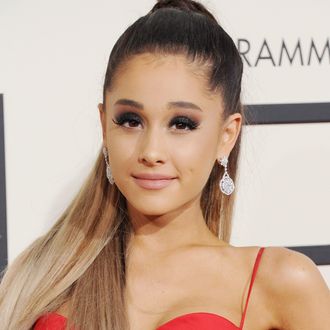 America's most dangerous woman.
Photo: Jon Kopaloff/Getty Images
Ariana Grande's new album has a new name: According to EW, the singer told the teens following her on Snapchat today that her forthcoming third LP will now be called Dangerous Woman. (The album was previously supposed to be called Moonlight, which is apparently the name of its first track.) Unless the title is a nod to the recent fantasy anthology edited by George R.R. Martin, it's likely that Dangerous Woman is an unapologetic reference to Grande's doughnut-licking crime spree last summer, which saw her give one of the most laughably insincere apologies in history. It's like they say: Hell hath no fury like a woman who wants to lick doughnuts.