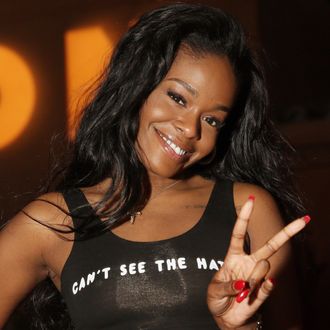 Never change.
Photo: Chelsea Lauren/Getty Images
Azealia Banks will not be charged in an October 2015 assault involving a Los Angeles nightclub bouncer. TMZ reports that the LAPD has rejected the case based on lack of evidence, despite security footage allegedly capturing Banks punching a doorman at Break Room 86 after she allegedly attempted to pull a fire alarm. Police say they are unable to identify Banks as the assailant in the footage, and that the bouncer did not have any injuries. Banks was also arrested in December 2015 for allegedly biting the breast of a bouncer at a New York City nightclub.
In other Banks news, the Harlem rapper is set to release a new song, "The Big Beat," on February 7. Totally coincidentally, on Sunday night, Banks officially endorsed Donald Trump for president, calling him "evil like America is evil." (And because he is "the only one who truly has the balls to bust up big business" and doesn't pander to minorities.) Happy Black Troll Month!