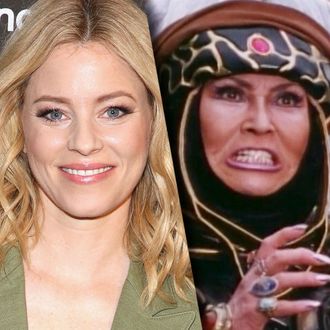 Elizabeth Banks (left) and Rita Repulsa.
Photo: Getty Images, Twentieth Century Fox
At some point in Elizabeth Banks's past, did a galactic sage named Zordon give her a magical power coin? That's the likeliest explanation for her magical morphin' ability, which has seen Banks switch effortlessly between projects as different as The Hunger Games and Wet Hot American Summer. Now, THR reports, she's set to make her greatest transformation yet, signing on to the role of villain Rita Repulsa in Lionsgate's upcoming Power Rangers reboot. (As previously announced, the actual Rangers will be played by four people you've never heard of, and Becky G.) For the unfamiliar, Rita Repulsa is an intergalactic space-witch who wants to take over the Earth, and one of the few pop-culture figures whose costume is more ridiculous than Effie Trinket's.