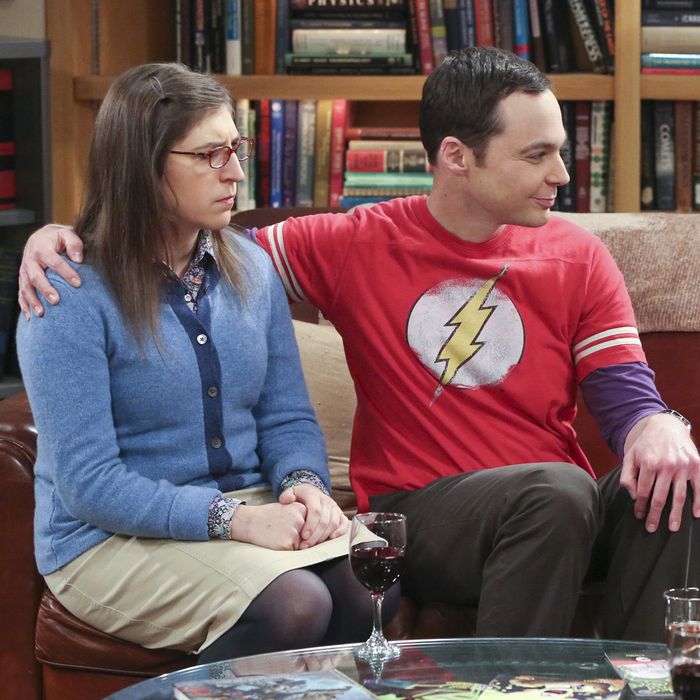 Mayim Bialik as Amy, Jim Parsons as Sheldon, June Squibb as Meemaw.
Photo: Michael Yarish/CBS
Clever, TBBT writers. Very clever. The introduction of Sheldon's oft-mentioned Meemaw serves many purposes: Not only do we tick another major event off the shortening list of milestones left to happen on the series, but Meemaw's visit to her Moonpie — her nickname for Sheldon, because he's so "nummy, nummy you could just eat him up" — provides the opportunity for Amy to find out Sheldon is in possession of his Meemaw's ring, a bauble he planned (or plans?) to use as an engagement ring.
As Meemaw greets Amy with a frostiness that pits the two women in a verbal tug-of-war over Sheldon — Meemaw is still angry that Amy dumped Sheldon at the end of season eight — we learns some important details about the history of difficult men in the Cooper family. His grandpa, Mr. Meemaw, was stubborn and egotistical, too. Sheldon later tells Meemaw that he knows how trying his grandpa could be, and that he realizes it was his Meemaw's love and support that made Grandpa Meemaw a better person.
Sheldon tells Meemaw his relationship with Amy is similar, although, Sheldon being Sheldon, he thinks he's the one whose patience and understanding is bettering Amy. He's not totally wrong: He does understand her in a way that no one else does, which has allowed her to socially evolve as much as he has. But … really? Amy is the Meemaw of this scenario.
In the end, Meemaw sees that Sheldon loves Amy and that she loves and appreciates him. She even begrudgingly gives her blessing, should Sheldon ever want to put that engagement ring on Amy's finger.
So, that's gotta be happening sometime soon. Probably before the end of season nine.
About Meemaw herself … I'm still bummed she wasn't played by Betty White. Not that we don't all love us some June Squibb, who was perfectly adorable and a pistol and grandma-y (complete with a seemingly endless supply of tissues tucked into her sleeve, which tickles Sheldon and earns her the nickname "Grandma Spiderman"). But this role, this character, was begging to be played by White. When you have a show that's so fantastically showcased a comedy legend like Bob Newhart, and you have the opportunity to do the same with Betty White, you should go for it. Right?
But Squibb was pretty terrific, particularly in Meemaw's feistier moments. She's a woman who likes whiskey — her preferred libation is lots of it, in a glass — who isn't afraid to show a gopher the business end of her shovel should it rifle around in her veggie garden, and who has two sets of teeth, one reserved for church. We'll probably see Meemaw again in the not so distant future, which really, really, really makes me wish she was being portrayed by Betty White. But, onward.
The episode's other big story line was just as potentially fruitful for the future, as Raj meets a new woman, Claire (Caprica star Alessandra Torresani), at Stuart's comic-book shop. Claire's an aspiring screenwriter who wants to pick Raj's scientist brain to help her craft her animated sci-fi kid flick. And even though she thinks his beloved Frozen is overrated, she has enough opinion on the matter to defend herself, so Raj is a smitten kitten. After telling Claire about Raj's Lilo & Stitch collectibles, wingman Howard so inconveniently points out that his pal already has a girlfriend, Emily, and she might not be so happy about this. Raj calls Claire and tells her he can't meet with her because he has a girlfriend, but after Claire confirms they vibed earlier, he decides to go anyway, assuring Howard and Bernadette he's going to tell Emily about the get-together, and that he has no romantic designs on Claire.
Okay, sure. That wasn't even believable before he fantasized about telling their two children how mommy and daddy met at a comic-book store.
THEOR-EMS:
The other milestones and character introductions that have yet to play out on TBBT: any of the gang having a child (so imminent, though); the revelation of Penny's maiden name; Raj settling into a relationship with a sane woman who likes him as much as he likes her (Claire?); and meeting Howard's father, Bernadette's mother, Leonard's dad, and Amy's mom (who we've seen briefly in a video chat, meaning she's still fair game to be recast). Who's your guest-star choice for Leonard's dad? Seems like a great way to get Shatner into the mix, no?
Meemaw's letter to Sheldon carries her special scent: Roses, Bengay, and Dr. Scholl's foot powder. "Ah, yep, Grandma by Calvin Klein," Penny says.
Sheldon bought Meemaw an iPhone for Christmas, but she doesn't know it's in her possession. He had his sister stash it in her bag, so he can track her "like a sea turtle."
Raj took it personally when Howard made disparaging remarks about Frozen. "She built an ice castle, made a snow monster, and gave herself a complete makeover in one day," Raj told Howard. "You know what I saw you do today? Eat a block of cream cheese straight from the foil and lie about it to your wife."
Sheldon loves his Meemaw so much that he allows her to sit in his spot on the sofa, something he's never allowed anyone else to do.
Sheldon knows Amy has that engagement ring front and center in her mind. But she might want to temper her expectations just a tiny bit. "I just gave you my virginity, woman!" he tells her. "Cool your jets."