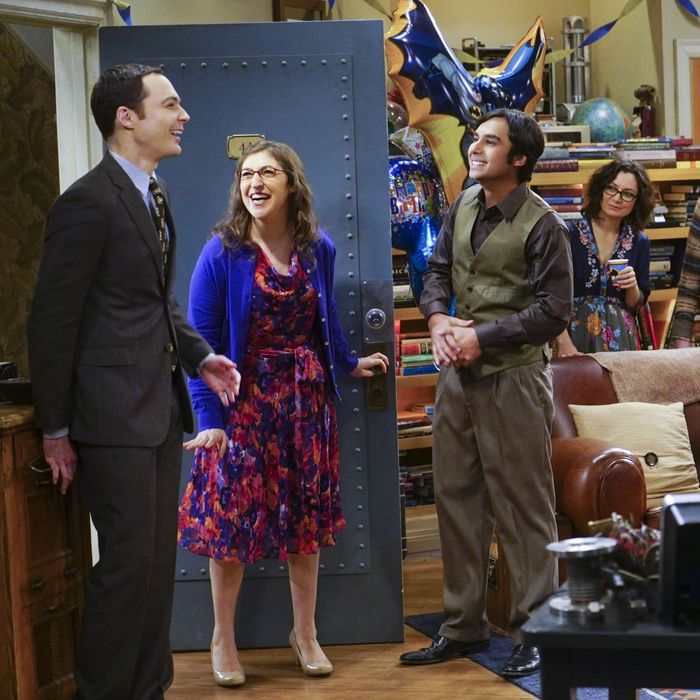 Jim Parsons as Sheldon, Mayim Bialik as Amy, Kunal Nayyar as Raj, Sara Gilbert as Leslie, Kevin Sussman as Stuart, Adam West as himself.
Photo: Monty Brinton/CBS
A strange mix of characters (and guest stars) show up for Sheldon Cooper's first-ever adult birthday party, but that seems like an appropriate way to celebrate his big day and The Big Bang Theory's 200th episode.
Both occasions are momentous, but getting Sheldon to agree to do anything he's spent his entire adulthood refusing to do is probably the bigger feat, no matter how TBBT naysayers (and they can be a surprisingly bitter bunch) might rant that the real headline is the unlikeliness of the CBS comedy running for 200 episodes. Well, it has — and along the way, we've seen plenty of classic moments, performances, and episodes. Legitimately.
Back to Sheldon's bash. His aversion to soirees in honor of his birthday stems, we learn, from a childhood birthday party he shared with his twin sister. Sheldon's invitees didn't show up for the party; they didn't like him, and he didn't like them, so their absences didn't faze him. But his sister, Missy, and her mean girlfriends told Sheldon a very special guest would be arriving: Batman. So he sat by the door for hours, waiting for the Caped Crusader to show up, and as he puts it, "The closest thing to Batman I saw was when a robin flew into the window."
His dark day sans the Dark Knight continues to haunt him, but girlfriend Amy Farrah Fowler tells him he made her last birthday so memorable — yeah he did! — that she wants to make sure he has a great birthday, too. Pals Penny and Leonard add that he now has lots of friends who would show up for the festivities, so Sheldon allows the party planning to begin. "You may celebrate my life by throwing a party with cake, presents, and a shower of admiration and love," Sheldon tells Amy. "But then you owe me, big time!"
A party means presents, and though we never find out what's inside the wrapped packages at the celebration, Leonard, Raj, and Howard chip in to get their friend a very thoughtful surprise: They hire Adam West, TV's original Batman, to attend the party.
Is his appearance really just an excuse for a verbal set piece in which the fellas debate West to see who's the best Batman? You betcha. For the record, West's ranking of the various Batmen:
Him, duh
Michael Keaton
Val Kilmer
The Lego Movie Batman
Christian Bale
"That pretty boy Clooney"
"There's another reason I should be higher on the list," West says. "All those other guys have muscles built into their costumes. All I had in my Batsuit was 100 percent, grade-A West."
Also, this happens:
Howard: "Can we all just agree we're worried about Affleck?"

Adam West: "What's an Affleck?"
At Sheldon and Leonard's apartment, Penny, Bernadette, and Stuart have frosted a great cake and festooned the joint with streamers, balloons, and birthday wishes. When Sheldon walks in, he is put on edge by the partygoers' loud, synchronized "Happy Birthday!"
"Thank you all so much for coming," Sheldon manages. "Beverly! Wil Wheaton. Adam West … for some reason." Leonard tried to rally his enthusiasm — "Batman finally came to your party!" — but Sheldon is rattled by the gathering. As he thanks his friends, colleagues, and '60s Batman for coming, he starts to have a panic attack, then excuses himself to run into the bathroom. (Adam West: "I still get paid, don't I?")
Penny goes into the bathroom to make sure Sheldon's okay — another appropriate happening in this milestone episode, since many Penny/Sheldon moments are among the series' finest — and she tells him she understands that the party seems overwhelming, but that it's really just a roomful of people who all care about him. He's afraid people will think he's weird if he spends the whole evening in the bathroom — that ship has sailed, Penny reminds him — and he eventually decides it's safe to rejoin his friends.
That leads to a round of toasting, beginning with Amy, who says, "I know it's customary for the birthday boy to receive presents, but I feel like I got the greatest gift the day he was born."
Sheldon's touched, and is suddenly in the party mood: "This is fun. Someone else say something wonderful about me." And Wil Wheaton is more than happy to oblige: "Sheldon, I know that we've had our ups and downs, but I can honestly say that my life is so much more interesting because you are in it. We may have met because you a fan of Star Trek, but I have become a fan of Sheldon Cooper. Live long, and prosper, buddy."
Sheldon then feels it necessary to shame Howard's previous attempt at a toast by highlighting his former enemy's good wishes. "Now you see why he's famous, and you're not," he tells Wolowitz.
Leonard's mom toasts Sheldon next, while fending off the creepy advances of one Barry Kripke, followed by Leonard's ex, and Sheldon's frenemy, Leslie Winkle (guest star Sara Gilbert), who tells Sheldon she won't call him "dumbass" in honor of his birthday. But as he reminds her, he hates change. "Happy Birthday, dumbass!" she obliges.
And then, from roomie Leonard: "You make me laugh, you make me a better scientist, you make me crazy … you are more than just my roommate. You're my brother."
All in all, a very successful celebration, both of Sheldon's birthday and of the show's enduring popularity. It's also a bit of icing on the cake that the episode serves as a nod to the character of Sheldon, and to the Emmy-winning (multiple Emmys, that is) performance of Jim Parsons. Sheldon remains maddeningly inflexible at times, but he is the show's biggest success. Over the course of nine seasons, his character has evolved most realistically — and at the most grounded, patient pace. Cheers, Sheldon!
THEOR-EMS:
Amy wonders if Sheldon will sign off on balloons for his f

ê

te. "Mylar balloons, yes, latex balloons, no, water balloons, I will jump off the roof and aim for your car," he tells her.
Sheldon has very specific birthday-cake wishes, too. Chocolate cake, strawberry frosting, three layers. Oh, and if there's writing on the cake: "Make sure it's not in all caps," he warns. "I don't need my dessert yelling at me."
Adam West makes Leonard pick him for Sheldon's party. Leonard tells Raj and Howard that, "It was a little weird to hear Batman say, 'Don't ring the doorbell or my poodles will go crazy.'"
Also, Adam West really should have prepped for this gig. After the big surprise, he botches the most important line: "Happy Birthday, Sherman!"
Leonard is surprised that his mother came all the way from New Jersey for Sheldon's birthday party. He's also surprised to learn she had a 60th birthday party, because he wasn't invited to it. Sheldon was.
Amy admires Sheldon's party attire, telling him he looks handsome in his suit. And that she hopes later she might get to see him in his birthday suit. "This is my birthday suit," he says. So, yeah, guessing they probably haven't had sex again since her birthday.
Penny hugs Sheldon. "You know, I used to hate these hugs," he says, hugging her back. "Now they're just extremely irritating."
Another reason why Sheldon Cooper's first adult birthday party is better than yours: Stephen Hawking sang "Happy Birthday" to him.