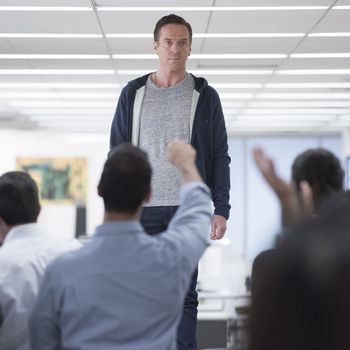 Damian Lewis as Axe.
Photo: Jeff Neumann/Showtime
Billions is about people who play long games. In a sense, the first six episodes of the series reflect a similar patience. The creators withheld the full strength of Paul Giamatti and Damian Lewis by generally keeping them out of the same room until the climax of "The Deal," a long game that pays off brilliantly. Add in the increasingly excellent Maggie Siff's best work to date and James Foley's razor-sharp direction, and this is really the episode that Billions has been building toward all season. It's one of the most purely entertaining hours of TV so far this year.
Wendy Rhoades (Siff) is being ushered through a dark hallway by Hall (Terry Kinney), the Winston Wolfe of Axe Capital. She is next seen in a robe near a pool. Bobby "Axe" Axelrod (Damian Lewis) appears on the other side, not unlike a Bond villain, and takes off his robe to enter the pool the way God made him. She hesitates, but also disrobes and enters the water. No risk for wires, I suppose. Axe says, "It's been a weird couple of days," and then we flash back 72 hours earlier.
Picking up at the end of episode five, Wendy emerges from her theater break to see "Dollar" Bill Stern (Kelly AuCoin) being arrested on TV. She strides into U.S. Attorney Chuck Rhoades Jr.'s (Paul Giamatti) office with a slow clap. She's rightfully pissed that Chuck made sure she wasn't there when the arrest went down. It's like a mob informant not being in the building when a raid happens. It doesn't look good. Chuck is being a dick, claiming he was protecting her, but that's utter nonsense. She couldn't be there because it would increase pressure on him to recuse himself. If his wife was in the background when Stern got arrested on national TV, it wouldn't look good for him.
Meanwhile, Axe is furious. He calls it an attack, and compares it to Pearl Harbor. Remember what happened on U.S. soil after Pearl Harbor? Nothing. The invasion never came. Pearl Harbor was the best they had. Axe adds, "What came next was a war that unleashed the might of America." Axe sees himself as a general, ready to lead his followers into war. Wendy doesn't look too comfortable. She later confronts Axe about this aggressive mentality, suggesting that he can't accept actions outside of his control. Is she doing this for him, for her, or for Chuck? Siff is such a great actress that she can play all of those motivations at once. It's easy to argue that Wendy is the smartest character on the show. She accuses Chuck and Axe of using her like a shuttlecock in a later scene, but she's always in control. If anything, she bats them back and forth, able to see the big picture way more than either man.
At the same time, Chuck and Bryan (Toby Leonard Moore) are interrogating Stern, who has clearly heard something like Axe's Pearl Harbor speech before; he's treating them like he's been taken a prisoner of war, literally saying that he doesn't "recognize their authority" as if they're an invading army. They're going to need some dirt to make Bill flip. Chuck is talking just like Axe, saying that he wants to beat the 14-year sentence Jeffrey Skilling got for Enron, but he knows they don't have quite enough to make that happen.
Lara Axelrod (Malin Akerman), playing healer and insurer, goes to the Stern's house to deliver a gift basket with enough cash hidden inside to help them cover their mortgage, property tax, tuition, and more. Everything will be taken care of, which is both very charitable and a way to buy the Sterns' allegiance. There's a nice shot of Lara's face as she's hugged, reflecting a bit of concern.
Chuck tries to apologize to Wendy with whiskey, and then she confronts him: "Why are you going after him so hard? Why Axe?" She knows that he should recuse himself and that it would be easy to do so. He bends the truth, saying that he owes it to his team — the same team that has been asking him to recuse himself. She warns him that Axe is "digging trenches and laying wire and he will scorch the Earth under our feet."
To stop that, they need dirt on Stern. As the team is talking through the details of his life, they joke about the fact that he has two minivans. Who has two minivans? It turns out that a man with two families does, that's who. He has a mistress and two kids in Jersey. They rush into the meeting room like conquering heroes, only to be shocked when they realize Bill knew it was coming. Right in the meeting, he sends his wife a pre-written letter detailing his second family from his phone. He blows up his family for Bobby Axelrod, saying, in one of the show's more memorable alpha-male movie references, "I'm Keyser Söze, motherfucker."
While Stern plays his role, Wags (David Costabile) is starting to panic. Clients are jumping ship. They'll lose capital at this rate. Wags suggests downsizing, but Axe is digging in his heels. They need an endorsement from another power player. It's time for PR and spin, something Axe Capital has always mastered.
After a brief moment in which we see the tension getting to Axe — he works out in the company gym like a maniac — he bursts into Wendy's office. She took $250,000 out of the company fund. Why? And why didn't she take it all out? She refuses to answer his questions. She sees through both Axe and Chuck. She's the only one who does.
Orrin Bach (Glenn Fleshler), the lead attorney for Axe Capital who has been handling the Stern case and is subtly trying to woo Bryan to his side (which feels like a narrative seed that's being planted for much later), meets with Axe in a locker room. He warns him that this could go bad. Axe says that he'll never settle, despite his legal counsel's advice that a settlement could be a win. They get busted down to a family office, take a fine, and no one does any time. Axe is giving up no ground.
Chuck meets with Adam DeGiulio (Rob Morrow), who pressures him on behalf of the attorney general's office to settle. They've read the stories; they know about the conflict of interest and what that could do to the case. If Chuck doesn't recuse himself, it could get kicked on appeal. Adam leaves with a passive-aggressive warning: "Do what you're going to do Chuck — just be right."
Wags calls Axe with some good news about the PR move they're going to attempt, then Lara pours a couple of glasses of red wine. Axe tells her about the lawyer's advice to settle. She agrees, noting that they're already pariahs — the kids just got uninvited to a party. Axe uses "I"; Lara uses "we." He's blind to what his actions could do to the people around him. Perhaps luckily for everyone, the PR move backfires. Wags was invited to a luxury box on "mail-room night," so he's only surrounded by "20-year-old dipshits."
Back to the Rhoades house, where Chuck's parents are over for dinner. Dad (Jeffrey DeMunn) is gloating, even with Wendy at the table. He's lucky she doesn't slap him when he says obnoxious remarks like, "Axe must take three sessions just to make it through the day." It's brilliant how the writers have made both Chuck Sr. and Chuck Jr. so incredibly unlikable, pushing us to the more engaging and charismatic Axe Capital side of the battle royale. Typically, the Rhoades would be the heroes. Even Chuck Sr. thinks his son should settle and play the long game — including, possibly, a run for higher office.
After realizing that Wendy and his dad have been talking, Chuck confronts his wife again in a fantastically written scene. She opens the book by saying, "Ask me anything." She tells him that Axe needs a small win in every endeavor and every exchange. Axe came from nothing and expects to go back to nothing, so he's willing to lose it all to make sure his enemies do too. Chuck admits that in any other case, he'd pursue a plea at this stage. The next day, he tells an angry Bryan that he's willing to accept a deal, then acts like a jerk because Bryan is stunned at his about-face: "Wait by the phone for his people to reach out."
Before we get back to the mystery skinny dip, Hall tells Axe that they could make the whole case go away by smearing Wendy. Fraud, embezzlement, infidelity — Chuck would have no choice but to settle. Is that why she's in the pool? He asks why she's still there with Axe. She found meaning in putting Axe back together and she's good at what she does. Siff is fantastic here, as Wendy once again convinces Axe that she's got his back without explicitly saying so.
He surrenders. He'll cough up the biggest fine ever paid: $1.9 billion. And Axe Capital will be slashed down to a family office. But he'll do no time and there will be no trial. Chuck calls Adam to gloat a bit. Chuck Sr. calls to congratulate him. Axe is warned that they may want an admission of guilt at the plea meeting. If that comes up, Axe says he may not sign. Of course, Chuck's ego demands that it does. Axe pauses, then agrees. And then, Chuck has to one-up him: "Didn't he say that he would never settle?" Bryan calls him a crook. Wags and Axe play right along, noting how they'll make back the fine in six to eight months, and comparing the whole thing to the sting of an ant.
Big mistake. Nobody calls Chuck Rhoades Jr. an ant. He takes the family-office deal off the table. Now, it's a lifetime ban: "You never trade securities again." Axe crumples up the check and throws it at him. Before he drives away, Axe kicks his driver out of the car so he can get behind the wheel, and he cranks "Master of Puppets."
In the episode's epilogue, Chuck bends the truth again. He tells Wendy that Axe blew a gasket and that "for the good of the marriage," he's not going to be a part of the case. I'm a little surprised she believes him, although I love how she talks to him with exactly the same shrink-speak she uses with Axe. Of course, we learn that Chuck now wants information from Bryan behind closed doors. "We do whatever it takes," he promises.
Other Notes
I love the three-second shot of New York from a helicopter that opens each episode. It's like a visual amuse-bouche that sets the tone.
I also love how often Axe wears something as simple as a hoodie and a T-shirt to work, even after his company makes international headlines. In the beginning of "The Deal," he's rallying his troops in an outfit that I'd wear around the house. He's Patton in a hoodie.
The parallels between Axe and Chuck were brilliantly written and performed this week. Both characters had the power to stop all of this, and both chose not to for little reason other than the perception that they would be deemed the loser in the schoolyard fight. The allowed their ego to dictate their actions.
Who would you rather work for? As I mentioned, the writers have carefully made Axe more likable than Chuck. I'd certainly rather be Wags than Bryan.
The great run of guest stars continues with Rob Morrow. I hope his part grows.
With its big climax between Lewis and Giamatti, this episode could have been a season finale. Where do you think the second half of this 12-episode season goes from here?