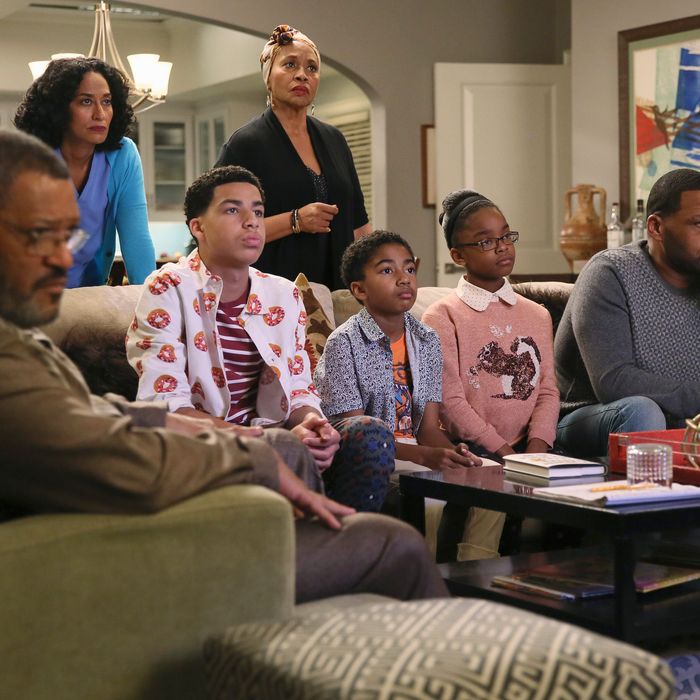 Laurence Fishburne as Pops, Tracee Ellis Ross as Bow, Marcus Scribner as Junior, Jenifer Lewis as Ruby, Miles Brown as Jack, Marsai Martin as Diane, Anthony Anderson as Dre.
Photo: Patrick Wymore/ABC
When I first heard that Black-ish would discuss police brutality, I worried it would step into "Very Special Episode" territory. It does not. There were definitely moments of overly earnest dialogue, but ultimately, the show did what it does best: "Hope" highlights a very real issue in an honest, thought-provoking manner.
Marvin Gaye's "Inner City Blues (Make Me Wanna Holler)" provides the soundtrack for Dre's opening remarks about how to talk to your children about the cruelties of the world. Growing up, when he tried to ask Pops about the 1980 Miami riots, Pops simply told him to turn the TV off and avoid the discussion. Today, between the internet and 24-hour news coverage, it's impossible to keep information from children. You have to be prepared to answer questions.
We see a montage of protests throughout history. Just as Gaye sings the line, "trigger-happy policing" the sequence lands on a sign featuring a large illustration of Trayvon Martin. Clearly, Black-ish won't pull any punches with this episode.
After the montage, we see the family has gathered to watch the news; they're waiting to see if police officers will be indicted for killing an unarmed black man. Zoey thinks she remembers seeing reports about the man's death — but it turns out she heard about a different killing. There have been so many situations like this, it's hard to keep up.
The twins don't fully understand what's going on, and Bow doesn't want Dre or his parents to explain it to them. She wants to keep them as innocent for as long as she can, but Dre, Pops, and Ruby want the kids to be prepared for the world. Bow sends the twins into the kitchen — ostensibly to choose take-out for the night — but really to remove them from the conversation. Later, the kids will point out that they can still hear everything being said.
The rest of the action is confined to the family room and kitchen. "Hope" is structured as a bottle episode, which mirrors the subject matter in certain ways. No matter where anyone goes, they're still affected. There's no escaping the reality of police brutality against black people in America.
Junior knows the history of police brutality is more nuanced than Pops's declaration that cops are thugs. He's been reading Ta-Nehisi Coates's Between the World and Me, an epistolary memoir written as a letter to Coates's son, which traces America's violent relationship with race. Dre bristles that Junior is paying more attention to Coates than to him. He cautions Junior against putting too much stock into one book. Pops reminds Dre that he acted the same way after reading The Autobiography of Malcolm X.
The flashback that followed made me yell with joy. Not only do we get to see Dre in his '90s high-top fade, but we also see Laurence Fishburne revive Furious Styles, his character from Boyz n the Hood. It makes sense that we'd see Furious in an episode like this one. In Boyz n the Hood, he was raising a son in South Central Los Angeles while trying to both protect and prepare his child for what the outside world had in store for black men. Dre Johnson may have made it out of Compton, but he's still struggling to do the same for all of his children.
Junior is profoundly affected by Ta-Nehisi Coates, just as Dre was changed by Malcolm X, and Pops was changed by James Baldwin. I was disappointed, however, that "Hope" only mentioned black men as the social-justice titans for impressionable black youth. What about the autobiographical works of black women? Why aren't Assata Shakur, Angela Davis, or countless others given recognition as well?
As the Johnson family continues to wait for a verdict, Bow becomes the emblem of whiteness. She wants to play devil's advocate and wait for justice to be served. She's anti–police brutality, but not anti-police. If 25 percent of LAPD shootings are against unarmed suspects, then the remaining 75 percent must be armed, right? Junior points out that if she lost one out of four patients, it wouldn't be a good measure of her abilities.
The verdict comes in; there will be no indictment. Riots break out around the city and Junior wants to join the protests. Dre refuses to let him. The twins become concerned that they will be harmed during a police stop, and Bow says that won't happen because they will do what the police tell them. Ruby, who has been bumping heads with Bow all night, finally agrees with Bow. She tells the kids they can only use seven words when dealing with the police: Yes, sir; No, sir; Thank you, sir.
Bow becomes frustrated that no one else believes that the justice system will work out all of its issues and eventually do what's right. Dre reminds Bow of President Obama's inauguration, when Obama left the safety of his car and walked in the parade, waving to the crowd. Dre becomes emotional as he presses Bow to remember how afraid they were that someone would snatch away the hope President Obama had promised in his campaign. It's one of the most honest, poignant moments of the show.
As Dre describes this memory, we see a clip of President Obama walking in the 2008 inauguration parade, exposed, with no bulletproof car protecting him. I remember holding my breath, feeling that same fear Dre couldn't fully articulate, that someone would try to kill the country's first black president. I had been afraid that I would see his murder, live on television. Even though I knew the moment was well in the past, that sense of dread filled me again as I watched this scene. As much as I hated reliving that fear, it was one of the best parts of the episode, magnified by the intensity of Dre's emotions and Bow's earnest understanding.
We know Anderson and Ross as comedians, but they've pulled out some strong dramatic moments this season. I don't know if any can top what we're seeing in "Hope."
While Ruby is preparing some riot vittles (rice and government cheese), Junior asks Zoey to cover for him as he sneaks off to join the protests. She becomes upset at the possibility of him being hurt, and everyone is surprised that she cares since she was texting throughout all of the drama. Zoey has been paying attention, though — she was texting about it, and she's not inclined to yell like everyone else. She cares, but she feels lost. Talking doesn't do anything. The adults have been talking and nothing has changed. No one has any answers.
Zoey's thoughts about lack of progress seems to reflect the problems with "starting a dialogue." Any time a controversial event occurs, from police brutality to diversity issues in Hollywood, there's always someone who says the country should "start a much-needed conversation." What happens after the conversations stop, though? What are the action plans? Zoey's response is a challenge to all those people who think that a "national conversation" is enough.
And here's where some of that overly earnest dialogue emerges. The twins look up to Zoey. If she's feeling hopeless, what does that mean for them? Diane begs Zoey not to give up, and it's a little too on-the-nose for me. Bow is grateful that Zoey has some depth, and suggests the family join the protest together. Ruby stays behind with the twins, then spray-paints "BLACK OWNED" on the garage door, a callback to the 1992 Los Angeles riots when store owners tried to protect their businesses from destruction.
The subject matter of "Hope" is heavy — how to teach black children that the people meant to protect them more than likely may not — but Black-ish handles it with a levity you'll find in any family during challenging times. Police brutality against black Americans is a prickly subject, especially in a time when a music video and Super Bowl halftime performance can be deemed as "anti-law enforcement." After all the brouhaha about Beyoncé's "Formation," I'd be curious to know if ABC executives were nervous about airing this episode. Several characters share explicitly anti-police opinions, so it will be interesting to see if there is any fallout. I don't think we'll see calls to boycott Black-ish because the show's reach is not as far as Beyoncé's or the Super Bowl's. But like Dre, the hope I have is fragile.