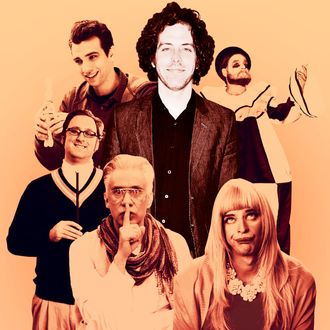 Photo-Illustration: Maya Robinson and Photos by FX, FXX, AMC and Comedy Central
During his 12 years of working in cable, director and producer Jonathan Krisel has guided many successful boutique TV projects with a remarkably wide range of tones. To date, his résumé includes the gonzo public-access hallucination Tim & Eric Awesome Show, Great Job!, liberal comedy of manners Portlandia, character-driven parody program Kroll Show, sketch-based relationship comedy Man Seeking Woman, and the new FX dramedy starring Zach Galifianakis, Baskets. Because of his seemingly preternatural ability to amplify the unique voices of those behind these very disparate shows, Vulture asked Krisel to reflect on the creative process behind each of them.
Tim & Eric Awesome Show, Great Job!
I knew Tim a little socially through this mutual friend, and they said, "We need a partner to help us execute this weird show that needs to be done in Photoshop." I had been working for different magazines and ad agencies as a Photoshop person. We were all Mr. Show fans. My roommate in Brooklyn once said, "I have this videotape, my friend recorded all of the Mr. Shows." When I saw it, I was like, "This is the best thing I have ever seen, that's what I want to do with my life." Within a year I was working on Tom Goes to the Mayor with Bob Odenkirk as the executive producer, and I was like, "It's happening." I stayed at work until 5 a.m. for weeks at a time, I cared that much about it.
What I [originally] pitched them was "video art nightmare," but we discovered most of [the concept along the way]. It was a fun experience because none of us knew how a television show was supposed to be made. It was a playground, and we had no adult supervision. The three of us would direct it, but editing became the secondary creative place to start from scratch and try stuff. A lot of it was shot, and we took it into the editing room like found footage. Everything on TV is perfect, and it's so boring. We wanted to have something that was basically falling apart in front of your eyes. Because we were all film-student people, we knew there were more tricks than just writing jokes. You can make a joke through editing, you can make a joke through sound effects, you can make a joke through animation. And because it was Adult Swim, they wanted it as crazy as possible. It was really liberating and exciting because we created our own system, our own language, of how to approach making a sketch.
Portlandia
After seeing what worked about [Fred Armisen and Carrie Brownstein's] ThunderAnt [videos], I could see they were going to work best in a loose framework. Similar to what we had been doing on Tim & Eric, really relaxed, improvising. And I thought, it's set in Portland, so it has a visual vocabulary baked into it: It's gray every day, it's green and lush. It's on IFC, and Gus Van Sant movies have this naturalistic yet dreamy quality to them. This is like an indie-film sketch show with a bit of a '60s, magical, upbeat world. Great costumes, great colors.
It's character-based sketch as opposed to premise-based, so the characters overshadow the sketch premise. Their idiosyncratic portrayal of real people was what always stole the show, and we realized our secret formula was their dynamic. That's what makes a Portlandia sketch a Portlandia sketch, really.
[On their earlier, more heavily edited pieces]: We did "Put a Bird on It," "Did You Read That?" "Spoiler Alert," and others, and I love how all of them turned out. It was funny because sometimes we'd hear people say, "Oh, is this Tim & Eric–style?" and we were like, "That's our style." But you can't keep going back to that same visual vocabulary. That was where we started, and now we're into these very indulgent, long, 22-minute sketch pieces. We might veer back into some more stylized editing, but as the years went by we just evolved. We love our characters and we always want to know more about them — always searching for the new "Put a Bird on It" is so limiting.
The Kroll Show
The way it started, I met Nick [Kroll] and he said, "I have this character I do with Jon Daly called 'Rich Dicks.' I don't know how to do videos, can you help me please?" His original idea was five-, one-, or two-minute shorts. I said, "You know, these characters are kind of like characters from The Hills on MTV — these aloof, snobby kids bouncing around L.A. And that's the style we can shoot it in." My friend was the DP of The Hills, and we got to go to all the same locations. We made that piece, and put it out like this long web video, seven minutes. Then that turned into Kroll Show.
Nick liked the idea of different formats as a way to highlight his characters, so in opposition to Portlandia, [we matched] characters to a style of filmmaking. We did the "Ed Hardy Boys," and I thought of the Bloodhound Gang mysteries on 3-2-1 Contact. [For] "PubLIZity," we went with reality shows — Real Housewives of Beverly Hills, the Kardashian world. You can kind of get obsessed about matching the genre.
Man Seeking Woman
There are different rules in filmmaking to achieve a tone from a book [Man Seeking Woman is based on Simon Rich's short-story collection, The Last Girlfriend on Earth]. It was the first time someone said, "Hey, can you turn this book into something?" It is hilarious and the tone is what I like: very dry. I was curious how we could take these divergent stories and create this cohesive group of characters. Can there be a look that brings it all together? For me, the key was the love and dating, and with that I always think of the heavy melodrama of the Smiths. Also, it is this fantastic world where there are monsters and aliens and all this stuff. So we've got to create a dark, brooding world where all this stuff is happening, but not make it a comedic landscape, where it's bright and shiny and poppy. A lot of silly things happen along the way, but the emotions of it are pretty dark, lots of loneliness.
Baskets
Once I [started working at] SNL, and [Zach Galifianakis] hosted for the fist time, we hung out a lot that week. He said, "I have this idea where I go and walk around and stumble on the sets of different shows in New York." I got it produced and shot it and it was really a big opportunity for me.
It was really fun and easy, and I think Zach was shocked at how easily it came together. He said he liked the relaxed and fun atmosphere of the shows I worked on.
On Baskets, for a time, it was going to be the behind the scenes of Between Two Ferns. Then one day Zach said, "I think I'm a rodeo clown" and Louis C.K. said, "who studied in France." Then we had the premise. Generally, you would write that script and shoot it. But what was exciting to me about working with Zach is he's coming from the same place I am. It's not this straight, written thing — it's more a craft project with these great elements. Even though there are jokes in the show, we're kind of making a Mike Leigh movie.
Steven Spielberg says, "If you have a cohesive look as a director, you're putting your stamp too much on the thing, you should always service the story." I think there's something cohesive about what I've been doing, but I try not to have my own version of the Scorsese dolly shot. My whole thing is: You listen to the actor and help them bring out their best thing. So if Fred is the best improviser in the world, okay, how do we build a fortress around that special skill? Figure it out. The Portlandia crew would say, "We could shoot it this way and it would look a little better." But Fred is our special effect. He's the coolest thing we have, so if we're overshadowing that, we're not doing our job right.