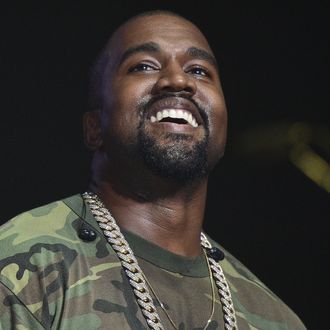 It's what Reddit was made for.
Photo: Prince Williams/Getty Images
Twitter polls be damned, Kanye still hasn't a clue what to call his new album; now he just wants you to guess. Monday night, Yeezy tweeted that he's again changed the album formerly known as So Help Me God/Swish/Waves (why can't it just be all of them?) to T.L.O.P. — a clear ploy to get fans to do his grunt work for him. We see you, Kanye. T.L.O.P. is a decoy, a placeholder, if you will, meant to bide more time until inspiration strikes North at the 11th hour. It's okay, Nori, you can do it! But what the hell, we'll play along. Rather than just telling you what T.L.O.P. stands for, Kanye would like you to guess, rewarding whoever can figure it out (or steal the correct Reddit theory first) with tickets to his Madison Square Garden fashion show/listening party on Thursday and a pair of Yeezys.
We're sure the FBI's already on it, but any takers? It might be something poetic, maybe something written in Swaghili — or, and we're just shooting in the dark here, maybe, just maybe, he, too, looked up the acronym and decided on its Urban Dictionary definition. Who are we to judge?