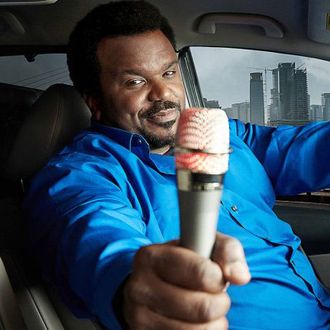 He will give you cash for songs.
Photo: Spike TV
One man's late-night bit is another man's TV special. Spike TV, the network that brought you the series version of Lip Sync Battle, is doing its own spin on "Carpool Karaoke," James Corden's wildly popular recurring bit. THR reports that Howie Mandel is executive producing a TV special called Caraoke Showdown hosted by the Pontiac Bandit Craig Robinson, in which Robinson will pick up contestants who will sing for cash with celebrity guest appearances thrown in. For now, Caraoke Showdown is just slated to be one half-hour special, but if it does well, it will be picked up as a series and Spike TV will finally transform into Ursula the Sea Witch, demanding people sing for her. Now, sing!
Update July 26: It appears a TV special wasn't fulfilling enough for Spike TV, as the network announced today that Caraoke Showdown will now be moving forward as a ten-episode game show. Robinson will be hosting what's described as a "Cash Cab meets karaoke" program, with him picking up unsuspecting contestants in New York and Los Angeles who must sing their favorite songs, fill in the lyrics, or act out tunes — among other surprises — for some cash money. It's filming this summer with a slated premiere date in 2017. Memorize your entire iTunes catalogue just to be on the safe side.