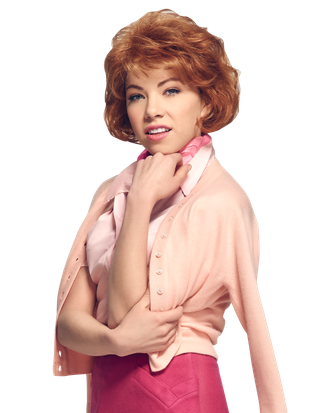 Carly Rae Jepsen made one of 2015's standout pop albums, Emotion, on her own terms, and she's back with more bold choices for 2016. On Sunday night, Jepsen starred in Fox's megasuccessful Grease: Live as Frenchy, Rydell High's lovable, cotton-candy-haired, beauty-school dropout. And Jepsen was joined by none other than the original Frenchy herself, the charming Didi Conn, who guest-starred as the wise waitress at the diner who consoled her young counterpart through the end of her beautician aspirations. Vulture caught up with a still-buzzing Jepsen the day after the show about being in love with Conn, the surreality of being serenaded by Boyz II Men, and Vanessa Hudgens's courageous performance.
How surreal was it playing Frenchy opposite the original Frenchy, Didi Conn?
It was just as surreal in rehearsals as it was on live TV. It's intimidating to play a character like that, who's so beloved, and to have Didi be so warm and generous and offering bits of what happened in the original movie. You just felt like you had someone on your side. I have nothing but amazing things to say about her; I think she gave me confidence when I needed it. And that scene itself [at the diner] was probably one of my favorite moments because we really do lock eyes and we really are quite in love with each other [laughs]. So even though I had to sing a song afterward and I was all nerves, she calmed me down and brought me to a good place again.
What advice did she have for playing Frenchy?
Anytime I was feeling unsure, she'd be like: "Use that, she's in high school. She's confused about what to do right now. She's failing at beauty school and she's failing at life in general. And none of her friends know she's just dyed her hair this horrible color pink, which back in the day was not a cute thing to do. So you just gotta not be afraid of having this emotion." It kind of just allowed me to feel a bit easier after talking to her about it.
Didi seems like the ideal mentor. I saw on your Instagram that she even surprised you with personal mementos.
That's not the only time, either. I remember at one rehearsal she had these cute little red heart earrings that had been made by an artist in Canada. She was wearing them and I laughed. And she was like, "Oh! I wanted to give these to you!" And she just pulled them right out of her ears and gave them right to me. I'm like, "Didi, no one is as nice as you. This is not what I was expecting. I knew you were gonna be lovely, but you went above and beyond." She calls me Baby Frenchy; I love that. She's always like, "Oh, it's my Baby Frenchy!"
She even gave you a shirt from the original movie. Hard-core fans go nuts for that stuff.
I know. I told her, "Stop it, you're gonna make me tear up before I go onstage. You're killin' me." I can't say what it meant to me. It felt like I got to keep a little bit of history and I'll probably frame that shirt and put it up in my house somewhere. It was a beautiful gift.
Then you go from one surreal moment to another: getting serenaded by Boyz II Men, who sang "Beauty School Dropout." Were you just dying?
I think I said thank you to our director too many times for coming up with that scene. I had made my own list of who I thought would be good candidates, and then they came back with Boyz II Men, and I was like like, "Wow, okay, you guys just killed my list." Three Teen Angels, that's amazing. My biggest note from the director in that scene was, "We do cut to your face quite often, so you have to stop losing your mind because it's Boyz II Men. You do have to actually listen to this kind of demeaning song that they're singing to you [laughs]." And I'm just like, "I'm sorry! I'm sorry!" But every single night, he's like, "Carly, stop giving googly eyes." But it was nice to have a few moments with Boyz II Men in that scene where I felt like I didn't really have to do anything other than just be in the moment and look at all the craziness going on around me.
Right before it you had a solo, "All I Need Is an Angel," which was written specifically for the show. Did you have any input on that song?
It was a huge surprise to me actually. I was about two weeks late joining the cast because I had some other shows lined up. I came in thinking, like, first day of school, I had my little packed lunch, and everyone else already knew each other. So here I am the newest cast member and then they announce it at lunch, "Surprise! We wrote a song for Frenchy." And I'm like, "Wait, I'm Frenchy!" And then they showed me the song, and it was crazy. I was very honored that they made a moment for her, a cool little reflective moment with pink hair. It was very different for me.
Even more different, you had to do quite a bit of dancing in the famous hand-jive scene. How did that all go down?
The choreographer [Zach Woodlee] was such a genius. He takes so many bodies and set pieces and makes them come alive. I told him, "Listen, I am no dancer. You're gonna have to be patient." And he said it's all about joy. Even Didi Conn told me that in her audition she accidentally went right when everyone else was going left, and in a weird way, that's Frenchy. She's kind of ditzy, she doesn't know what she's doing, but she's enjoying it. So I just did it like I was having the time of my life. I didn't think about one foot move; I just looked at my fake boyfriend Doody [Jordan Fisher] and enjoyed the prom.
What did Tommy Kail tell you all about his vision for this production? It was so ambitious, like everything he does.
I'm so proud to know him. He's unlike anyone I've ever met before. He looks at the way things have been done and doesn't put any boundaries on what he can do. He wants to go above and beyond and make his own version of everything. With us, he's been our captain, which is such a change for me to not have eyes on both sides. But as soon as I let go and accepted that he's got the vision, I realized I was in the best hands ever.
Have you seen Hamilton [which Kail also directed] yet?
We were on his back about that! Like, "Listen, how can you not get us tickets?" He says we can hit him up come March, and we'll see. And we're like, "This is bullshit [laughs]." It's just so successful, it's sold out until the end of eternity. But I know we'll get our way.
So you get to set the day of the show and it's all gray skies and rain. Did that affect anything?
Well, the day before the show, I actually came down with a stomach flu. So I wasn't even nervous, I was just in a place of Oh god, I hope I can get through this thing. And then we arrived on set, and there was a whole bunch of other personal chaos going on with cast members and it kind of put things in perspective. We all had to be there for each other. The rain was like whatever, it's life and it's live, that's all part of the magic. We came up with some alternate versions of how to make things happen if the wind was so heavy that we couldn't get under certain places. So we were changing choreography up until the last minute. But we ended up doing the show as we originally planned, with a little umbrella help. But that's part of the magic and the spontaneity of these things.
Tell me about the mood on set, knowing that Vanessa Hudgens's father had passed the night before. Everyone's talking about her big solo and the strength that must've taken.
The type of closeness that you get with being on a project like this so for long, it's a different type of closeness than I've ever experienced. The Pink Ladies, especially, I think we all are kind of in love with each other at this point. We were aware of the concerns with Vanessa's father's health leading up to this point, and we'd been there for her through the thick and thin of it. The timing of this was heartbreaking, none of us could believe it. But we all just cocooned her; we hugged around her and told her, "This one's for you." There's a point between scenes where everyone's running around, but we all quickly got dressed and were holding hands backstage watching her as she did that solo. God, did that girl kill it. We were proud beyond words. I think she is such a professional and such a talent. Her strength, to me, is one of the most inspiring things. I've told her time and time again that she's my hero.
Switching to your music, Emotion was one of the most acclaimed albums of 2015. Where are you at with the upcoming tour and next album?
I've been playing a lot with different sounds, and just writing the way that I always do. Right now, I've tried almost like an understated disco, which sounds like a bit of a left turn for me. That's where my heart's going, so I'm gonna follow it. I can't predict what'll be on the next album, though, 'cause god knows, where I started with Emotion is not where I landed with it.
Do you have more plans to get back into theater or TV?
This was so gratifying, and I've definitely caught a little bit of what that acting bug is. I'm still a baby in this business, but it's something I'm passionate about. I look at it one step at a time, but my main focus will always be music.