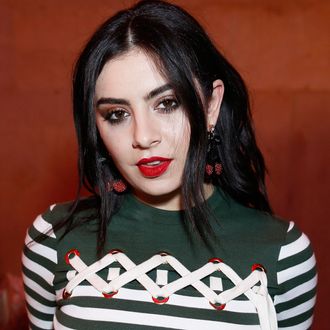 Charli XCX wants to win that trophy.
Photo: Darren Gerrish/Getty Images
Charli XCX will release her latest EP, Vroom Vroom, later this week, but before that drops, the pop sensation has a few more surprises in store. Charli stopped by Zane Lowe's Beats 1 show today to debut "Trophy," a track off the EP, and promote her own new Beats 1 show, "The Candy Shop." She also announced her new "experimental pop" label, Vroom Vroom Recordings, an imprint of Atlantic Records U.K., which the singer says "will combine [her] love for bubblegum pop with mystery and darkness." She's already signed RIVRS and CuckooLander to the imprint, and there will surely be more to come.
And what of "Trophy"? The new song, produced by SOPHIE, transitions from the skittering energy of  "Vroom Vroom" (also on the EP, also produced by SOPHIE) to a more anthemic beat. What is this trophy, and what do you have to do to win it? Who cares! You're already pumped. Listen to "Trophy" below: