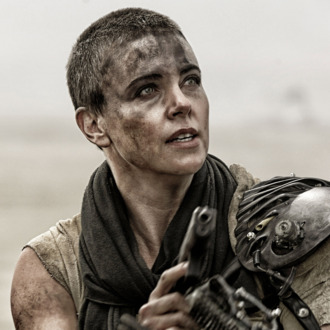 Charlize Theron in Fury Road.
Photo: Jasin Boland/Warner Brothers
Are you one of those people whose neurotic need for self-deprecation keeps you from accepting praise wholeheartedly? If so, follow the example of Mad Max: Fury Road costume designer Jenny Beavan, who tells Vanity Fair how Charlize Theron knocked some self-confidence into her with just four magic words. "When Charlize [Theron] came for her fitting in Namibia, she put [her costume] on and said, 'This feels really great,'" Beavan recalls. "I went all sort of English and coy and said, 'Oh well, you know, we've been trying to make it…' And she just said, 'Take the compliment, bitch.' …  She's just very straight talking, and I just loved it, so I've been taking the compliment, bitch, ever since." New words to live by! Your friend likes your haircut? Take the compliment, bitch. Your boss praises something you worked really hard on? Take the compliment, bitch. A man catcalls you on the street? Okay, that's something you do not need to take as a compliment. But still, most of the time: Take the compliment, bitch.