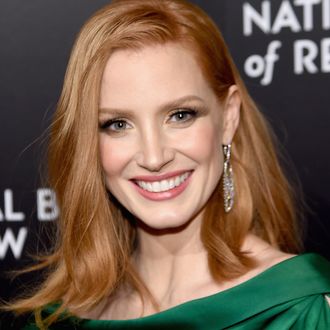 Bloom is a brunette, so we might get Chastain in a wig!
Photo: Jamie McCarthy/Getty Images
Jessica Chastain has already taken down Al-Qaeda (in a movie), but she may soon face the riskier challenge of wrangling the Pussy Posse (in a movie). Aaron Sorkin is hard at work on his directorial debut, a film based on Molly Bloom's memoir about her time running a celebrity poker ring in Hollywood. Now, according to the Wrap, Jessica Chastain is in talks to play Bloom, a former competitive skier who used her job as an L.A. waitress to build a high-stakes celebrity poker empire — Ben Affleck, Leonardo DiCaprio, and Tobey Maguire were all involved in the action before the FBI took Bloom down. The film will be titled Molly's Game, because, sadly, The Bling Ring is taken.