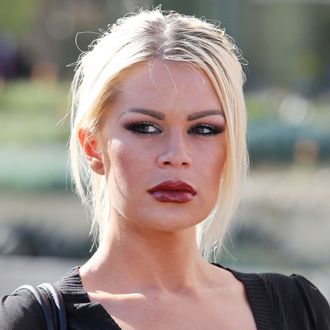 Chloe Goins.
Photo: Splash News/Corbis
Model Chloe Goins, who claimed Bill Cosby sexually assaulted her in 2008, has dropped her civil suit against the comedian, BuzzFeed reports. Goins first went public with her accusations in December 2014, saying Cosby gave her a drugged drink at a party at the Playboy Mansion, then removed her clothes and pleasured himself while she was blacked out. As the rare Cosby allegation to take place within the statute of limitations, Goins's story was investigated by the LAPD, but prosecutors later declined to press charges. Deadline has reported that evidence exists that shows Cosby was not in California at the time of the alleged incident.
Meanwhile, in a pretrial hearing for the sexual-assault charges against Cosby, former district attorney Bruce Castor admitted he had indeed given Cosby a verbal promise he would never be prosecuted in the matter of Andrea Constand's 2005 rape allegations. Coincidentally, on the same day Goins dropped her suit, a judge in Los Angeles ordered Cosby to undergo a second deposition in a lawsuit brought by Judy Huth, who claims Cosby assaulted her at the Playboy Mansion in 1974.