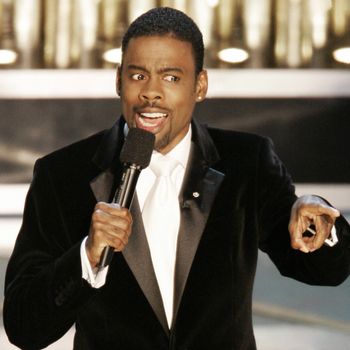 Comedian Chris Rock opens the 77th Academy Awards show 27 February, 2005, at the Kodak Theater in Hollywood, California.
Photo: Timothy A. Clary/AFP/Getty Images
In the wake of a second consecutive whiteout among the 20 acting nominees for the 2016 Academy Awards, the timing couldn't be better for Chris Rock to make his return as Oscars host — even the Academy and the show's producers, one of whom directed the pilot for Rock's sitcom Everybody Hates Chris, are excited to see how he uses the platform. He is, after all, one of the greatest comedians to ever tackle racial issues, most notably with his legendary 1996 HBO stand-up special Bring the Pain. Rock's familiar with the Oscars gig, becoming, in 2005, the first black man to host the show solo (Richard Pryor and Sammy Davis Jr. both appeared as co-hosts) — though that performance was met with mixed reviews, including Sean Penn's inability to take a joke about his pal Jude Law.
Not counting David Letterman's heavily criticized "Uma-Oprah" hosting gig in 1995, every ceremony from 1990 until Rock's 2005 turn featured either Billy Crystal, Whoopi Goldberg, or Steve Martin as the emcee. In 2003 the broadcast, with Martin as host, drew a then record low of 33 million viewers. Crystal brought it up by 10 million the following year, and producers figured Rock – who had previously hosted the MTV Video Music Awards three times – would appeal to younger and more diverse crowds. "He's hot, edgy and contemporary," producer Gil Cates said at the time, "and I think he'll bring extraordinary energy and vitality to the show."
It was a smart bet, given that Rock had shown at the VMAs that he wasn't afraid to insult the celebrities in the audience. In 2003, he went so far as to make a joke that the Olsen twins had to be seated far away from R. Kelly; it's a safe bet that Billy and Whoopi wouldn't have gone there. The 2005 Oscars weren't plagued by the same embarrassing diversity issues that have cropped up recently — each of the four acting categories had at least one actor of color, and both Jamie Foxx and Morgan Freeman walked away with trophies (for best actor and supporting actor, respectively). Even so, Rock went in wanting to disrupt the status quo. After getting the hosting gig, he didn't shy away from saying what he thought about the show's stodginess:
They don't honor comedy and there aren't a lot of black people involved. So why would I watch? For the gowns? Listen, no straight man who is not in the entertainment industry watches the Oscars. Not one.
Matt Drudge claimed that Academy members shortly thereafter demanded that Rock be replaced, but the producers defended his jokes, most likely not wanting to give the impression that Rock's act would be toned down for the Hollywood crowd. But with less than a week to go before the ceremony, Rock told Jay Leno, "I said only gay people watch the Tonys," before adding, "I really don't know any straight men who aren't in show business that have ever watched the Oscars."
The hype seemed real – Rock was going to bring the pain again, tradition and supposed good taste be damned. From the moment he walked onstage that night and told the standing crowd to "sit your ass down," it appeared that Rock was prepared to eviscerate the self-importance of everyone and everything involved. "Welcome to the 77th and last Academy Awards," he cracked before joking that it was the "Def Oscar Jam" because Foxx, Freeman, Don Cheadle, and Sophie Okonedo were nominated for acting awards.
Then he turned his sights on actors he viewed as less-than-stars, dissing Cuba Gooding Jr., Tobey Maguire ("a boy in tights"), Colin Farrell, and, infamously, Jude Law.
If you want Tom Cruise and all you can get is Jude Law, wait. It's not the same thing, okay? Who is Jude Law? Why is he in every movie I have seen the last four years? He's in everything. Even the movies he's not acting in, if you look at the credits, he made cupcakes or something. He's in everything. He's gay. He's straight. He's American. He's British. Next year, he's playing Kareem Abdul-Jabbar in a movie.
He also included himself in the rant, saying, "If you want Denzel Washington and all you can get is me, wait! Okay? Denzel's a fine actor. He would never do Pootie Tang, you got that?"
From there the monologue touched on George W. Bush and Fahrenheit 9/11, Passion of the Christ, and how black films are named after locations, like Barbershop and Car Wash ("You know Laundromat is coming soon. And after that, Check Cashing Place"). The highlights of the rest of the evening included a bit where Rock appeared as Catherine Zeta-Jones alongside SNL pal Adam Sandler, and a pre-taped segment that featured black moviegoers talking about their favorite films of the year, such as Alien vs. Predator and White Chicks.
For the man who did the famous "Niggers vs. Black People" routine nine years earlier, it was borderline G-rated. The Bush jokes were tame by late-night-talk-show standards. The Jude Law cracks weren't cutting as much as they were a light tickling. The segment with Sandler is the kind of "it's funny because a guy is pretending to be a woman" that SNL does too often. Perhaps the on-the-street video with the black filmgoers surprised some in the audience, but the comments they mostly had to do with the fact that they just didn't give a shit about what Hollywood considers important. They weren't angry about any lack of diversity – they just liked what they liked and had a few laughs about it. No joke that evening comes close to being as offensive as, say, 2013 Oscars host Seth MacFarlane's line about Django Unchained being a "date movie" for Chris Brown and Rihanna.
With Facebook barely a year old and Twitter still a year away from existing, real-time criticism was essentially limited to some liveblogs and whomever you watched the show with at home. Thankfully, Sean Penn was there to present Best Actress and grumpily offer his immediate take on Rock's monologue. "Forgive my lack of humor," he said. "Jude Law is one of our most talented actors." Speaking to the press later that night, Rock shrugged off the jab: "He said 'cause he's working with Jude on a movie right now he felt the need to … I don't know. It's kinda funny." Law didn't agree, telling the New York Times in 2006, "At first I laughed because I didn't think he knew who I was. Then I got angry as his remarks became personal. My friends were livid." Livid!
In the end the producers' gamble on Rock didn't totally pay off. The telecast drew 42.14 million viewers, a drop of around 3 percent, though ratings went up 5 percent among the 18-to-34 demographic. Critics, as usual, were divided about the host's abilities. Writing for Entertainment Weekly, future Gone Girl author Gillian Flynn said, "Chris Rock naysayers, I will concede that his opening monologue stank … Introducing Gwyneth Paltrow as the first woman to breast-feed an Apple? Give the guy another shot next year." The BBC said he "shone," and Salon called him "strong."
Naturally, others disagreed. The Chicago Tribune said his monologue "came off more as a screech, an apparent bit of nervousness almost painful to hear" and blasted his jokes as stale. USA Today's Robert Bianco went hard after Rock, displaying the kind of sanctimony and humorlessness that was rife throughout the Kodak Theatre. "Loud, snide and dismissive, he wasn't just a disappointment; he ranks up there with the worst hosts ever," he said, "particularly when you factor in the expectations."
But he has a point – expectations are partially to blame for Rock not being a hit. He had the comedic dexterity to make routines about Ike Turner and salad-tossing (the prison kind) appeal to the masses, yet he mostly played it safe at a time when people were expecting him to curse on live TV. Maybe the producers or the network constrained him, or his apathy toward Hollywood and the awards left him without much inspiration.
A few months later, Rock got to commiserate with Letterman about the experience. The conversation looks especially prescient now, and also ironic. "These actor types, man, who the hell do they think they are? I held back!" he said. When Letterman asks if he'd ever return as host, he replied, "Yeah, if there's a lot of black people on it, I would do the show again."