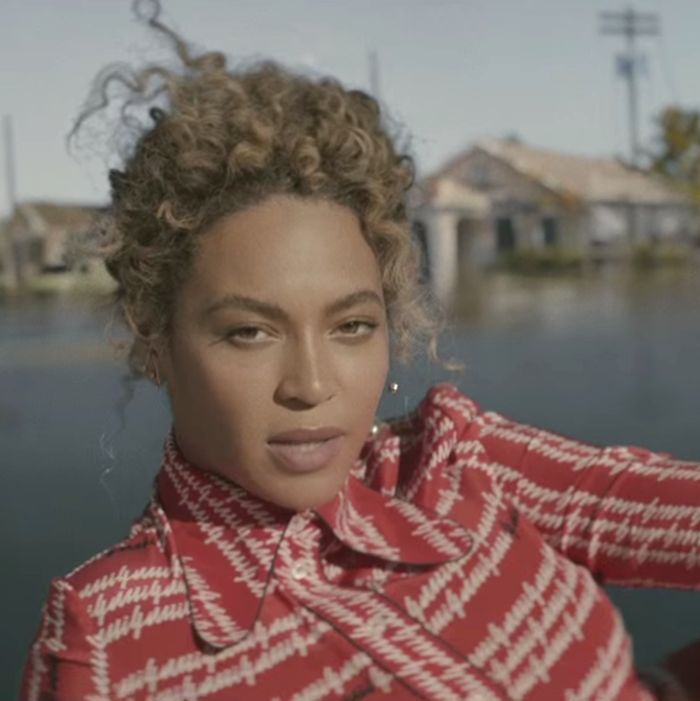 By now you've seen Beyoncé's instant-classic "Formation" video hundreds of times. The fashion! The quotes! The middle fingers! It's impossible to look away — or to watch without wanting to know more about every little detail. What's this fuss you've likely heard about stolen footage? And who are those people not named Beyoncé slaying all over the track?
To answer those questions and more, Vulture did a quick investigation into all things "Formation." Let's get information!
Director
Though originally misreported as having been self-directed by Beyoncé, "Formation's" actual director is none other than Melina Matsoukas. She won a Grammy for directing Rihanna's "We Found Love" video, and has directed eight other Beyoncé videos since 2007, most recently "Pretty Hurts." Matsoukas has also directed videos for Solange Knowles ("Losing You," "I Decided") and Jay Z ("Run").
Her work on "Formation," however, has not been without controversy. Shortly after the video's release, producer Chris Black accused Matsoukas and Beyoncé of stealing footage from Abteen Bagheri's 2014 SXSW selection The B.E.A.T. (see below), about New Orleans bounce music and queer culture. Black claims that Bagheri did not give Matsoukas permission to use clips from their documentary — which include the opening shots of a half-submerged house, bounce dancers, and several exterior shots of NOLA — with Bagheri later tweeting and deleting, "My response was Beyoncé doesn't need our charity. But here it is. No credit. No surprise."
In a statement to EW, Beyoncé's reps confirmed that "The documentary footage was used with permission and licensed from the owner of the footage. They were given proper compensation. The footage was provided to us by the filmmaker's production company. The filmmaker is listed in the credits for additional photography direction. We are thankful that they granted us permission." Matsoukas later tweeted her thanks to Bagheri, who responded with his own thanks for the credit, seemingly resolving the copyright issue.
Location
The video was filmed, at least partially, on location in New Orleans. (Back in December, Beyoncé was seen filming at the Superdome, though that footage does not appear to be in the video.) She is seen sitting and standing atop a New Orleans police car, while parts of Katrina-affected New Orleans are featured throughout the video, as are several local spots (including a beauty store).
Fashion
The video, which features a number of fresh Beyoncé hair looks (not to mention Blue Ivy's fro!), was styled by the Cut contributing editor and former Cosmopolitan fashion market director Shiona Turini; Nigerian-American designer Ade Samuel; and stylist Marni x Marni. Both Beyoncé and her dancers are reportedly wearing Gucci throughout the video. The song itself includes the instant quotable: "I'm so reckless when I rock my Givenchy dress."

Choreographers
Those literal formation lines? They are the work of choreographers Dana Foglia, whose dance company worked on Beyoncé's 2014 VMAs performance; JaQuel Knight, who choreographed Beyoncé's classic "Single Ladies" video; and Chris Grant, who has choreographed for Beyoncé in the past.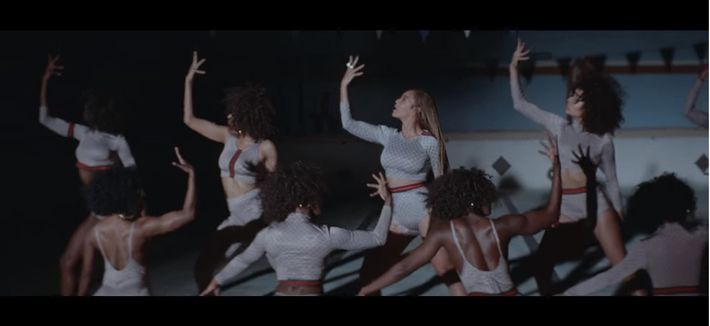 Producer and Songwriters
Though you won't hear his famous drop on the beat's introduction, "Formation" was produced by Mike WiLL Made-It, who tweeted after the song's release, "Always wanted to work with Beyoncé and after working with her I respect her on even more levels than I knew she was on… Real ARTist Fr." The song was co-written by Swae Lee of rap duo Rae Sremmurd (who are signed to Mike WiLL Made-It's label), a credit which drew small controversy from Hot 97 and Beats 1 radio host Ebro — he has previously accused Rae Sremmurd of not writing their own songs, and sparred with Mike WiLL Made-It on Twitter over Swae Lee's participation on "Formation."
The Voices
"Formation" opens not with Beyoncé singing but with a voice-over from a popular New Orleans figure. "What happened at the New Wil'ins / Bitch I'm back, by popular demand" are the words of Messy Mya, a New Orleans bounce artist and social media celebrity whose 2010 murder has been mired in controversy. The sample used at the song's intro comes from Messy Mya's 2010 viral video "Booking the Hoes From New Wildin" (see below). The only other artist featured on the song (though not credited as such) is New Orleans bounce icon Big Freedia, whose instantly recognizable booming growl you'll hear flexing: "I did not come to play with you hos, haha. I came to slay, bitch! I like cornbread and collard greens, bitch! Oh yas, you besta believe it."
And those voice-overs you hear at the end saying, "Girl, I hear some thunder / Golly, this is that water boy, oh lord" as Beyoncé drowns herself with the NOPD car — that's a sample from Tia Lessin and Carl Deal's acclaimed 2008 Katrina doc, Trouble the Water.