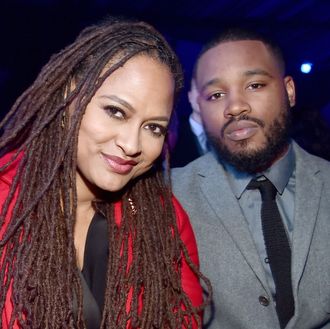 Ava DuVernay and Ryan Coogler.
Photo: Alberto E. Rodriguez/Getty Images
In tandem with the Academy Awards on February 28, Ryan Coogler, Ava DuVernay, Hannibal Buress, Jesse Williams, and Janelle Monáe threw a free event in Flint, Michigan, to raise awareness and money for the city's water crisis, as well as Stateside human-rights violations. Dubbed #JUSTICEFORFLINT, the event was hosted by Buress and livestreamed via Revolt.TV. Along with musical performances, organizers had asked members of the Flint community to share their experiences with the audience. Coogler — whose Creed earned Sylvester Stallone an acting nomination, but was otherwise ignored by the Academy — told BuzzFeed that organizers chose to hold #JUSTICEFORFLINT on the Sunday because it fell on the final weekend of Black History Month. According to him, the timing was merely a coincidence.
Update: After the Oscars wrapped, DuVernay tweeted that the goal of raising $100,000 for Flint's short- and long-term recovery efforts had been reached:
Aside from the successful donation haul, the night also included triumphant appearances by Flint poets, Jazmine Sullivan, Dej Loaf, Vic Mensa (plus a new song), Monaé, and surprise guest Stevie Wonder, among many others:
At time of publication, you could still stream a full encore round of #JusticeForFlint (and could continue to donate to the cause by texting JUSTICE to 83224):
For more from the event, head here.
This post has been updated throughout.