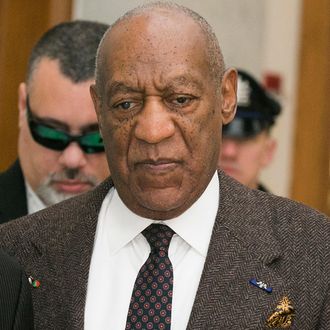 Cosby.
Photo: Pool/Getty Images
A day after losing an appeal that could've delayed his pending sexual-assault trial, news that Bill Cosby is suing the woman at the center of the case has come to light. According to The Hollywood Reporter, Cosby filed a "secretive" lawsuit in early February against Andrea Constand, the woman Cosby is criminally charged with drugging and sexually assaulting in 2004, as well as American Media, Inc., publisher of the National Enquirer. The suit for now is under the cloak of seal, so what Cosby is suing both parties for is unknown at this time. However, as THR notes, the inclusion of America Media, Inc., suggests it may have something to do with the civil settlement involving Constand, the details of which were unsealed last year and cited as new evidence to charge Cosby. In Constand's 2005 lawsuit, she sued the Enquirer and Cosby's former attorney Marty Singer for a 2005 exclusive with Cosby in which he alleged she tried to extort him. Constand also claimed in that lawsuit that the Enquirer agreed to cut another accuser's story in exchange for the Cosby exclusive. It's possible, then, that Cosby's new lawsuit could be related to a confidentiality breach related to his unsealed deposition.
Update: The newly redacted lawsuit says Cosby is suing Constand, her mother, her lawyer, and the Enquirer's publisher for breach of contract regarding "disclosed information that they promised to keep secret," dating back to Constand's 2005 civil suit against Cosby, which was settled in 2006 under terms of confidentiality. He is seeking return of the funds he paid to Constand in the settlement due to her alleged cooperation with police regarding his criminal charges. Cosby argues that, because Constand and her mother are Canadian citizens, they "were under no legal obligation" to participate with the reinvestigation and, along with Constand's attorney, Dolores Troiani, are in breach of the settlement agreement. Cosby's suing American Media, Inc., for allegedly breaking contractual obligations with him by covering the dozens of allegations against him.