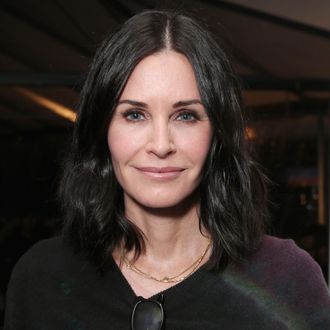 We missed ya.
Photo: Todd Williamson/Getty Images
It appears all your former Friends stars are staging a TV takeover: Fox has ordered a pilot for a new comedy starring Courteney Cox called Charity Case, about a widow who inherits her late billionaire husband's charity instead of the wads of cash she would've preferred. Though Cox, who will also executive produce the show, hasn't been away from TV for too long (Cougar Town ended last year), she's also not the only Friend returning to the small screen: Matthew Perry currently stars on The Odd Couple, and Lisa Kudrow has The Comeback, while David Schwimmer can be seen on The People v. O. J. Simpson telling people how to spell Kardashian. And just last week week we learned that Matt LeBlanc has been tapped to host the BBC's Top Gear and also star in a new CBS comedy (on top of his existing commitment to Episodes, which will likely end soon).
So what's sparked this Friendsaissance? Well, you might've heard about a rare Perry-less Friends sorta-reunion set to air on NBC later this month. And as anyone who's ever attended their high-school reunion (looking at you, Lisa Kudrow) knows, these things are all about one-upping each other. For a cast of multi-millionaires who needn't work a day in their lives, what better way to show off is there than to prove which of the six is still TV's biggest cash cow. Aniston — we'll be there for your return, too.